The Haryana state government is considering declaring Jains as a minority in Haryana as per the report in the Hindustan Times dated Feb.12, 2009 as follows:
"THE HARYANA government has made a recommendation to the Central government to accord minority status to the Jain community in the state. In a letter to the Union Ministry for Minority Affairs, the state government has urged it to favourably consider the demand of Jains and include them in the list of minority communities in the state.

It has also forwarded representations received from the Haryana Jain Samaj and other organisations in this regard.

The Jain community constitutes 0.3 per cent (approximately 60,000) of the population of the state as per the 2001 Census.

"The Jain community has been demanding minority status for a long time for protection of their cultural and educational rights. When their representatives met the Chief Minister a few months ago, he decided to advocate their cause," sources told HT. Earlier, the Haryana Jain Samaj had also petitioned Governor Dr A.R. Kidwai, who promised to take up the matter with the state government.

Social Justice and Empowerment Department officials said once they got minority status, Jains would be able to run their educational institutions as per the parameters specified for such institutions and also be entitled to benefits available under the Prime Minister's 15-point programme for minorities.

At present, five communities - Muslims, Sikhs, Christians, Buddhists and Parsis - are recognised as minorities. Last year, the Jain community was accorded minority status in Delhi ahead of the Assembly polls. In Karnataka, Madhya Pradesh, Jharkhand, Chhattisgarh and UP, Jains have already been accorded minority status.
---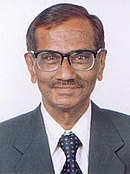 I have pleasure in attaching three documents of letters addressed by Mr. A.R. Antulay, the Union Minister for Minority Affairs to the chief Ministers of Gujarat, Haryana pertaining to the minority status to the Jains at my request and a response from Shri Narendra Modi, chief Minister of Gujarat. Also enclosed is an article Century Old Jain Demand for Minority Status.
I had the privilege recently to attend the Jain Doctors Federation Vth Conference held at Ahmedabad on 11th January, 2009 where I was invited to give a talk on Why Jain Minority Status is necessary.
Also I was invited to attend the National Convention as a Leader of the Jain community on Muslim Reservation held in New Delhi on 1st February, 2009 with Shri Syed Shahabuddin, ex-MP, as the Convener and presided over by Justice A.M. Ahmadi, a former Chief Justice of India.
I would like to mention that Shri Syed Shahabuddin, Supreme Court Advocate and an ex-diplomat has been a staunch supporter of the Jain Minority cause and wrote a scathing critique of the Supreme Court judgement in my Petition in 2005, which is attached.
Bal Patil