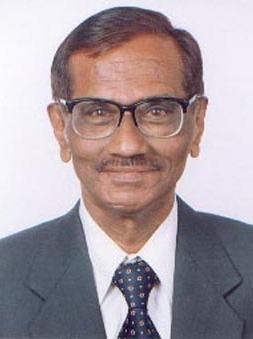 Lifetime
Born:
19.11.1932, Sangli, India
Passed away:
07.10.2011
Address
Patil Estate, 278, Tardeo Road
400007 Mumbai, India
Contact
Phone:
91 022 23861068
Mobile:
91 022 98692 55533
Fax:
91 022 23893030
E-Mail:
Links
http://jaina.in
About
Born 19th November, 1932 at Sangli. Graduated with Honours in English literature and German as Second language. Writer, Researcher, Social Activist & Journalist since 1960. Reviewer & contributor to The Indian Express, The Times of India, The Economic Times. Interviewed by The Times of India for its Sesquicentennial (150th Anniversary) Special Issue on his Letters to the Editor, published in The Times of India from 1954 to 1988.
Was Secretary in charge of Publications Committee constituted under the Chief Editorship of Dr.A.N. Upadhye, internationally eminent Prakrit Jain scholar and a former President of the All-India Oriental Conference on the occasion of theBhagwan Mahavira 2500th Nirvana Anniversary in 1974 in the Government of India National Committee with the then Prime Minister, Indira Gandhi as the President. The Editorial Board consisted of eminent Jain scholars, Dr. Mohanlal Mehta, Dr. Nathmal Tatia, Pt. Dalsukh Malvania, Dr. Nemichandra Shastri and Pt. Kailashchandra Shastri. The collection of articles by Indologists, Jainologists of international and national eminence was published as Mahavira and His Teachings.
His translation from Hindi into English Dr. Hiralal Jain's (a former General Editor of Bharatiya Jnanapitha with Dr. A.N. Upadhye) Yugon Yugon men Jain Dharma as Jainism Through the Age is due for publication. JAINISM (published by Macmillan in 1974), which he has co-authored with Dr.Colette Caillat, Member of Institut de France, Paris and Dr.A.N. Upadhye, a former President of the All-India Oriental Conference consists mainly of his translation from French of Dr.Caillat's monograph on Jainism is due for reprint by M/s. Munshiram Manoharlal, Delhi.
Bal Patil was invited to attend the 12th Biennial JAINA (Jain Associations of North America) Convention on Art of Living held at Cincinnati, Ohio, USA from 3-6th July 2003 to speak on Jain Minority Status in India
Participant and speaker in the 7th Jaina Studies Workshop at SOAS on 17-18.3.2005 on Jaina Law and Jaina Community, Faculty of Arts and Humanities, Department of the Study of Religions, Centre for Jaina Studies, SOAS, University of London, & Department of Indic Religion, Centre for theology and Religious studies, University of Lund.
Participated and presented a paper on the Evolution of the Sramanic Jain Tradition and Its Impact on Indic Civilisation & Religious Fundamentalism in the XIXth World congress of the International Association for the History of Religion, Tokyo, Japan, 24-30 March, 2005.
The edited and revised version of this paper is published as Jaya Gommatesa! Foreword by Dr Colette Caillat, Member, Institut de France by Hindi Granth Karyalay, 2006, Mumbai)
His English translations of Dr.Ludwig Alsdorf's German Beitraege zur Geschichte von Vegetarismus und Rinderverehrung in Indien is being edited for publication by Dr. Willem Bollee, Indologist. Bal Patil's English translation of Dr. Ludwig Alsdorf's French Les Etudes Jaina, Etat Present et Taches Futures edited by Dr. Willem B. Bolle is published (2006) by Hindi Granth Karyalay, Mumbai
His booklet Supreme Court's volte face On Constitutional Amendment was published by the Government of Maharashtra in 1980. My researches on abolition of capital punishment are noted by the 150-year old Howards League for Penal Reform, London, and the Amnesty International, as also by eminent British jurists LordJustice Scarman and Dr. Sir Leon Radzinowicz, an eminent criminologist and a former Director of the Institute of Criminology, Cambridge, and the mss remains unpublished.
Was the first non-medical President of the National Society for the Prevention of Heart Disease & Rehabilitation, Mumbai.
Was the Jt. Hony. Secretary and Founder-Member of the Committee for the Advancement for Legal Literacy formed under the auspices of the High Court at Bombay under the Presidentship of Justice P.B. Sawant, retired Supreme Court Judge andex-Chairman of the Press Council of India. This Committee published a series of five booklets on Women and Law in English, Marathi and Gujrathi aided by the Government of India Legal Aid Scheme
.
Was aMember of the Legal Cell to Supervise Important Litigation constituted by the Government of Maharashtra 1981-82.
Was a Member of the Media Expert Committee on Health & Family Welfare of the Ministry of Health & Family Welfare , Govt. of India during 1994-96.
Honoured with the prestigious Karmaveer Bhaurao Patil Award in 1995 for social service by the premier social and religious Jain organisation Dakshin Bharat Jain Sabha. He is now the Chairman of the Jain Minority Status Committee, Dakshin Bharat Jain Sabha.
He is pursuing Jain Minority Status Petition in the Supreme Court of India for the recognition of Jain religious minority status on par with Muslim, Christian, Sikh, Buddhist and Zoroastrian (Parsi) as per the Government of India Notification under the National Minority Commission Act 1992 as recommended twice by the National Minorities Commission, Government of India. He is Secretary-General, All India Jain Minority Forum, New Delhi.
Was a Member of the Maharashtra State Minorities Commission, Government of Maharashtra representing Jain community in Maharashtra State during 2001-2004. He is presently Secretary-General of All India Jain Minority Forum, Delhi.
Thanks to his sustained efforts as a Member of the Commission The Govt. of Maharashtra declared Minority status for the Jain community in Maharashtra State.