We arrived at the Margaret Austin Center near Houston in the bright sunshine of early morning. Friendly faces welcomed us, and a useful information packet containing our full schedule detailing every hour of each day was handed over to everybody. We were delighted with the cozy accommodations and the simple beauty of our rural retreat center. I (Samina) loved the sound of the wind blowing through the groves of bamboo, the rustling of leaves similar to the swells of the ocean.
The day would start with light stretches, shrugging off early morning laziness and brightening sleepy eyes. Next was meditation, focusing on perception of breathing. Then we were teached the best Preksha Asanas and Mudras to control anger.
We awaited the most beautiful Satsangs with Samaniji Jayant Pragya, enhanced by PowerPoint presentations. Her lecture "Why Meditate" answered all questions about the need for and benefits of Preksha Meditation, for mind, body and soul, followed by her discourse "Manage your Life of 24 Hours". In only forty-five minutes Samaniji was able to describe a complete balanced lifestyle encompassing seven spheres of physical, emotional, mental, professional, social, familial, and spiritual health, as beautiful as the seven colors of the rainbow. She gave examples of right conduct and told memorable drishtants (stories) to emphasize the timeless ideas.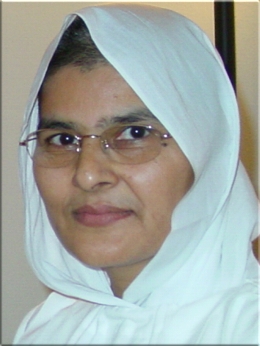 Samaniji Sanmati Pragya spoke on 'Art of Eating', reminding us that right food taken with right attention is a better guarantee for nutrition than pills or processed foods. Her ever smiling face attracted every one of us. As a young doctor attendee pointed out, "Without health, there is no wealth." That adage is very true, and we were lucky to receive lovingly prepared food. I must admit however, that although Samani Sanmati Pragyaji advised us to only "eat while eating", the friendly camaraderie between the participants and the desire to mull over the last presentation or meditation session resulted in much happy chatter at every mealtime!
With simplicity and joy, Shivani Bothra of Rajasthan, India, taught us tools for anger management through Preksha Meditation with two well-crafted and thoughtful presentations. She went through the whole process, from 'What is anger' and how it can be harmful or productive, the dangers of uncontrolled anger on body and mind, and how meditation on our inner soul would cool anger and give greater control and peace of mind in our daily lives. In her sweet manner, she made us question how we personally handle anger and identify how it is hurting us. Everyone left inspired to tackle this unnoticed drain on our energy that causes problems at home and at work.
Finally, the highlight for many was the quiz on a series of 75 questions on Preksha Meditation, including meaning, procedure and benefits to the physiology of human beings, further an introduction to complementary components of the system. With this gentle and subtle encouragement, we all feverishly tried to memorize all seven pages which otherwise we might have left in our folders and taken home without reflecting or thinking about them! In the spirit of fun competition, spiritually valuable prizes of books, CDs, Japa Malas, and pictures were won by young and old alike. Some joked that young minds had a greater advantage, but everyone learned through the process.
The transformation happening in the participants from day to day was evident. Gradually our minds were at peace, through the process of meditation, Kayotsarg, the company and wise words of our Samaniji's, and the peaceful vibrations of the beautiful surroundings. In the loving presence of the ever smiling Saminiji's, we had no choice but to transform our negativities into love and jubilation. The camp was not an information session, it was a practical session. Many participants shared their own experiences of how Preksha Meditation had helped them to find success and peace in their lives. This inspired the rest of us to make the commitment to practice the given tools to make our own lives more relaxed.
I was astonished to find that only after three or four meditation sessions, I experienced instant results of peace and joy I had never experienced before. The warmth and love of our Samaniji's attracted us like a magnet, and they made us their own. So we felt like we had always known them. We came as a family of three and left with a family of thirty-five. It was a total outer and inner spring cleaning, cleansing our mind. So we could go home with the knowledge and art of living fuller lives.