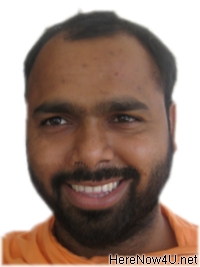 Lifetime
Born:
1982, Sakaleshpura
Digamber Info
Diksha:
2000
About
Bhattaraka Dharmakirti is the current Bhattaraka of Humcha who succeeded Devendrakirti in 2010.
---
Dharmakirti was born in 1982 in a middle class family in Sakaleshpura, a taluk centre in Hassan district of Karnataka.

He is a disciple of His Holiness Swasti Shri Charukirti Bhataraka Swamiji of the Shravanabelgola Jain Mutt.

He joined Gomatesha Vidyapeetha Gurukula Shravanabelagola in 1995 at the age of 13.

Called as Praveen in his purv-ashrama (life as a shravaka), the Vichara Patta Kshullakha Diksha was given in the year 2000 by Shri Charukirthi of Shravanabelgola. Since then he has undertaken an in depth study of Jaina Agama, history, literature and other aspects of the religion over the past 12 years.

Sri Dharmakirthi, who holds a master degree in Kannada literature (M.A. Kannada) and a Ph.D. from the University of Mysore. The topic for his dessertation thesis is "Samyakthvakoumudi Ondu Adhyayana" (Samyakthvakoumudi - A Study). He was guided by Dr. Padma Shekar, a professor in the department of Jainology and Prakrits at Mysore.

Being a disciple of Shri Charukirthiji he has been well trained in all aspects of the religion. He has participated in many religious celebrations and delibrations as a representative of Shri Kshetra Shravanabelgola. He has also played a pivotal role in the organising of many viharas of Jaina Muni Sanghas and is well connected with many Jaina Acharya's and Jain Samaj's. He has also been instrumental in the development of Shri Kshetra Mahendragiri at Bijapur, the holy abode of Lord Parshvanatha under the guidance of Shri Charukirthiji.
- jainheritagecentres.com