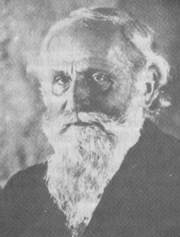 About
1859-1931

Ernst Leumann studied Indo-Euro­pean languages and specialised in Jain literature and Khotanese manuscripts.
Ernst Leumann was born on 11.4.1859 in Berg, Switzerland, the son of a clergyman. He took up the study of Indo-European languages in 1877. He studied in Geneva, Zurich and Leipzig, before going to Berlin in 1880. A year later he obtained a doc­torate in Leipzig. The thesis was an edited Jain text Aupapatika Sutra. This edition was a remarkable achievement, as there was no critical dictionary or grammar available then. The Jain canon had also not yet been edited in print.
Leumann then worked on the manuscript collection in Berlin. Later in Oxford he worked for Monier-Williams' Sanskrit-English Dictionary. From 1884 to 1897 Leumann was professor in Strassburg. In 1919, after World War I, he left Strassburg. He settled in Freiburg where he stayed till the end of his life. He died on 24.4.1931.