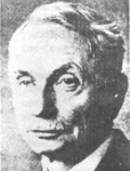 1881-1969
Walter Schubring enriched Jainology and Prakrit studies with his vast con­tributions. It was owing to his untiring efforts that the Jain Canon was made known to scholars.
Walter Schubring was born on 10.12.1881 in Luebeck, the youngest child of the headmaster of a famous high school. After his matriculation, he first studied in Muenchen University and later in Strassburg. His teachers were A. Weber, R. Pischel, H. Jacobi and E. Leumann. He obtained a Ph.D. degree in 1904 for the dissertation Das Kalpasutra, die alte Sammlung jinistischer Moenchsvorschriften ("The-Kalpasutra, the Ancient Collection of Rules for Jain Monks"), published in "Indica", Leipzig, 1905. An English translation by Burgess (without the text) appeared in "Indjan Antiquary", 1910. From 1904 to 1920 Schubring served as an academic librarian in the Royal Prussian State Library, Berlin, where he prepared a voluminous descriptive catalogue of Jain manuscripts, Die Jaina Handschriften der Preussischen Staatsbibliothek, Neuerwerbungen seit 1891, Leipzig, 1944. In 1920, Schubring was appointed professor of Indology in Hamburg University as the successor of Prof. Sten Konow. From 1922 onwards, he edited "Journal of the German Oriental Society". In the winter of 1927/28 he went to India together with Mrs and Prof. Lueders. He visited a number of Jaina institutions and gave lectures. He worked for some time in the Bhandarkar Oriental Research Institute, Poona. Schubring retired from the university in 1951 but continued his scholarly pursuits. He died in an accident on 13.4.1969 in Hamburg.
Schubring edited a number of Jain texts. It has been said that he was imbued by the texts he worked on. He revised several of his text editions in later years. Among his text editions is Acarangasutra, erster Srutaskandha. Text, Analyse und Glossar Abhandlungln fuer die Kunde des Morgen landes, Leipzig, 1918. In the same year he published Vavahara und Nisihasutta in the same series. Das Mahanisiha Sutta found a place in "Proceedings of the Prussian Academy" 1918. The analysation of the Mahanisiha Sutta was followed by two volumes Studien zum Mahanisihasutta, 1951 and 1963, in which he was assisted by F.R. Hamm and Jozef Deleu ("Volumes 6 and 10 of Alt-und Neuindische Studien, Hamburg"). The Nagari transcriptions of some of the texts edited by Schubring were published in Pooria by the Jaina Sahitya Samsodhaka Samiti in 1923. Schubring's text editions are very meticulous and are considered models of their kind. Worte Mahaviras, Kritische Uebersetzungen aus dem Kanon der Jaina ("Words of Mahavira, Critical Translations from the Jaina Canon") appeared in Goettingen, 1926. These are select passages from a few important canonical texts. Schubring also translated Dasaveyaliya Sutra, Ahmedabad 1932, which his teacher E. Leumann had edited. He also edited and published E. Leumann's last work, survey Ueber die Avasyaka Literatur, 1934.
Drei Chedasutras des Jaina Kanons, Ayaradasao, Vavahara and Nisiha appeared in Hamburg in 1966. Schubring contributed 150 Strophen Niryukta, Ein Blick in die Jaina Scholastik ("150 verses Niryukta. A Glimpse into Jain Scholastics") to Studia Indologica, the commemoration volume for W. Kirfel, 1955. Schubring's contribution to Jnanamuktavali, the com­memoration volume for J. Nobel, was entitled Aus der jinistischen Stotra Literatur ("On Jaina Stotra Literature").
A number of Schubring's papers were edited by F.R. Hamm under the title Beitraege zur indischen Philologie und Altertumskunde for Schubring's 70th birthday in 1951. The editor compiled a bibliography. Schubring himself emended many of his earlier papers.
Two text editions and one translation appeared in 1969 after Schubring's death. One was Ganivijja in "Indo-Iranian Journal", XI.2. This was a treatise on the science of divination. The second text edition was Tandula-veyaliya, Ein Painna des Jaina Siddhanta, Textausgabe, Analyse und Erklaerungen in "Proceedings of the Mainz Academy". This is a paramedical treatise, which stresses the aversion believers should have against the body. It exhorted them to strive for liberation. The translation was: Isibhasiyaim, Aussprueche der Weisen, Aus dem Prakrit der Jaina uebersetzt ("Isisbha-siyaim. Translated from the Prakrit of the Jains"). This text consists of 44 short sayings following by an elaboration in verse, a stereotype conclusion and a colophon. This was a revised text of an earlier edition which appeared in 1942.
Schubring's profound knowledge of the Jaina Canon enabled him to write a monograph on Jain doctrine. He contributed Die Lehre der Jainas nach alten Quellen dargestellt to "Encyclopedia of Indo-Aryan Research", Berlin and Leipzig 1934. This comprehensive exposition was translated by W. Beurlen as "The Doctrine of the Jainas", Delhi 1962. Another descrip­tion, Jainism is contained in Vol. 13, Die Religionen der Voelker, a series of studies on the religions of the world in 36 volumes. Stuttgart 1960 ff. This work was translated into English by A. Sen and published in No. LII of the "Calcutta Sanskrit College Research Series".
Though Schubring's interest centered on Jain studies he wrote on other subjects too. This is shown in his contributions on Sanskrit poetry to the anthology Lyrik des Ostens ("Poetry of the Orient") - Lalitavistara a paper in "Asiatica", the commemoration volume for F. Weller, 1954. He wrote Brahmanische Kultur im heutigen lndien ("Brahmanical culture in present day India") in Religioese Kraefte im heutigen Inden ("Religious powers in present day India"), 1937. In 1962 he published a monograph on a reformed Brahmanical sect in "Proceedings of the Goettingen Academy. "It was entitled Sahajananda und die Svami Narayaniyas, eine reformierte brahmanische Gemeinde.