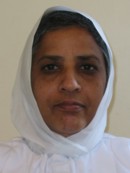 Lifetime
Born:
Sardarshahar
Terapanth Info
ID:
8
Diksha:
19.04.1981 by Acharya Mahaprajna
About
Since 02.02.2012:
Sadhvi Mimansa Prabha
---
As Samani:
Initiation: April 19, 1981

Qualification
M.A. in Science of Living, Yoga and Meditation.
Assistant Professor in Science of Living, Yoga and Meditation at Jain Vishva Bharati University, Ladnun.
Major in Sanskrit and Prakrit, Hindi, Gujrati and English.
Studied Agamas under the guidance of His Holiness Acharya Shree Mahaprajna.
Places Traveled
London, Scotland, Hongkong, Thailand, Indonesia, U.S.A., Canada, U.K., Switzerland, Germany, Belgium, Holland, Italy, Israel, Romania, France, Taiwan, Singpaore, Nepal, China and most of India.
Achievements
Conducted Preksha Meditation camps and Seminars
Attended Conferences and Conventions regarding Jainism, Preksha Dhyana, and Science of Living.
Attended World Peace Prayer, Vishwa Hindu Sammelan and World Peace Conference.

---
2004: JVB Orlando

2006: JVB New Jersey
2007: JVB New Jersey
2010: JVB Orlando