Acharya Mahaprajna is a leading religious thinker, writer and poet. Well-known for his erudition and scholarly understanding of science and religion, the Acharya is one of the country's most respected votaries of inter-religious harmony and peaceful coexistence of people. Most notable are his experiments on perceptive meditation and the science of living, which have succeeded in bringing representatives of different sects and religions on a common platform.
During the long and illustrious period of his spiritual leadership, Acharya Mahaprajna has travelled all across the country emphasising the need of emotional equanimity and integration between the people. Over the past five years, he has been on Ahmisa Yatra, spreading the message of peace through strife-affected regions of the country, including Gujarat. Author of more than 100 books, Acharya Mahaprajna was conferred the Kabir Puraskar by the Hon'ble President of India, Mr APJ Abdul Kalam, at Vigyan Bhawan on Tuesday, August 2 2005. Incidentally, the Acharya is co-authoring a book with Mr Kalam called The Beautiful Home: Noble Nation. He speaks to Gautam Siddharth in an exclusive interview.
What is the cause of violence, and why is it rising all over the world?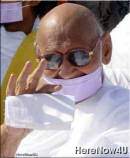 The main reasons for violence are illusion and greed, in that order. Man is totally absorbed in the material world and this is creating problems for mankind at large which is generally peace-loving. He is not content with what is enough for his sustenance and constantly wants more. He does not tolerate anything coming in the way of his desire and turns violent. It could be a desire for anything, land or money. Out of these, attachment comes. Our attitude to material world is not correct. It has to change.
How can man effect this change?
The way out for man is developing the right perspective. He needs to give the right respect to development. He must remember that earthly wealth belongs to common humanity, not to a chosen few. However, what we witness is to the contrary: Man is abusing his wealth. He can overcome his failing by developing spiritual consciousness. The right approach is: Let us not collect too much. We need to develop samyak drishtikone - a balanced attitude - towards life and productivity.
But we notice that intolerance is only growing. What is the reason for it?
We must identify the causes of intolerance. The first cause is illusion. Then, we have no control over our emotions; there is jealousy. When we react with jealousy, there is violence. This is pratikaratmak ahimsa or reactionary violence. It is possible to give up such violence. There is also artha ahimsa, or violence with a specific purpose. It's to fulfill one's need (as opposed to greed). Such violence, too, can and should be given up. Then, there is partirodh ahimsa, or violence in self-defence. This is difficult to give up as, when one is harmed, one's instinctive tendency is to hit back. Finally, there is sankalpja ahimsa, which is the most dangerous. It comes from aggressive mindsets. It comes when one resolves to be violent. All these types of violence must be given up. We need to change attitudes of people.
How can someone be convinced to desist from violence?
It is very important for the people's attitudes to change. There is a clear need to train people in non-violence. There are people being trained to be violent; likewise, societies the world over need to realise that education must be used to discipline people into following the tenets of ahimsa. It has to be scientifically achievable. We must develop the right attitude. And the right attitude is of compassion. My contention is that 50 per cent of violence in our world can be controlled if the people are given a training in ahmisa. The Government and society must work together towards the objective of addressing the issue of violence.
What is Anekanta and how do you address this through it?
Anekanta proffers that two apparently contradictory substances can coexist. Darkness and lightness can be together. In this room, for example, you see light as well as shadow. Both exist without disturbing each other. The same can and must apply on human behaviour. It begins with the acceptance of the fact that others can be true and correct as well. Nobody must claim a proprietorial right over truth and correctness.
The important thing is to accept this fact. The trouble is some people say 'My religion is the best', while the others claim their religion is the greatest. This becomes a cause of intolerance, hatred and violence. When we succumb to such untrained emotions, we give up the privilege given to us to live in peaceful co-existence. Therefore, we must understand the person opposite us. Try and find out his truth. We need to balance two different views and not create a situation of conflict because of the differences in the view. That is why I always say, 'Look for the truth in other's thought'.
What is the difference between Anekanta and Syadvaad?
Anekanta is an eye. With the two physical eyes man is able to see the gross world, but is unable to understand the inner world. The seeing eye of Anekanta is the best philosophical process with which one can understand the modes of changes, both gross and subtle, which occur in the material world. With Anekanta, passions can be assuaged, conflicts can be resolved and embers of rebellion can be appeased showing thus the path to world peace.
Syaad, according to ancient literature, has many meanings. My contention is that the meaning of Syaad is the acceptance of one's inability to express, to accept the limitations of language. It's also the acceptance of one's inability to know the entire truth. But both Anekanta and Syaad take the answer closer to the truth. Both are beautiful ways of realising the truth.
In effect, there is no difference between Anekanta and Syaad. Both are the one and same. A single object can be seen in many different ways. Take, for example, the building we are in. A photographer can see it from various angles and places and it will appear different from every corner. But the fact that it appears so is not correct. There may be a hundred pictures of this building, but it will all lead to the same totality, the same eventuality, of its complete image.
We need to locate this sense of equilibrium, and our assessment must never be based on incomplete knowledge. A little knowledge, as the saying goes, is a dangerous thing. We must constantly increase our learning and never stop from doing so even for a moment. We must learn one attribute of knowledge at a time. It is knowledge in its entirety that is responsible for our liberation.