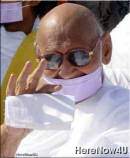 It's the absence of faith that spells despair

How strange is man's disposition. A person engaged in good work is soon disappointed, while the evil-doer never abandons hope. The thieves, the plunderers and the dacoits never despair.
The evil commands faith more than the good. To have faith in goodness, one must have greater devotion. It is the absence of faith that spells despair. Faith and evil seem to be so bound together that a man takes to evil and his faith therein is strengthened by itself. Not much effort is required in that direction. But for the strengthening of faith in the path of goodness, a tremendous effort is called for.
What is right thinking and how are we to think rightly? It is essential to know this because a man with a negative approach would reject even the factual truth, while a man endowed with positive thinking accedes to truth and is thereby able to find a solution to his problems.
There are two ways of thinking - negative and positive. Much too often a man indulges in negative thinking. The negative approach invariably results in despair, loss of enthusiasm, sentimentality, disdain of action and deviation from duty. In short negative thinking means the beginning of failure in life.
The key to success lies in constructive, positive thinking. And only that man is capable of constructive thinking, who has understood the significance of meditation, who has learnt how to keep his heart pure, whose mind is capable of concentration and who is free from attachment.
We must first of all determine whether one's vision is partial or whole, whether it is integrated or distorted, because a man endowed with a holistic, comprehensive vision can think constructively, but the thinking of a man afflicted with a partial vision is always distorted.
In the absence of a comprehensive view of any given situation or incident, thinking based upon a partial view remains partial and, therefore, inadequate. A holistic vision is necessary for balanced thinking.
For correct and balanced thinking, for a constructive and positive vision, the first requirement is the development of a holistic point of view. No individual should allow himself to be swayed by a perverted vision. He must never take a decision in any matter without first obtaining full information.
Once in China, compulsory enrolment of recruits was in progress. Someone came to Mao Tse-Tung and said, "It is good that you have broken your leg. This saves you from conscription." Mao replied, "You have said it, but I can't say so, because I don't have before me the whole picture without which it is not possible to determine whether it is good or bad."
Only when the whole picture is before one, one may determine whether a particular happening is good or bad. Such a conclusion cannot be reached on the basis of a partial view. When a man takes a decision on the basis of a partial view, half-baked alternatives and immature feelings, it invariably gives rise to conflict and war. A man must, therefore, develop a holistic point of view.
The positive and constructive point of view needs to be expounded at length. Its first principle, however, is the development of a holistic approach. When this principle gets activated in life, the constructive point of view starts maturing itself.