Ahimsa Yatra reached in the 'city of marble' Makrana.
| | |
| --- | --- |
| | The world famous monument Taj-Mahal was build with the white marble stones from Makrana. |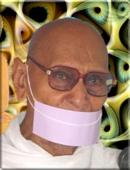 Thousands of followers welcomed this march of non-violence with great pomp. The market was decorated with artificial gates. Great enthusiasm was seen in all people of every age group. On reaching the place to stay, the procession turned into a big assembly of listeners to the discourse.

Acharya Shree addressed this crowd of devotees by saiying, "We see with pleasure the white stones everywhere after entering this city. A first question aroused, are the hearts of people residing between these stone as white & pure like this non-living marble? The second question is what is more valuable, men or marble? Today material things are often higher valued than man. This devaluation has turned the human soul hard like these stone which are lifeless.

People living among these stones should always be alert that their hearts do not become hard like this marble. It has brought lots of money to the people, but money never comes alone. It is followed by negative impulses, pride, greed, anger are like the shadows of money. One should try to restrict them with the intake of money."

Discussing the movement of Anuvrat, Acharya Shree narrated, "Acharya Tulsi promoted the Anuvrat Movement to free the religion trapped in scripture and gave a practical form to it, which can easily be understood & practiced."

Evaluating the true form of religion Acharya Shree said, "Some people indulge in immoral acts to earn unlimited money, but practice all religious rites & rituals. The real test of a true religious person is the working field of the person, where he spends the majority of his time & power. A honest person in his profession and in the working field of day to day life can be called religious.

How can we think of building a healthy society when millions are spent for the living of a rich person in one day, while the poor don't get sufficient bread to fill their stomachs. There is a need to change the thinking of the society. To understand & practice non-violence is essential to have control on one's emotions."
Yuvacharya Shri Mahashramanjee said on this occasion, "The days which fly away never come back. Those who spend them in good deeds have made them successful. The personality of a person also depends on how he had spent his days. It's essential to analyse one's qualities to lead a successful life."

Sadhvi Pramukha Kanakprabhajee addressing the audience said, "The same enthusiasm & excitement is experienced in the people of Makrana, as it is was seen twenty years ago when Acharya Tulsi came to Makrana.
Life style can be divided in two categories, spiritual life style & materialistic life style. Acharya Mahaprajnajee has started this Ahimsa-Yatra 'Tour of Non-Violence' to promote the balance between both of the styles for the development of a healthy society.