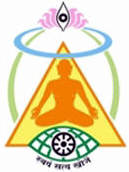 A series of Workshops by
Swami Dharmandji & Nirmalaji
[Adhyatma Sadhana Kendra, Delhi]
on
Be Your Own Therapist "Preksha Yoga Therapy"
(learn how to cure, control and even reverse some ailments)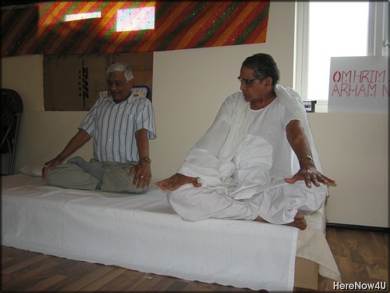 Swami Dharmanandji demonstrating perfect Lotus pose with Mr. Shah, London
23.06.2006
We had meditation practice with Samanijis. Manik Choraria and Nirmal Banthia were given instructions in the practice of Asanas, Pranayama and meditation.
At 1:00 pm, a workshop was organised on asthma and its management. 30 persons participated. Detailed informations were given by covering the topics of what is Asthma, how it occurs, its symptoms, treatment and the technique etc.
Nirmalji guided them through the practice of health rejuvenating exercises, Asanas and Pranayama. I guided a session of Preksha Meditation and Kayotsarga.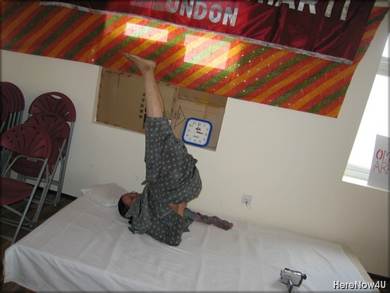 Nirmalaji showing to the audience how to perform health rejuvenating exercises
24.06.2006
We had Deep Kayotsarga practice with the Samanijis. Manikji and Nirmalji came for practicing exercises against their back problem and for well being. I had personal counselling from 8:30 am to 12:30 noon.
In the afternoon, we had a workshop on " Why suffer from Headache/Migraine"; about 20 persons participated in the workshop. I presented the type of headaches, their causes, their symptoms, and the treatment in a power point presentation. Preksha Meditation can help to prevent the occurrence of headache and improve the body's defences against headaches. Many Migraine patients have been cured with the regular meditation practice of Perception of Deep Breathing. Nirmalaji helped to do some postures and Pranayama. I guided them through Preksha Meditation to feel better and to be free from stress and anger.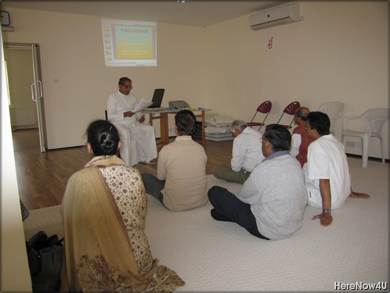 Swami Dharmanandji giving power point presentation on Migraine
In the evening we went to Dinesh Shah's house where we meet the whole family including the two sons of Mr. Shah. We enjoyed the evening with the Shah family and guided for their aliments. In the Sambodhi Group, about 15 people were present when we arrived at 8:00 pm. Every Saturday, these people assemble here to have spiritual discourses.
We should put the knowledge, which we get from listening and reading into our practice. Practice can improve our inner self and the main aim of life can be achieved easily, the realisation of the self. Preksha Meditation can help in this respect very well. I guided them through Kayotsarga and Perception of Deep Breathing. Four persons were given personal consultations.
25.06.2006
In the morning, we had Deep Kayotsarga practice with the Samanijis. I guided Manikji and Nirmalji again for their problems, and they are feeling much better now. Then I had given personal consultations to three persons.
In the afternoon, the workshop was on "Women's Health & Well-being". 23 ladies received the informations related to ladies' health very well. Most of the participants were above 40 years and are having problems related to menopause. Preksha Yoga Therapy can improve the situation. Asanas, Pranayama, Deep Breathing Meditation and Kayotsarga can help to overcome the problems. Nirmalaji guided them, as ladies' health problems are her speciality. She informed them on some home remedies along with Preksha Meditation Techniques. They said that the workshop had really shown them a new way to lead healthy life.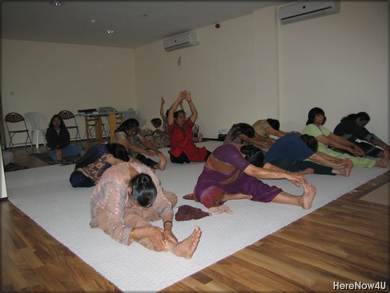 Ladies trying to overcome inflexibility of the body
In the evening, some persons came for personal consultations.
26.06.2006
Today, Samanijis were preparing for a trip to Leeds, as they had to leave at 8:00 am. As we will stay here, they had given some instructions and guidelines to us how to look after the centre. Manikji and Nirmalji were given practice again for their back and leg problems.
At 9:00 am, we went to Shravika Satsang Mandal at Wembley, run by Smt Vilas Dhanani. More than 80 ladies were present there. I suggested that instead of lecture we should have a question and answer session, so that they may feel better. Many questions regarding health problems were put, specially Diabetes is very common among the aged ladies. I guided them for their diet and other home treatments. Nirmalaji showed the two main Asanas against it, Pashimotanasana (wrest stretch posture) and Ardha Masteyndrasana (half twisting posture). We showed them how to do them different from the traditional postures. So the participants highly enjoyed them. Then I guided them through Kayotsarga. I felt that most of the participants were very happy to practice these techniques of Preksha Meditation. Vilas Ben gave introduction of Adhyatma Sadhana Kendra and me and Nirmalaji, and said, if anyone goes to India and Delhi, it's a must to visit the Kendra.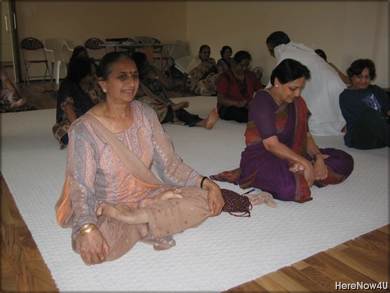 Swami Dharmanandji (in the background) supervising Lotus pose
In the afternoon session, we conducted a very important workshop " How to overcome Depression". I explained the minor and major causes of depressions, their symptoms, their effect on the body, and the treatment against. Preksha Meditation plays a great role in removing depression. Dinesh Shah showed the Asanas under my guidance. After that, I gave practice of Kayotsarga and contemplation of tolerance. The participants were pleased to have new experiences.
In the evening, we went with Sri R. K. Jain who had come from India, to his son's house and had dinner there.