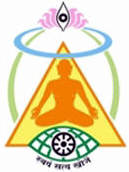 A series of Workshops by
Swami Dharmandji & Nirmalaji
[Adhyatma Sadhana Kendra, Delhi]
on
Be Your Own Therapist "Preksha Yoga Therapy"
(learn how to cure, control and even reverse some ailments)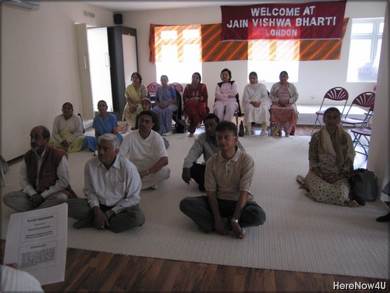 Participants from all walks of life came to JVB London for the workshops
19.06.2006
Early in the morning, we had Deep Kayotsarga practice with the Samanijis. At 6:30 am, we gave instructions to the regular students for having Padmasana (Lotus Pose) and Pashimotanasana (wrest stretch posture). In the personal consultation class, Nirmalji and Pushpa Banthia, chairperson of JVB London's cultural committee, were taught to solve their knee problems and how to practice some health rejuvenating exercises, Asanas and Meditation lesson was given as well.
At the workshop at 1:00 pm, I guided the about 25 participants for cold, cough and sinusitis. Some of the participants suffered from allergic and seasonal problems. They were pleased to receive such basic informations on their disease, which doctors had never told them. Every one of us has one special ailment during his lifetime, so it was an important topic for all, which was proofed in the question & answer session afterwards. Samani Punya Pragyaji's auspicious presence gave guidance to all of us.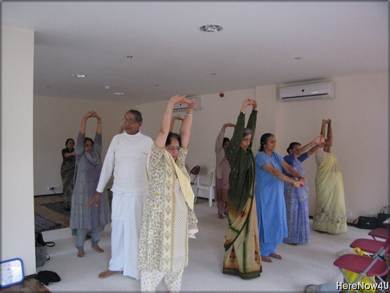 Swami Dharmanandji is supervising performance of exercises benefitting health
Kunjal, the cleaning techniques, can be practiced with empty stomach only; so those who wanted learn it, were invited for the next morning. Nirmalaji taught then breathing with diaphragm. I guided a Preksha Meditation session and Kayotsarga with regard to asthmatic diseases, which are caused by stress.
At the end of every session and from 8:00 to 10:00 pm, personal consultations were given to individuals having different problems.
20.06.2006
We had deep Kayotsarga with Pranic energisation with the Samanijis at 5:00 am. After guiding the regular students how to practice Lotus pose and Pashimotanasana properly, I instructed to cold and asthmatic patients how to do Jalneti. I took class of Manikji and Nirmalji. From 8:00 am to 12:00 noon, personal consultations for diabetes, skin problems, neck and shoulder pain etc.
The subject of today's workshop was arthritis and joint pain. 35 people took part, among them about 25 ladies. Some of them suffered from knee pain, some from slip knee disc. I explained the types of Arthritis, their symptoms and prevention as well as the treatment against it. Nirmalaji guided them in practice for their knee and neck problems. Everybody was happy to learn such easy techniques.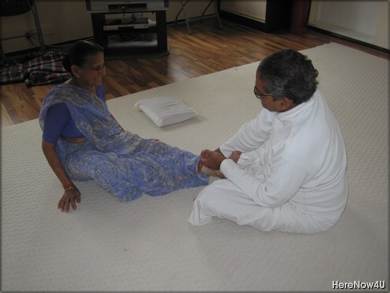 Swami Dharmanandji explains to a lady how to treat Arthritis
I guided them for Kayotsarga (Deep Relaxation) and Preksha Meditation. The practice was done with interest, and most of them practiced in-depth. In the following question and answer session, many queries could be cleared. Samani Punya Pragyaji's presence was inspiring.
From 4:30 pm, personal consultations were given. Kamalaji with her daughter who lives in Singapore got their problems solved and felt very satisfied.
21.06.2006
In the morning, we practiced Kayotsarga with the Samanijis. I guided both morning classes in how to perform Padmasana properly. From 8.30 to 12.30 noon, I gave personal consultations to people suffering from different ailments like thyroid problem, numbness in the foot, cold and cough, digestive disorders, varicose veins, etc.
At 1:00 pm the workshop started with 28 persons on the subject kidney health. By power point projection, I explained the functions of the kidneys and its importance for the functioning of the body. Further I informed on the symptoms and cause of kidney disease and how to prevent the disease, by specially mentioning the importance of Preksha Meditation in reversal of this disease. Nirmalji guided them through the practice of health rejuvenating exercises, Asanas and Pranayama. I guided a session of Preksha Meditation, Kayotsarga and contemplation (Anupreksha).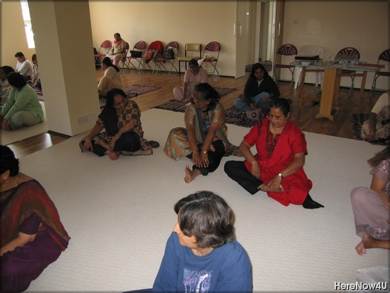 People trying to perform Asanas properly
Today a German, Mr. Heinz, who is living in London and studying Jainism with Mr. Praveen Shah, came and attended our workshop and was pleased to see and practice Kayotsarga and Preksha Meditation.
In the evening, we went to Mr. Ashok Gutka's home and had dinner there. Later in the evening, four persons were given guidance of their problems.
22.06.2006
After having practice of Kayotsarga with Samanijis, I guided the regular participants for their backache and muscle problems. Further, Jalneti for cleaning the nose with water by using a special vessel was taught. In the Asana class of Samanijis, I taught how to reduce obesity and how to practice Padmasana.
In the afternoon workshop, we had projected on the subject, how to age gracefully. There were 30 persons in the workshop. I explained that old age is not because of the years only, but also of having lack of flexibility in the body, thinking, and also unbalanced diet, tension and negative thinking.
Nirmalaji guided them in how to maintain youth through practicing the Bandhas, Vipritkarni, Mudra and Mahamudra. I guided them for better health in old age through regular practice of Preksha Meditation, Kayotsarga and Asanas.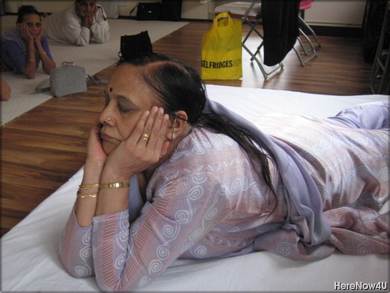 Nirmalaji guiding people for Asanas maintaining youth
In the evening, we took lunch with Subhag Shah at his home, where also consultations were given to some people. Another three persons were given consultations at the JVB London centre.