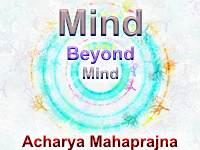 For thousands of years the human mind has been a controversial subject and it is likely to be so in the future also for those who try to control it. However, the mind ceases to be a problem for those who are capable of entering into the self. Those given to spiritual sadhana view the mind and its problems in a different light. For them the mind is only an instrument. There is no use quarrelling with the instrument. The root cause of all our evils lies elsewhere. Bhagawana Mahavira said: 'The battle with all the elements alien to the soul is to be fought within the soul. The occasions for such a battle are rare and you should not miss any opportunity.' The war slogan of the Spiritual hero is: 'Fight every element alien to the soul. You have enough resources and the final assault will not go unrewarded. Strike the enemy down. If you don't strike now, you may not command the resources later on. You are bound to be victorious. The battle will have to be fought within your self.'
The battle for self-realization is a tug of war between the self and all the elements alien to it. The outcome of the battle will be uncertain if you simply go on pulling the rope. The best and easiest way to defeat the Opponent is to leave the rope so that the enemy falls by his own force.
What has been said above is the subject of the present book.
Acarya Tulsi has always been a guide to me and I owe the inspiration of writing this book to him. I am fortunate to have been with him and to have been guided by him.
I am also thankful to Muni Dulharaja for the compilation of various lectures delivered in different Yoga camps in the form of this book.
Acarya Mahaprajna