Centre of Jaina Studies Newsletter: SOAS - University of London
---
The project Jaina Rituals of Death aims at the completion of a comprehensive monograph on new and yet unpublished findings on Jaina stūpas and practices of relic worship in contemporary Jaina culture. It represents the culmination of long-term archival and field research in India. The project will also contribute to the development of new theoretical perspectives on the conundrum of the pervasiveness of relic worship by humankind in general.
In standard portraits of the history of Indic religions, Jainism is usually singled out as the only tradition where relic worship is strictly ruled out and not practiced. This conception will need to change. It is a common stereo- type of textbooks on world religions that Jains in India, belonging to one of the oldest surviving religious traditions, never worshipped the remains of the Jinas, and consequently never developed a ritual culture parallel to the cult of relics in Buddhism. In his well-known study The Jaina Path of Purification, P. S. Jaini (1979) recalls that neither 'the Śrāvakācāras', the medieval texts outlining the rules of conduct for the Jaina laity, 'nor the practices of Jainism give any indication that a cult of relic-worship once flourished within the tradition. No stūpas housing the remains of Jaina teachers have yet been discovered.' This verdict is echoed by K. Bruhn (1993): 'There is also the issue of "actual evidence". There were Jaina stūpas but they did not survive. As a consequence, the stupa became a Buddhist monument'. Apart from isolated myths and legends in canonical and medieval Jaina literature, depicting the veneration of the relics of the Jaina Tīrthaṅkaras or prophets by the gods, there is no indication of bone relic worship in early and medieval Jainism to date.
The book Jaina Rituals of Death, emerging from the current research project funded by Arts and Humanities Research Council (AHRC) Fellowship AH/I002405/1, will offer for the first time a comprehensive summary and interpretation of new findings on the Jaina cult of relic worship. Although Jaina doctrine rejects the worship of acitta, or lifeless, material objects, the applicant's fieldwork in India on the hitherto unstudied contemporary Jaina mortuary rituals has furnished clear evidence for the ubiquity of bone relic stūpas and relic veneration across the Jaina sectarian spectrum. British Academy funded research (Research Grant 2001 APN 3/522) produced the first documentation of two modern Jaina bone relic stūpas constructed by the Terāpanth Śvetāmbara Jains. Subsequent fieldwork, supported by the Central Research Fund of the University of London (Research Grant 2002/2003 AR/CRF/A), demonstrated that relic stūpas are not only a feature of the anti-iconic Loṅkāgaccha, Sthānakavāsī and Terāpanth Jaina traditions, but also of image-worshipping Mūrtipūjaka and Digambara traditions. Hence, the initial hypothesis that the contemporary Jaina cult of bone relics functions either as substitute or as a prototype for image-worship had to be amended. Modern Jaina relic shrines are evidently not only constructed in anti-iconic Jaina traditions as functional equivalents of temples. The findings also demonstrate that the Jaina cult of relic worship is not exclusive to lay religiosity, but deliberately fostered by mendicants seeking to perpetuate their influence.

The only previous book-length study on Jaina stūpas is Vincent Smith's (1901) account of the fragmentary research of A. Führer, who did not leave any notes of his excavation of the Jaina stūpa in Mathura. Recent ethnographic and textual studies of the popular devotional rituals held at 'commemorative' Jaina shrines by Laidlaw (1985), Granoff (1992), Humphrey and Laidlaw (1994), Babb (1996), Laughlin (2003), and Dundas (2007) demonstrated the prevalence of worshippers' orientation towards the 'magical power' of famous deceased Jaina monks who are reborn as gods. Until the present author's recent, as yet largely unpublished, findings there was no evidence that many of these and similar monuments are veritable relic stūpas.
Why do human beings venerate relics? Broadly speaking, three theoretical approaches have been proposed in academic discourses: (1) psychological theories, (2) sociological theories, and (3) fetish theories. Most current theories tend to presuppose rather than explain the power of relics within given cultural systems. The book emerging from this AHRC Fellowship funded research project will suggest an alternative system theoretical approach focusing on the role of relics as social catalysts.
References
Babb, Lawrence A. Absent Lord: Ascetics and Kings in a Jain Ritual Culture. Berkeley: University of California Press, 1996.
Bruhn, Klaus. 'The Study of Jaina Art'. In Jain Studies in Honour of Jozef Deleu, edited by Rudy Smet and Kenji Watanabe, 53-66. Tokyo: Hon-no-Tomosha, 1993.
Dundas, Paul. History, Scripture and Controversy in a Medieval Jain Sect. Routledge Advances in Jaina Studies Vol. 2. London: Routledge, 2007.
Flügel, Peter. 'The Jaina Cult of Relic Stūpas'. Numen 57, 3-4 (2010) 389-504.
Granoff, Phyllis. 'Worship as Commemoration: Pilgrimage, Death and Dying in Medieval Jainism'.Bulletin D'Études Indiennes 10 (1992) 181-202.
Humphrey, Caroline & James Laidlaw. The Archetypal Actions of Ritual: A Theory of Ritual Illustrated by the Jain Rite of Worship. Oxford: Clarendon Press, 1994.
Jaini, Padmanabh S. The Jaina Path of Purification. Berkeley: University of California Press, 1979.
Laidlaw, James. 'Profit, Salvation and Profitable Saints'. Cambridge Anthropology 9, 3 (1985) 50-70.
Laughlin, Jack C. Ārādhakamūrti/Adhiṣṭhāyakamūrti Popular Piety, Politics, and the Medieval Jain Temple Portrait. Bern: Peter Lang, 2003.
Smith, Vincent Arthur. The Jain Stūpa and other Antiquities of Mathurā. Allahabad: Frank Luker, Government Press, North-Western Provinces and Oudh, 1901.
PROJECT WEBPAGE: www.soas.ac.uk/jainastudies/research/jaina-rituals-of-death/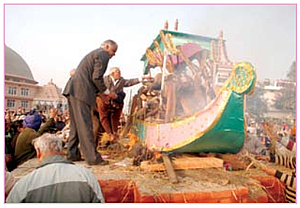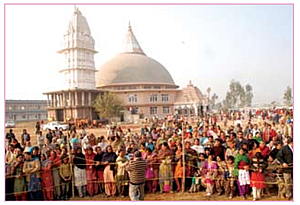 Cremation of Ācārya Vimalmuni (1924-2009), Ādiśvara Dhām, Kupā Kalāṃ, Panjab (Photos Courtesy Ravinder Jain & Purushottam Jain)