Page 16,17,18,19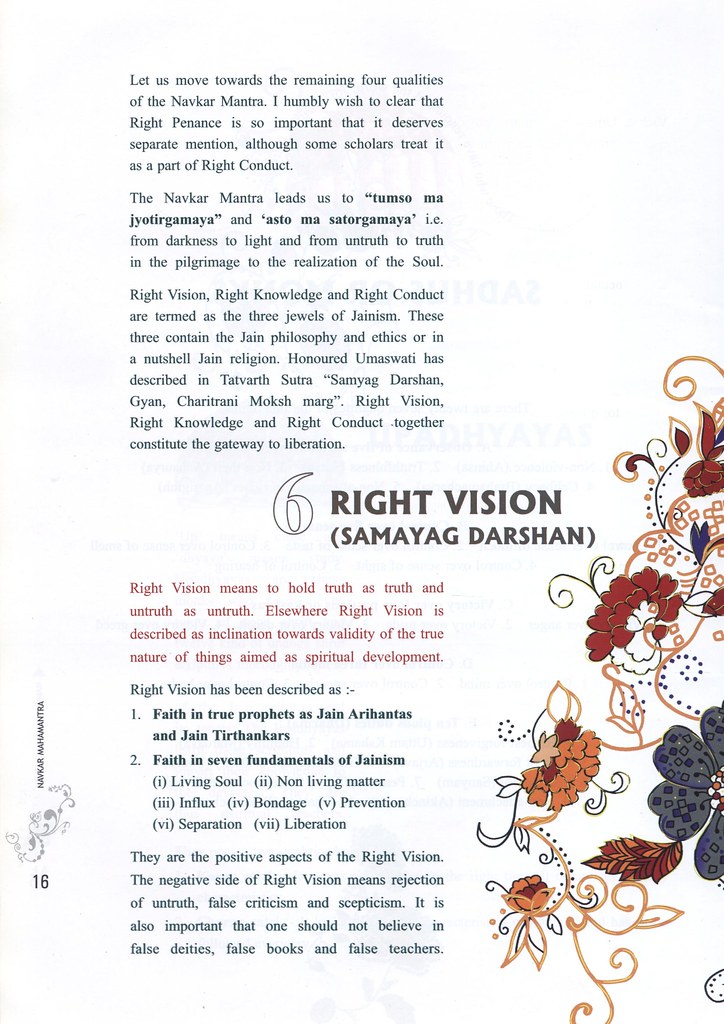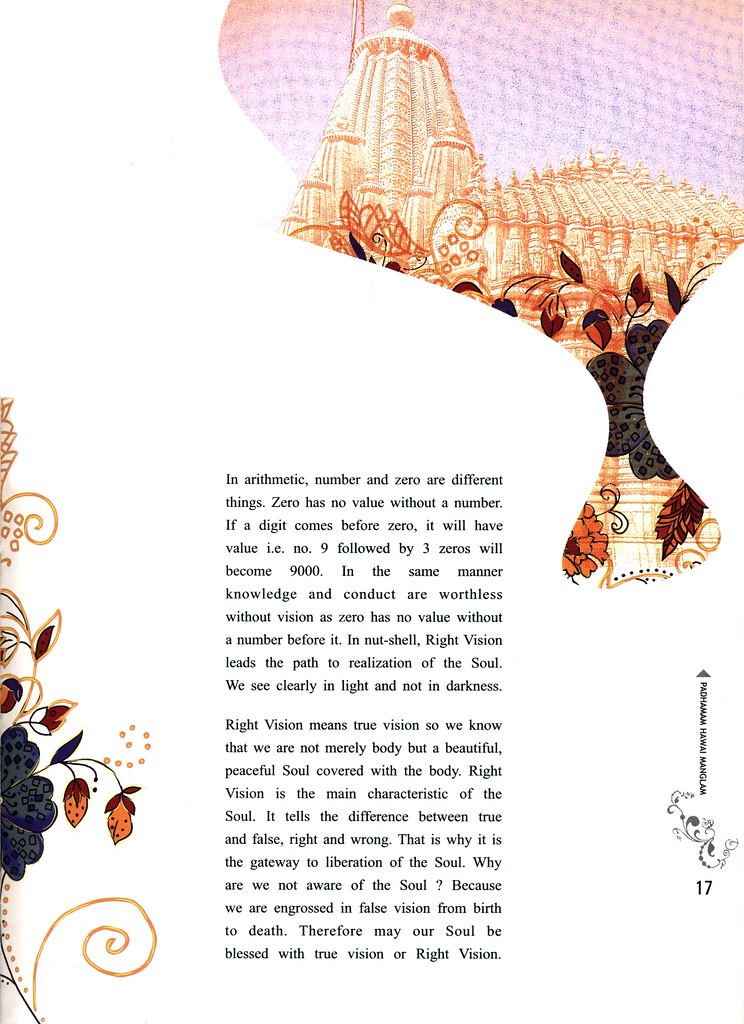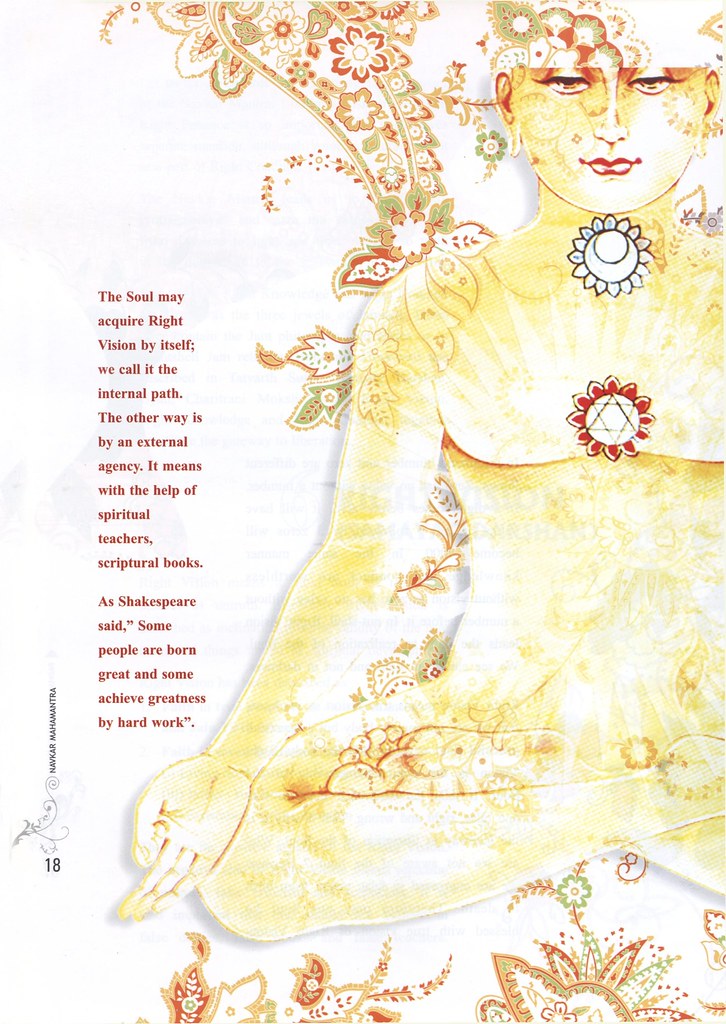 Text:
RIGHT VISION
(SAMAYAG DARSHAN)

Right Vision means to hold truth as truth and untruth as untruth. Elsewhere Right Vision is described as inclination towards validity of the true nature of things aimed as spiritual development.
Right Vision has been described as:
Faith in true prophets as Jain Arihantas and Jain Tirthankars

Faith in seven fundamentals of Jainism

Living Soul
Non living matter
Influx
Bondage
Prevention
Separation
Liberation

They are the positive aspects of the Right Vision. The negative side of Right Vision means rejection of untruth, false criticism and scepticism. It is also important that one should not believe in false deities, false books and false teachers.

In arithmetic, number and zero are different things. Zero has no value without a number. If a digit comes before zero, it will have value i.e. no. 9 followed by 3 zeros will become 9000. In the same manner knowledge and conduct are worthless without vision as zero has no value without a number before it. In nut-shell, Right Vision leads the path to realization of the Soul. We see clearly in light and not in darkness.
Right Vision means true vision so we know that we are not merely body but a beautiful, peaceful Soul covered with the body. Right Vision is the main characteristic of the Soul. It tells the difference between true and false, right and wrong. That is why it is the gateway to liberation of the Soul. Why are we not aware of the Soul? Because we are engrossed in false vision from birth to death. Therefore may our Soul be blessed with true vision or Right Vision.

The Soul may acquire Right Vision by itself; we call it the internal path. The other way is by an external agency. It means with the help of spiritual teachers, scriptural books.
As Shakespeare said," Some people are born great and some achieve greatness by hard work".
These are five distinctive characteristics of the person who possesses Right Vision:
Spiritual calmness (Prassama)

Desire for liberation (Samveg)

Non attachment to the world (Nirveda)

Empathy (Anukampa)

Faith in the 7 fundamentals of Jainism (Astikaya)
A person with Right Vision should follow the eight requirements:
Freedom from doubt
Freedom from desire for worldly comforts
Freedom from doubt about fruit of religion
Wisdom to tell truth from non-truth
Appreciation of the virtuous
Redemption of nonbelievers
Affection towards devotees
Establishment of right faith

The man with Right Vision should give-up the following prides i.e. the pride of:
family
strength
beauty
knowledge
wealth
authority
worldly connections
spiritual advancement

True vision results in equanimity of the mind and detachment from the world. It frees the soul from infatuation and aversion, which bind the soul with Karmas. A person faithful to true vision will have his each and every action free from taint or blot of Karmas. True vision gives a true picture of what to do and what not to do.