Jain Temples at Muktagiri
"The origin of Muktagiri as a centre of pilgrimage goes back to a memorable occurrence in which the leading part is played by a saintly monk. This is something characteristic of many places featured in this book and confirms the traditional conviction held by Jainas that their saints of old lived up to the code of conduct laid down by Mahavira. Being pioneers in the true meaning of the word, they were the ones who showed their followers, by their mode of living and their way of preaching, not only the revealed path to final salvation but also, and quite literally the ways to places of serene beauty which encompass within a limited space the requisites necessary to become fountain-heads of an ever-living faith. Muktagiri is such a fountain-head.
For the length of every rainy season, the vertically rising rock-formation, overgrown and with an ancient cave-temple in its eastern base, takes on the appearance of a green and reddish-brown back-cloth interwoven with gold, in front of which strings of glittering pearls purl down, seemingly descending from heaven, an awe-inspiring background for the second-last cluster of Muktagiri's forty-two temples.
Some day long ago, the story goes, a Jaina monk, sitting outside the cave, noticed how a frog was caught and deadly hurt by the gushing streams of water falling down the rocks. The monk knelt down to the dying creature and recited a namokar-mantra (the most holy hymn of the Jainas) whereby the frog was instantaneously reborn as a heavenly maiden who, out of gratitude, made a rain of pearls fall down on that spot of ground which has become known by the name of 'Muktagiri', meaning Hill of Pearls." (Text by Kurt Titze, from his book Jainism. A Pictorial Guide to the Religion of Non-Violence (1998), p. 91).
---
Ancient impressions from Muktagiri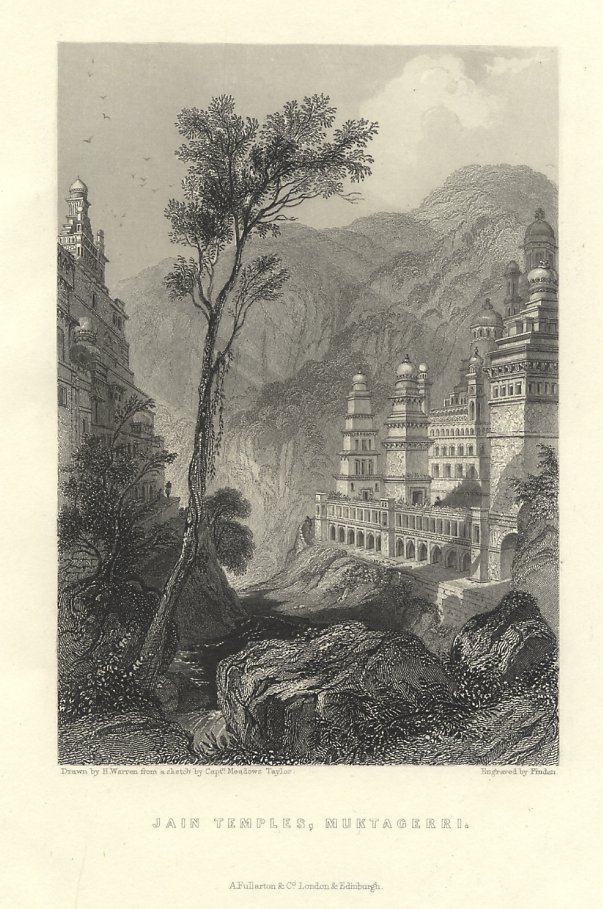 "Jain Temples, Muktagerri" from Fullarton's Gazetteer, London and Edinburgh, c.1848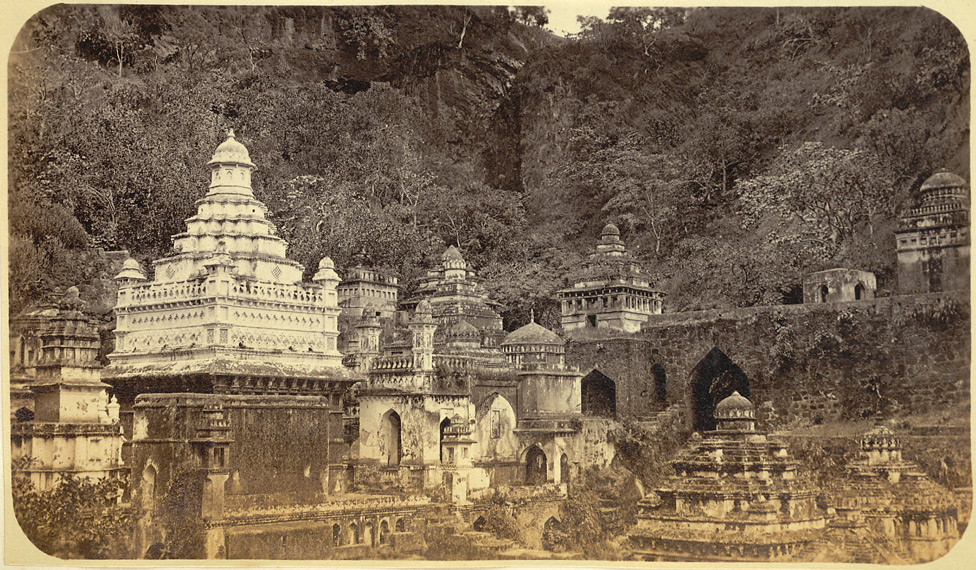 "Jain Temples, Mucktagiri [Muktagiri]," a photo by Robert Gill, 1860's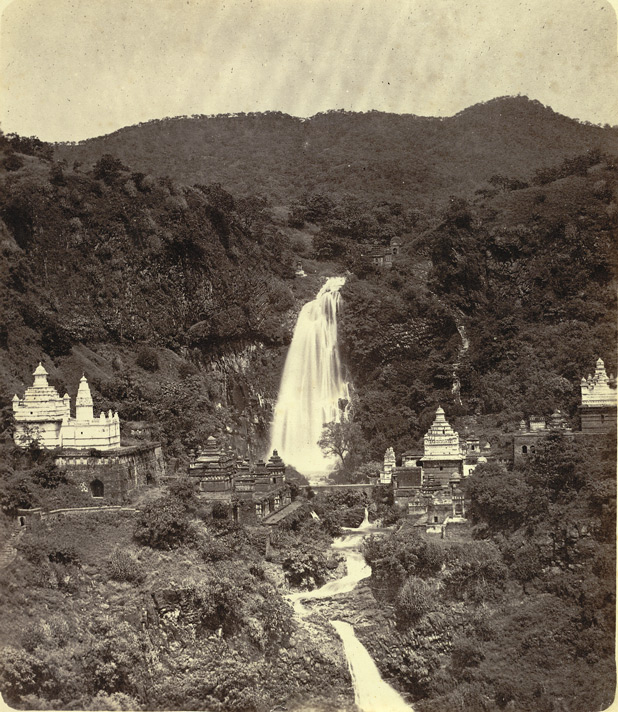 "Mucktagiri [Muktagiri] Waterfall and Jain Temples", a photo by James Mulheran, c.1862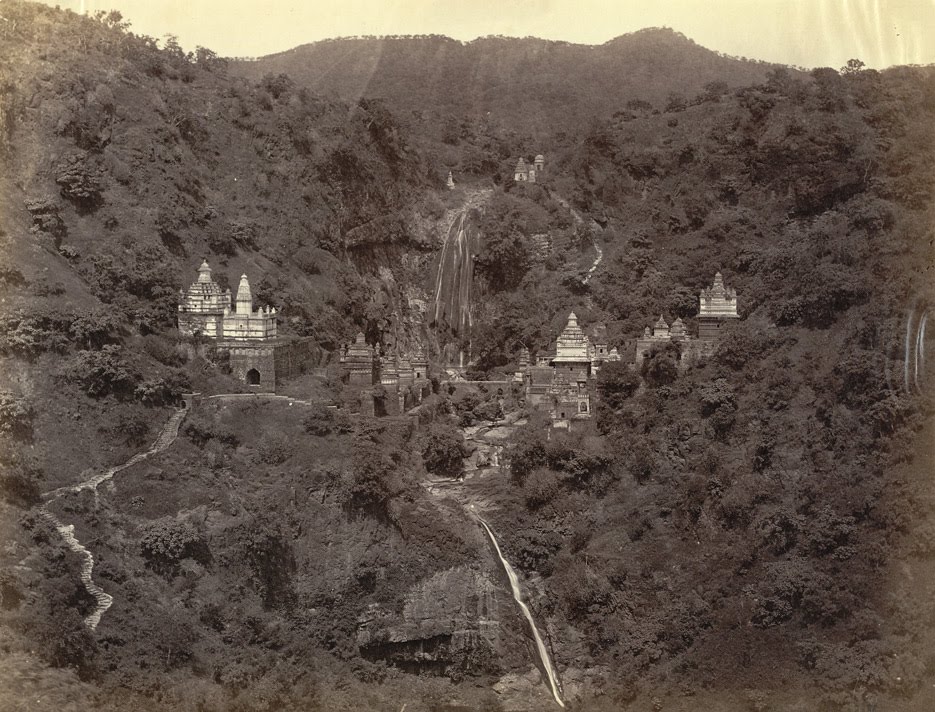 ---
Muktagiri Siddha Kshetra
Siddha Kshetra of Muktagiri is situated in the lap of the 'Satpuda' Mountain range and it is surrounded by beautiful natural vegetation. It is an ancient Siddha and Atishaya Kshetra and is also known as 'Mendhagiri' or ' Medhrgiri'. According to "Prakrit Nirvan Kand" and other texts, Muktagiri is place of attainment of Nirvana where about three and a half crores of muniraj (Saints) have done meditation and attained salvation.

According to the local traditions the Samavasarana of 10th Tirthankar Bhagwan Shitalanatha arrived here and so the place is said to become sacred by footsteps of Jina Shitalanatha.

Many miracles do happen here from time to time. This kshetra is quite ancient and according to a copper plate inscription (tamrapatra) got from Achalpur the 'Guha Mandir' (cave temple) was constructed on this hill by the emperor of Magadh, named Shrenik Bimbasar, who was a contemporary of Bhagwan Mahavir about 2500 years ago.

After Shrenik, about 1000 years ago from today king Ail Shripal of Elichpur (Achalpur) developed this kshetra. Thus Muktagiri became a famous tirth kshetra at that time. Many temples and idols were reverenced by him. According to some ancient records, available at Muktagiri Sansthan, the entire temples and dharamshala were managed since 200 years by Kalamkar family, residing at Sultanpur (Achalpur). In 1923, late Shri Nathusa Pasusa Kalamkar purchased the entire range of Satpuda Hill along with 52 Digambar Jain Temples from Mr. Khaparde who was holding the malgujari and collecting a surcharge from Jain devotee's coming for worship. Then Nathusa Pasusa build dharamshala and Mahavir Temple on the foothill of the holy place. In 1956 the public trust was formed and till today the entire management is looked after by Kalamkar family. This holy place has given a complete face-lift after 1980 when 108 Shri Vidyasagar Maharaj completed a chaturmas at "Muktagiri".
How this place was named as 'Muktagiri'
It is said that at the time when Samavasarana of 10th Tirthankar Bhagwan Shitalanatha arrived here, there was shower of pearls (Moti, Mukta). It is because of this shower of pearls that the name of this holy place became Muktagiri.
The Secret behind the name 'Mendhagiri'
It is said that in ancient times a Muniraj was engrossed in meditation and tapa near the waterfall. At that time a mendha (male lamb), which came near waterfall, slipped and fell near Muniraj. The Muniraj recited 'Namokar Mantra' to the dying mendha. As a result of recitation of 'Namokar Mantra', the mendha attained eternity and peace and became Dev. This Dev showered pearls on this hill. As the mendha attained eternity here, so name of this place became 'Mendhagiri' and due to shower of pearls it became 'Muktagiri'. Even today the shower of saffron takes place on the hill at Ashtami, Chaturdashi and Poornima.

Though it is Siddha Kshetra, it is also related with many miracles. Many sensitive devotees use to visit the principal deity Bhagwan Parshvanath of 26th temple to get rid from worldly diseases and other types of illness. One foreigner himself felt one such miracle; the proof of this event with foreigner is present in the Government Gazetteer of Betul. Moreover, the shower of saffron on hill on the Ashtami, chaturdashi at full moon night (poornima) provides strong evidence for the happening of miracles at this place.

Many dangerous animals like lion, tiger, leopard, snakes and Reptiles are seen while visiting at the feet of Bhagwan and it seems that they visited here to get rid of their violent tendencies. These dangerous animals have never proved violent and not even caused harm to any visitor.
Main Temple and Idol
There are 52 temples on Muktagiri Siddha Kshetra. The separate routes are made for ascending up and descending down the hill. The 10th temple of this kshetra is known as Mendhagiri temple and 26th temple is called as the main temple. The 40th temple is dug in the lap of mountain and it is quite ancient and beautiful. Most temples of this kshetra belong to 16th century.
Mendhagiri Temple
This is the oldest temple at Muktagiri and it is believed that this was constructed by king Ail Shripal of Elichpur. The cave temple has three doors on which Arihant idols are carved; two of the doors are usually closed. In the center of the temple a hall is constructed on four pillars. Around this hall the path of circumambience is built. There are 72 images of Tirthankaras (three chaubisi) carved beautifully on the walls of this temple which is 16 feet and 3 inch tall and its width is equal to its length. This temple was built in 10th century. The droplets of saffron can be seen on rocks kept outside the temple. It is said that in this temple the mendha attained 'devgati' after hearing precepts from Muniraj. Therefore this temple is called Mendhagiri.

The 26th temple is the main temple of Muktagiri which is dedicated to Bhagwan Parshvanath. The 4 feet high black colored idol of Bhagwan Parshvanath, surmounted by seven serpent hoods, is quite ancient and magnificent. It is said that king Kotibhatta Shripal saw the idol of Bhagwan Parshvanath near the pond of Elichpur in his dream and he gave order to take out the idol from there.
The Temples of Muktagiri Siddha Kshetra
All temples are Digambar. There are two temples on the foot hill, one is of Lord Aadinatha and other one is of Lord Mahavir. The group of temples is constructed on the Muktagiri Siddha Kshetra. From No. 1 to 4 there is one group and from No. 5 to 9 there is another group. A waterfall, crossed by a bridge, is situated in between 10th and 11th temple.

From No. 11 to No. 26 there is one group of temples and from 27 to 30 is another group. Temples Nos. 31 to 33 are situated on one side of the waterfall and temple No. 34 and 35 are on the other side. Temples No. 36 to 49 forming the next group. The temples Nos. 50 to 52 are established on the path back to the kshetra.
---
Modern impressions from Muktagiri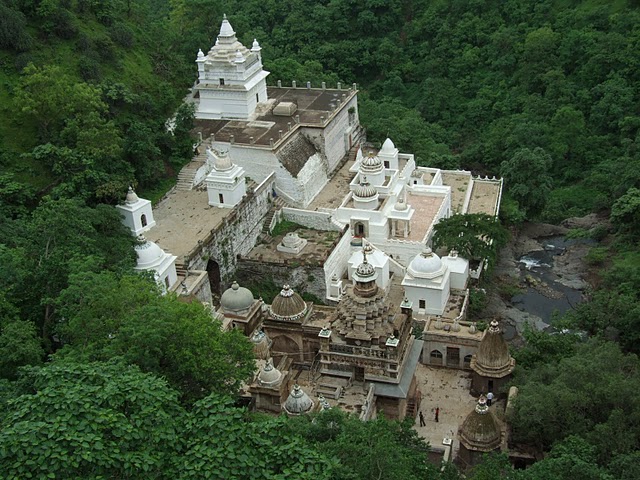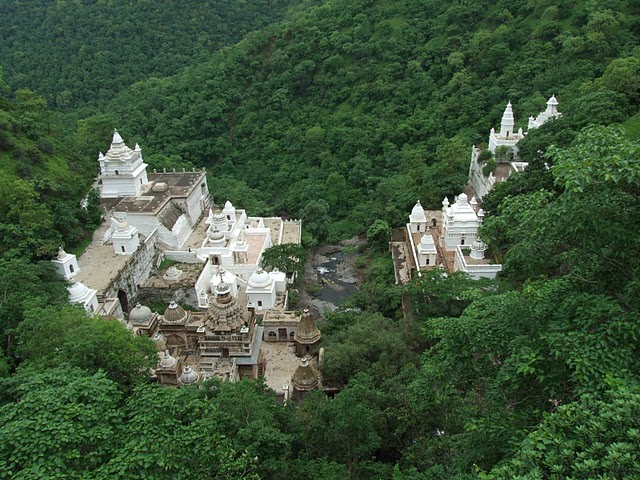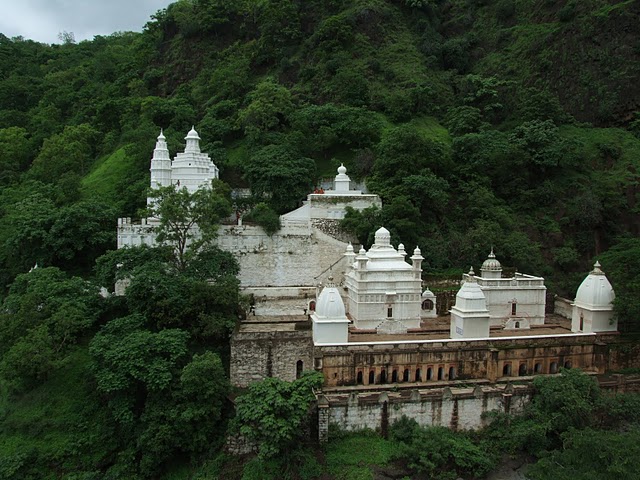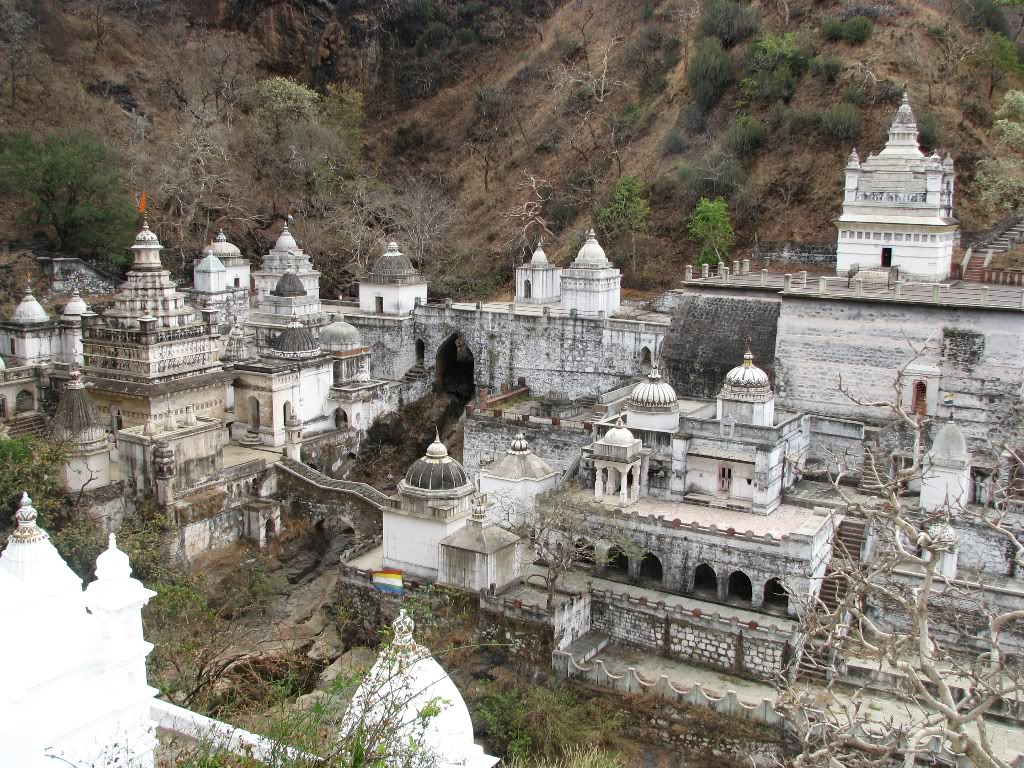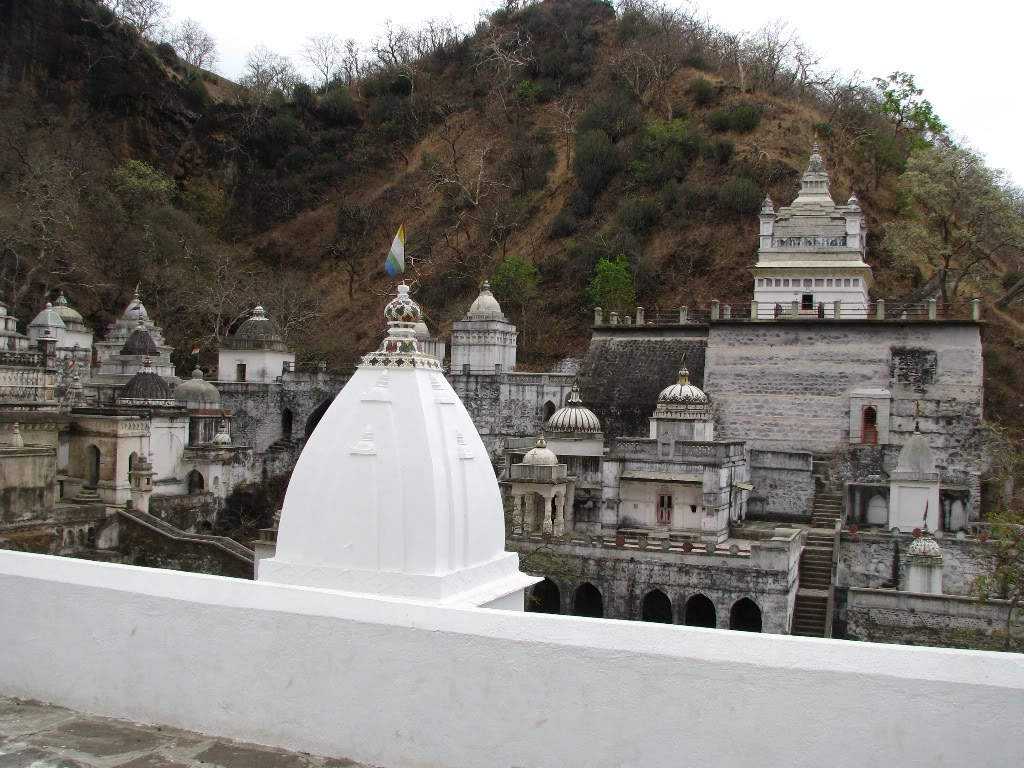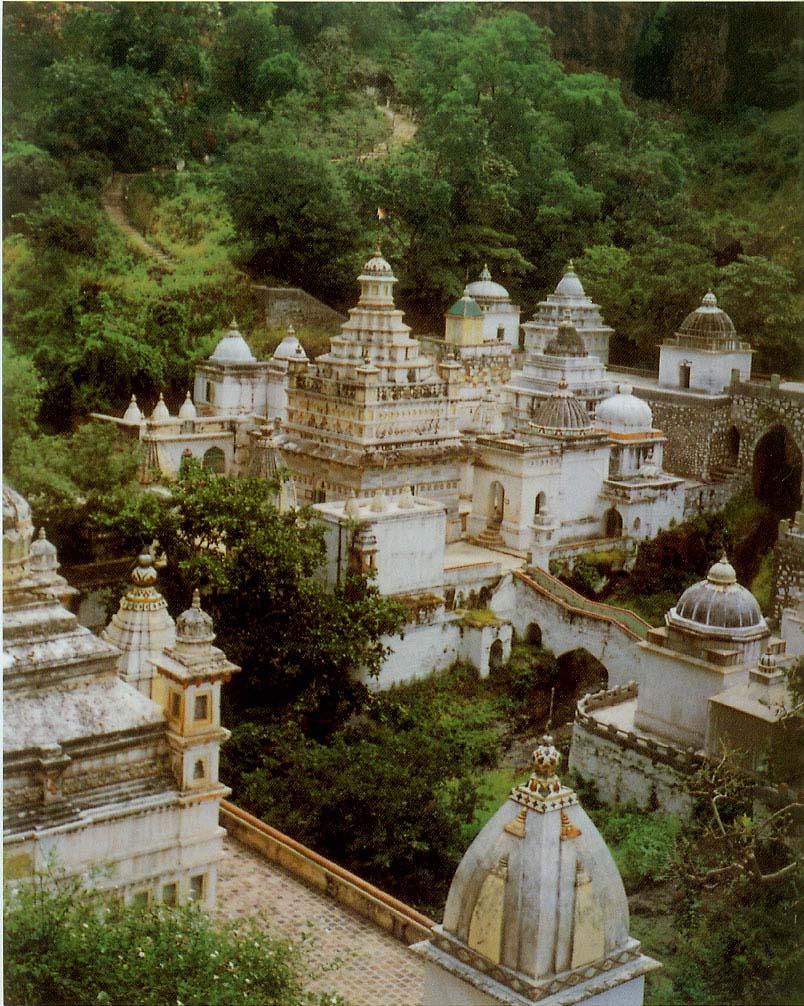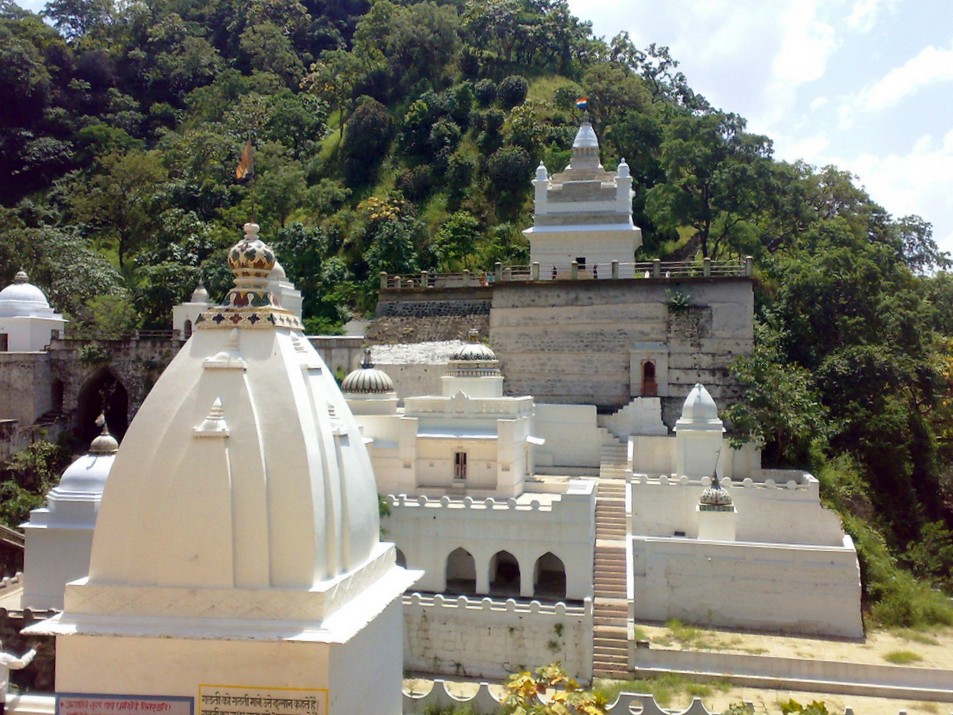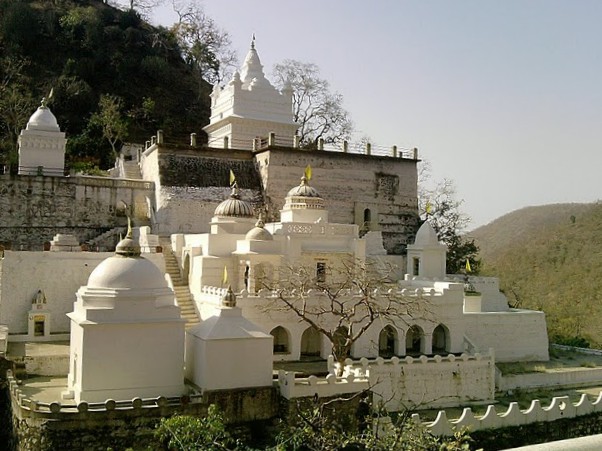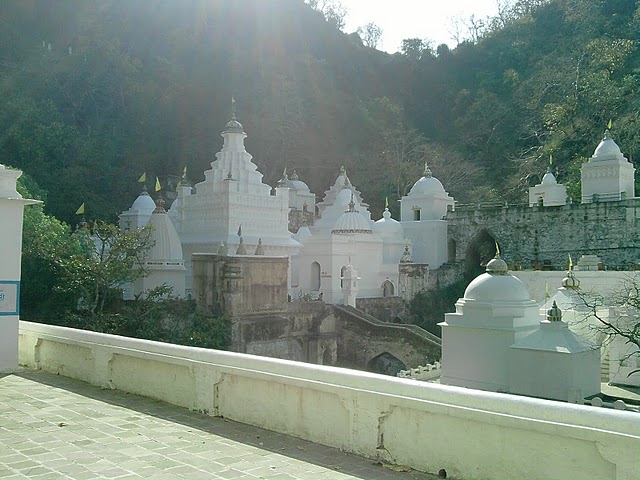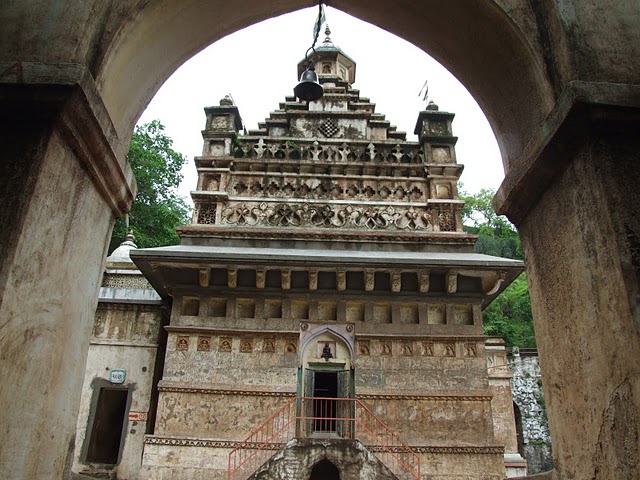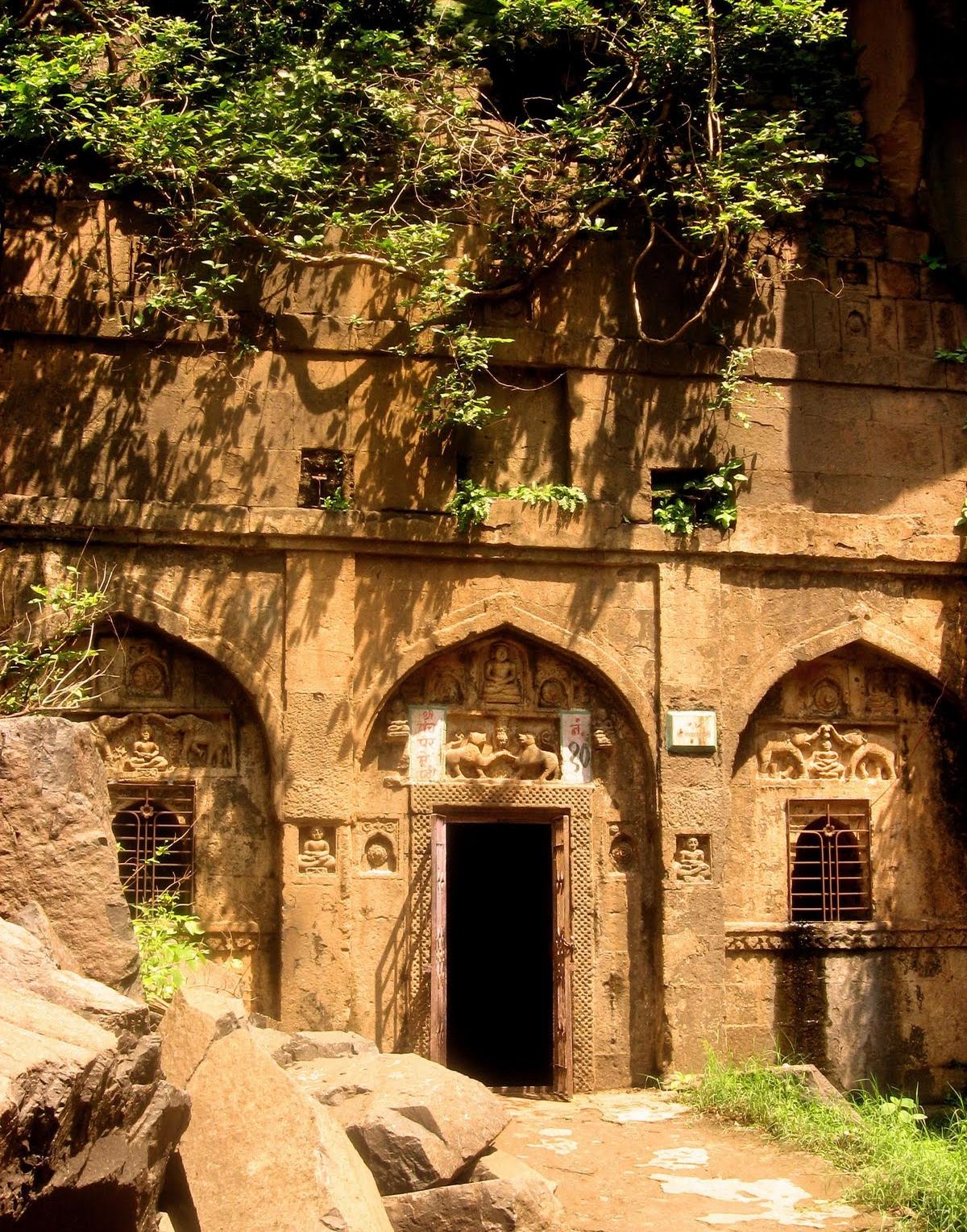 ---
Tirthankar images of Muktagiri