Jain Temples at Sonagiri
Sonagiri (or Sonagir), meaning "the golden peak", is located in Datia district of Madhya Pradesh and is famous for its Jain temples; the site is known as a holy place for the Digambar sect of the Jains.
According to the local legends it is believed that King Nanganag Kumar had attained salvation at this place and got liberated from the cycles of death and; as legend has it that he was followed by millions of people. Thus, Jain saints who seek salvation or practice the paths to nirvana flock to this place.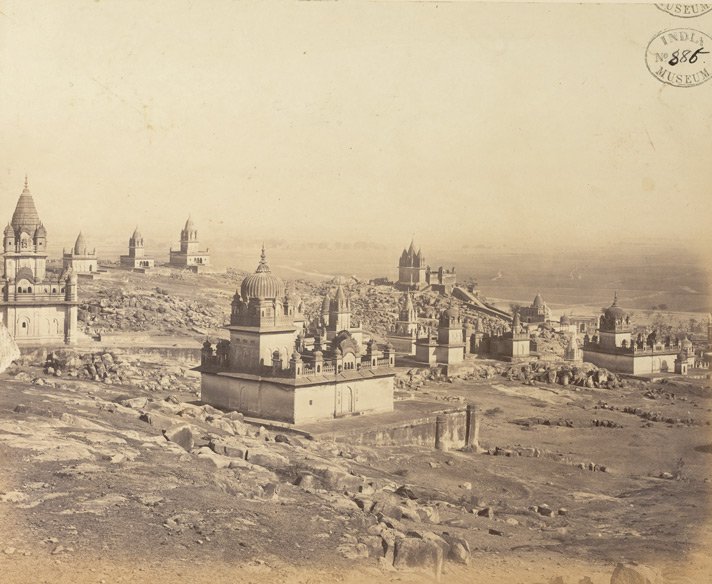 "Group of Jain temples at Sonagir," a photo by George Edward Herne, 1869 (Photo by Prof. Frances Pritchett, Columbia University)
According to Jain tradition the place is popular among devotees and ascetic saints to practice for self discipline, austerity and to attain nirvana (salvation) since the time of Bhagwan Chandraprabhu (8th Tirthankar), whose samavasarana came here for 17 times. Furthermore, five and a half crores of ascetic saints are supposed to achieve salvation (moksha or nirvana) from here.
This unique temple site, known as Laghu Sammed Shikhar, is covering the area of 132 acres of two hills. There are 77 beautiful Jain temples with sky high spires, where temple no. 57 is the main temple of the complex. Acharya Shubh Chandra and Bhartrihari lived and worked at this place for spiritual achievements. They completed here some texts also.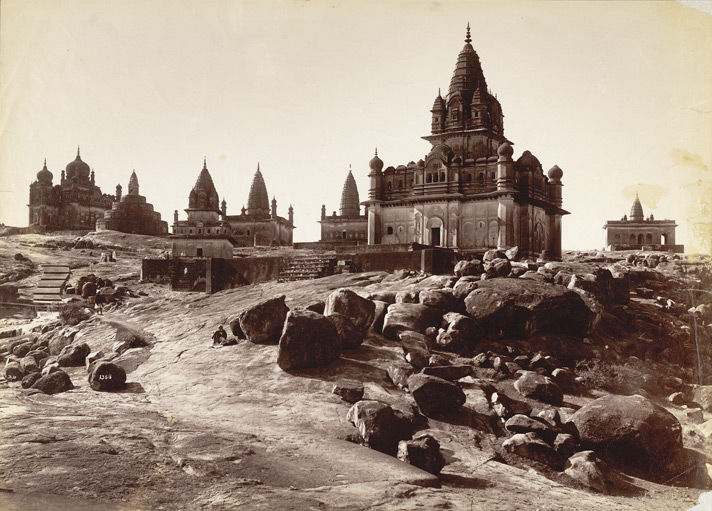 Jain temples at Sonagiri near Dattia, a photo by Lala Deen Dayal, c.1882 (Photo by Prof. Frances Pritchett, Columbia University)
Temple no. 57:
Temple no. 57 is the main temple of the complex. The building is vast in size, very beautiful and have attractive artistic spires. The temple is dedicated to Lord Chandraprabhu. In addition to the icon of Chandraprabhu, a sculpture of 11 feet in height, there are two other idols of Lord Sheetalnath and Parsvanath installed in the temple. A column of dignity (manastambha, 43 feet in height) and an attractive model of samavasarana are located near the temple.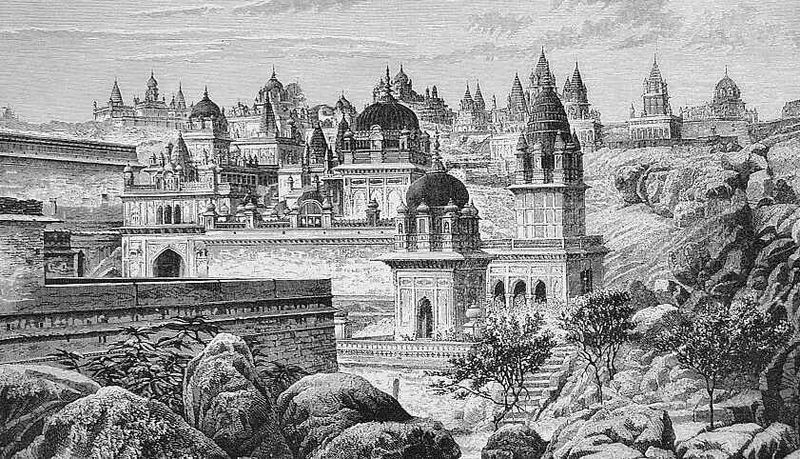 Engraved views of the temples at Sonagiri, from Le Tour du Monde (1872), made from a photograph by M. L. Rousselet (Photo by Prof. Frances Pritchett, Columbia University)
Temple nos. 59 and 60:
Temple no. 59, also named Gumbajdar Mandir (meaning a building with gumbaj or domes), is a quite spectacular building of special art historical interest. All four corners of this temple have tall minars (towers) while a number of smaller minars adorn the entire complex.

Temple no. 60, a notable temple, is also known as Pisan Hari ka Mandir. It is said that a poor woman built it by grinding grain with a millstone (pisan means "grinding").
---
Impressions from the Jain Temples at Sonagiri (Photos by seejai)