Sadhvi Kanakshri Arrived At Kolkata Mahasabha Bhawan
Kolkata, May 22nd, 2009
Devotee lay followers of Greater Kolkata were overwhelmed with joy when Sadhvi Kanakshri, a learned disciple of H.H. Acharya Sri Mahapragya, along with Sadhvi Veenakumari, Sadhvi Madhulata, Sadhvi Madhulekha and Sadhvi Shantiprabha reached Mahasabha Bhawan., after spiritually illuminating various Suburban towns of Greater Kolkata.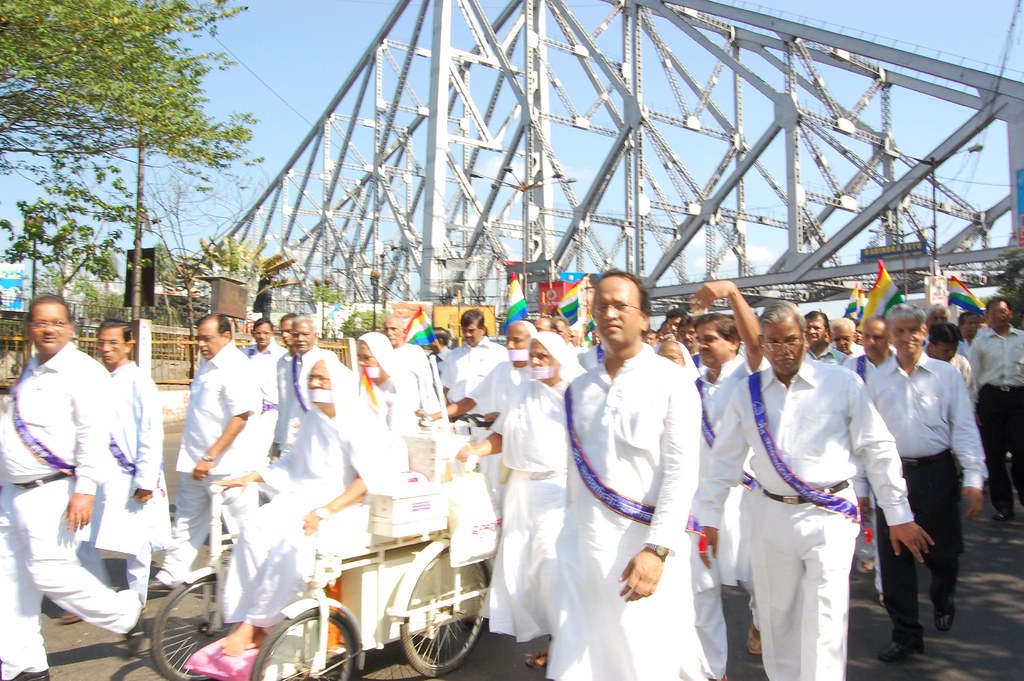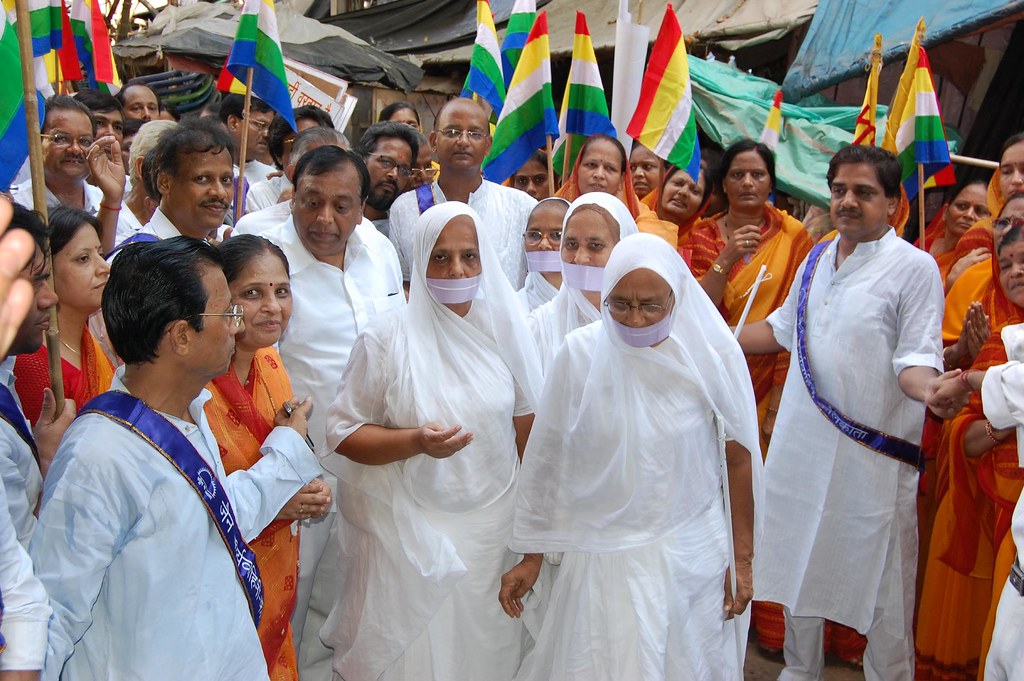 Sadhvi kanka shri entering in mahasabha bhavan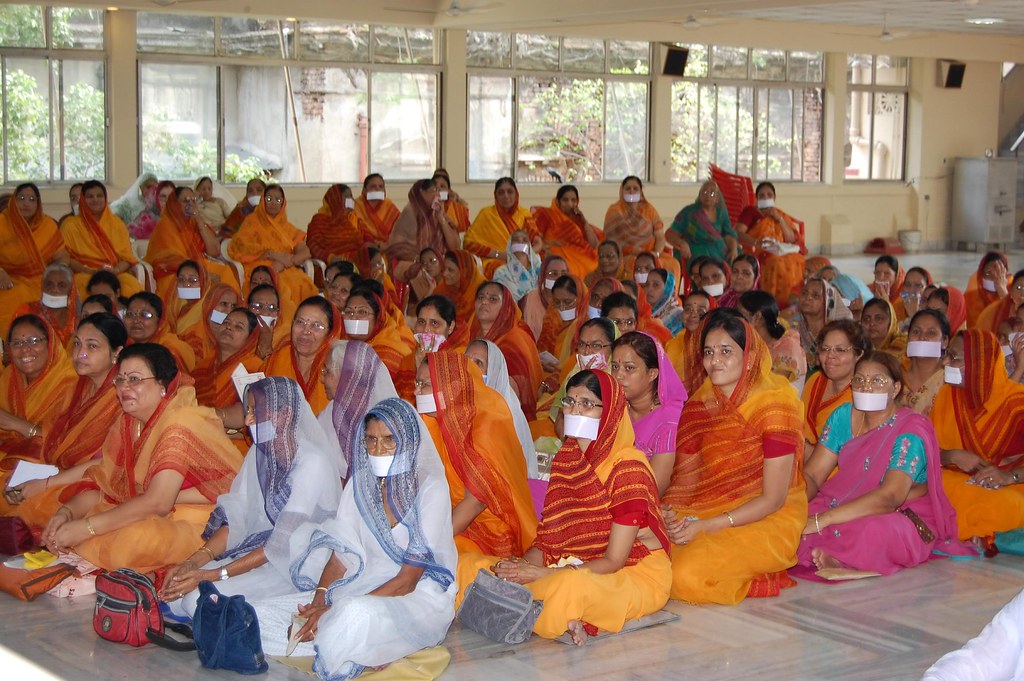 Ladies attentively hearing sadhvi kanak shri
Sadhvi Kanakshri left South Howrah Terapanth Bhawan with a disciplined & diligently flowing large procession. Lay followers from various areas of Kolkata joined the procession to welcome her in Kolkata, a city where she had been present at the time of 'chaturmas' of Acharya Tulsi at Kolkata in the year 1959, almost half a century back.
The long procession converted into a welcome function at Mahasabha Bhawan. Sri Chainrup Chindalia, chief Trustee of Mahasabha, chaired the function. Sri Surendra Kumar Choraria (President J.V.B, Ladnun) and Sri Ranjit Singh Kothari (Chief Trustee, J.V.B, Ladnun), were chief guests. The programme, organised by Terapanthi Sabha, Kolkata, began with a sweet Chorus song by women from Terapanthi Mahila Mandal.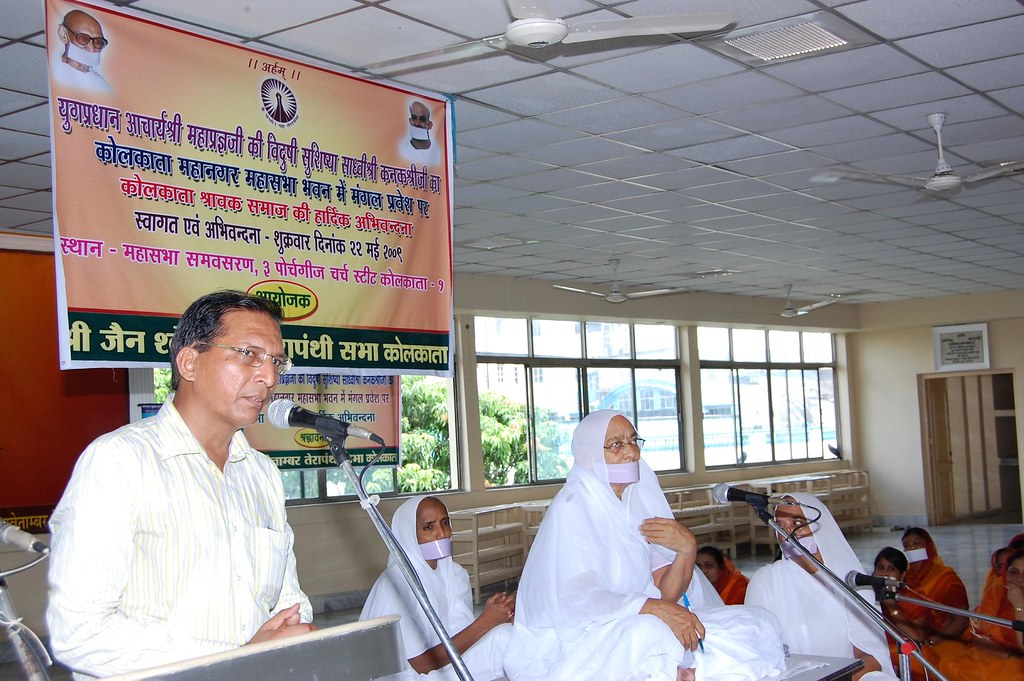 Sri karansingh nahata president of kolkata sabha welcoming sadhvi kanak shri
Sri Karan Singh Nahata, President of Kolkata Sabha cordially welcomed Sadhvi Kanakshri and her group at Kolkata on behalf of Lay followers of Kolkata and all the organizations, Sabha's of Terapanth order in Kolkata. He expressed happiness that the on foot journey of Sadhvisri completed without any change in the scheduled programme with the blessings of H.H. Acharya Mahapragyaji and active participation of the Lay followers of greater Kolkata.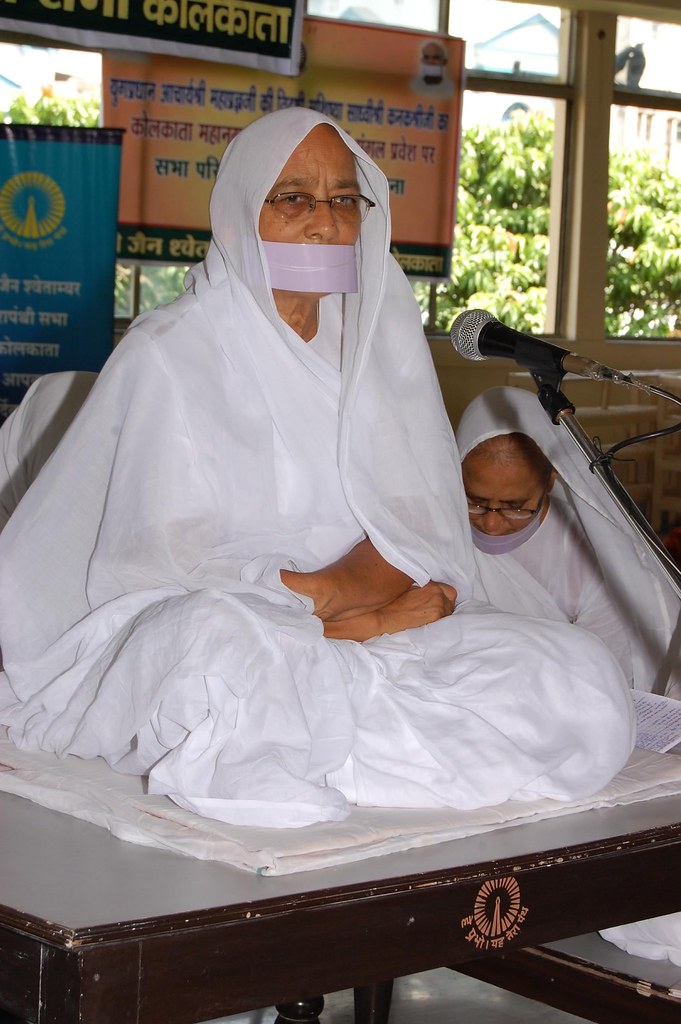 Sadhvi kanak shri addressing to laypersons of kolkata at mahasabha bhavan
Sadhvi Kanakshri ji in her rejoinder to her approbation said - "Welcome of saints is the welcome of Indian culture, heritage, abstinence, relinquishment and austerity. Saints are mobile preceptors. In old age preceptor was one who helped in delivering the living being from the bond of the world. In the present context it is solution provider to come out from the ocean of problems. In the pious presence of Saints one gets reconciliation of sensitive hurdles of life.
Expressing sense of gratitude towards Supreme of Terapanth, H.H. Acharya Mahapragya, and Sadhvishri ji said that his benefaction to humanity is boundless. To disburse his indebt ness the only solution is to emanate the message of guru all along with the lyre of courage and life. We have to put extensive and thorough effort to spread the meritorious work of Acharya Mahapragya ji in the field of Anuvrata, Preksha meditation, Science of living and training of Non-Violence.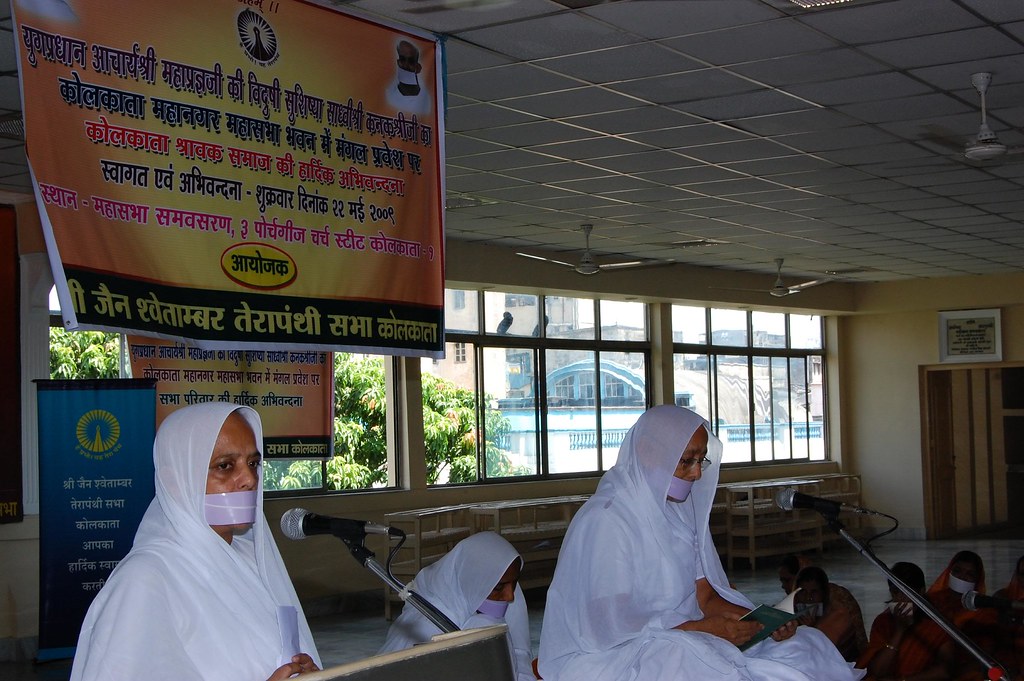 Sadhvi madhulata speaking
Sadhvi Madhulata ji highlighted the achievements in course of the on foot journey from Delhi to Kolkata and said - "The long journey of over 1500 Kms. could be completed successfully. This has been possible only with the blessing of Acharya Mahaprajnaji, reverence of Sadhvi Kanakshri ji and high morale.
On the occasion, Holy message was received from Sadhvipramukha Sri Kanakprabhaji. The same was read by Sri Bhanwarlal Singhi. In her message, Sadhvi Pramukhaji mentioned that Sadhvi Kanakshri is a wise and learned Sadhvi having great sense of contemplation and consciousness. She has to engrave the fylfot (Swastika) of new creativity by infusing cultural, moral and spiritual values in the masses of Kolkata Metro City through the laboratory of Anuvrata, Preksha Meditation and Science of Living besides propagating the teachings of Lord Mahavira.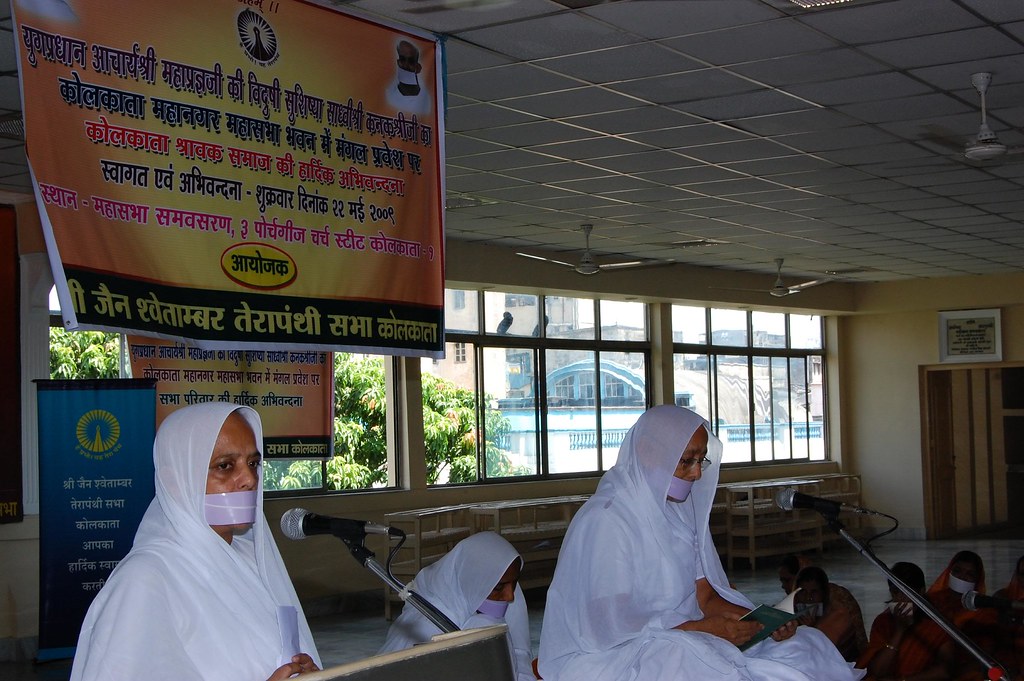 Sadhvi madhulata speaking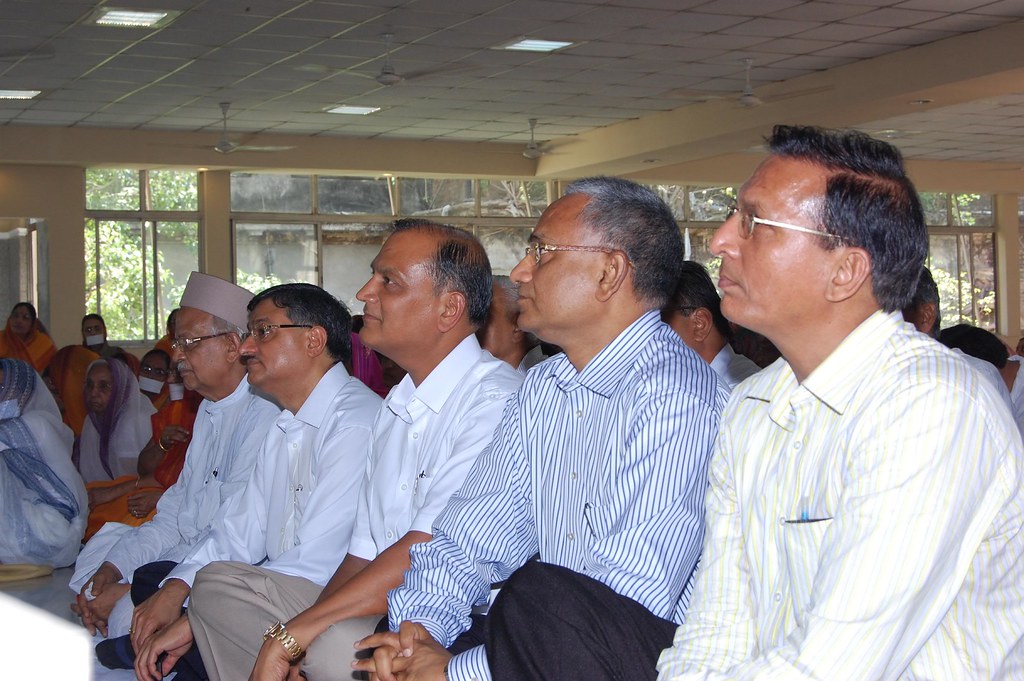 In frontline from l to r sri kanhaiyalal patawari,sri chainrup chindalia, sri ranjit singh kothari,sri surendra choraria, sri karan singh nahata.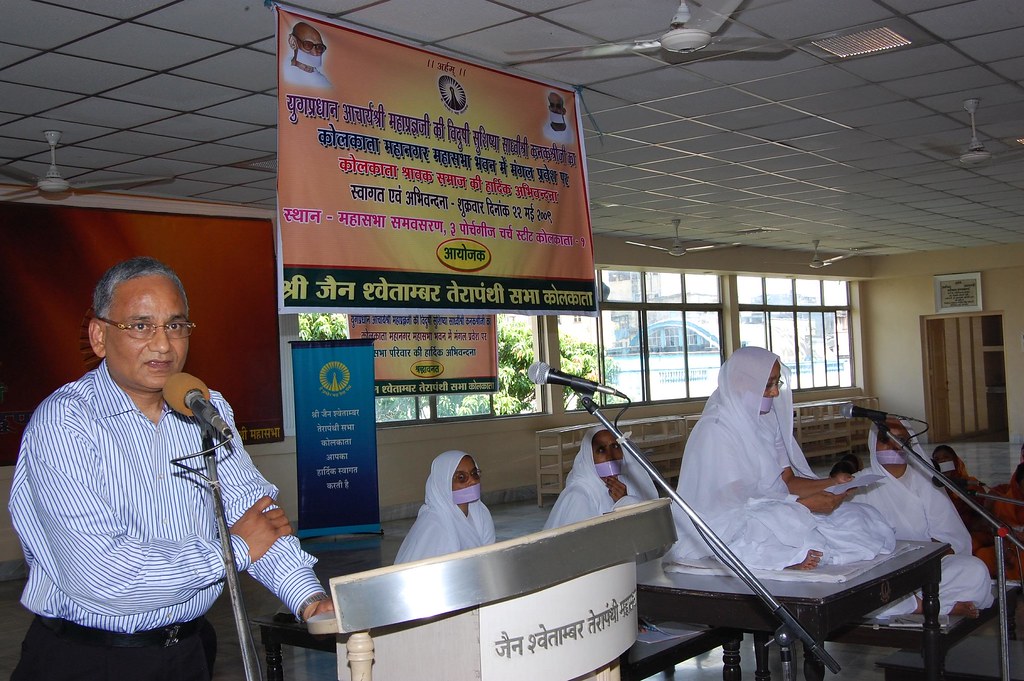 Sri surendra choraria president of jvb, ladnun
Sri Chainroop Chindalia, Sri Surendra Choraria, Sri Ranjit Singh Kothari Smt. Gulab Surana, Sri Amit Tater, Sri Bhojraj Baid welcome Sadvisri ji and her group. Sri Narendra Manot, Secretary of Jain Swetamber Terapanthi Sabha, and Kolkata offered vote of thanks. Sri Bhanwarlal Singhi, National convener of Mahasabha, compered the programme.
It is to be mentioned that Sadhvi Kanakshri ji completed two successful Chaturmas in Delhi and as directed by H.H Acharya Mahapragya, completed successfully the on foot journey of above 1570 Kms. By communicating the teachings of Lord Mahavira and Acharya Mahapragya - of Non-violence, amity, friendliness, fraternity, brotherhood, peaceful co- existence - in the masses in villages and towns en route to Kolkata. The journey took about 6 months under the arrangements of New Delhi. Terapanth Sabha upto Allahabad and thereafter under Kolkata Terapanthi Sabha.