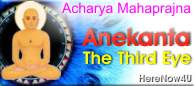 One man asked, "Can the habit of anger be changed?" I said, "It is possible." He asked, "How is this possible? How can a habit be changed?" Those who believe in permanence say nothing ever changes with the soul. From the fluxist's point of view everything can be changed, nothing remains. If the third eye opens, then the habit of anger can be changed. If the third eye does not open then anger can never be controlled.
Why does one get angry? Now this is a good question. Those who believe in circumstances will say it is circumstantial. There are such situations, such circumstances in the world, which one cannot help but get angry with. If circumstances alone were responsible for anger then there arises no question of pacifying it. We will first have to change the circumstances. Then automatically there will be no anger. In this world there can never be a situation which is not influenced by circumstance. If one circumstance changes, then five new ones will be created. One problem will be solved, five more will be created. Circumstances can never come to an end. Problems can never be uprooted.
A campaign was launched: Grow more grains. Use chemical fertilizers and improve yield. This order came into being. With chemical fertilizers, the yield no doubt, increased, but the nutrition in the grain decreased. Grain became harmful to such an extent that those who consumed it, even died at times. On the one hand we make attempts to control population. On the other we have medicines trying to improve the longevity of man. And at another level we have the use of chemical fertilizers that takes the lives of people without intending to.
This is a cheap option to reduce the population. Poisonous medicine, poisonous grain and family planning... I can see no difference between the three. All three seem to say the same thing. Politicians are very clever. They do not opt for direct killing instead they advocate the use of material that is sweet to taste but meets their ends too.
If circumstances can never cease to be, our anger too can never be completely pacified. It is possible to pacify anger only with the opening of the third eye.