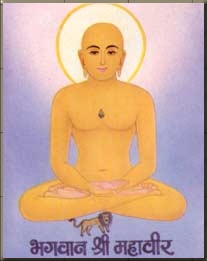 On Friday, 22nd April, we celebrated the birthday of Mahaveera by meditation early in the morning [5.15 a.m.].
We have received the knowledge from the Lord that there is soul inside this body.
To realise this truth, we had the contemplation of the soul. Soul realisation is the first and foremost aim of meditation.
After meditation we discussed the teaching of Mahaveera which are more relevant to our time. As layman, we also can abstain from killing innocent living beings, and accept this as a way of our life.
We remembered the contribution of the Lord for the upliftment of women and the scheduled caste.
The same was repeated in the daily Yoga class.
I have read the book 'Gatha' on life and teachings of Mahaveera, as Swadhaya.