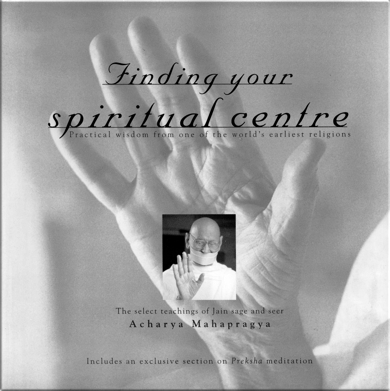 It's already twenty days since I am here on this devotional environment and after being acquainted to the most representative monks, I was invited to translate a leaflet on Preksha Meditation. I had already finished the translation when I got word that the author of the compilation, which in essence is the teachings of Acharya Mahapragya, was around.
I had the chance to interview him and I will reproduce here some of the most significant ideas which emerged of this meeting.
Ranjit Dugar is a layman businessman who lives in Calcutta and works all over India, as many of the Jains, a small community if compared to India's whole population but famed for it's wealth and endeavour.
He is currently writing a book on Preksha Meditation and is also the compilator of a wonderful book named "Find your spiritual centre", which I was offered after the interview.
In the book he is currently writing he explains that to meditate is not only to sit cross-legged and close-eyed and follow a series of guidelines, rather it is a state of mind. Actually, it is an experience we can not communicate to other people, and insofar as we go deeper into it we could reach the stage of working at soul level, which on its turn could make us reach to understand that we are not the body, we are not the mind nor the psyche but something far beyond it, according to him we are the soul. Our soul is covered it seems by karmic particles, and on purifying our psyche what we actually do is to remove these particles. In fact, one cannot remove this karmic layer only thru knowledge or intellectual work.

I exposed to Ranjit what I had been experiencing in New Delhi, the meditation there imparted was replete of steps to be followed in a very short time and I found myself thrown from one side to the other and unable to realize what was the goal of these so mechanized sessions.
Ranjit, who is a peaceful man, of the same cast of the famous Swami Vivekananda, portrayed with his paunch in snapshots, explained that although it is normal procedure to explain all the steps that could be followed during a meditation session, it is not expected that any beginner will be able to follow it for the first time in a good way.
This is not bad because I was beginning to think that my mind was turning lazy. Ranjit comforts me when he says each step should be worked out at a 60 to 90 days term. As a matter of fact I have never seen this explanation written anywhere and to some extent it eases my worries regarding the abundant material that concerns the Preksha meditation.
If there are seven basic steps at a rate of three month / step, we approach the mark of nearly two years of meditative work.
Ranjit encourages me saying that my remark is very useful and note it down in a small copybook that he carries for the purpose, and accepts the fact that foreigners may find themselves a bit more lost than the natives and invites me to work only one of the recommended steps.
I also wanted Ranjit to know that the first step I was taught consisted in start relaxing the body from the cross legged position on the floor while somebody kept repeating "relax the fingers on your feet, the sole, the ankle, the lower leg, the knee…" at an astonishing pace, leaving me open mouthed at the speed they intended it to be accomplished. Can Hindus manage this? I do not know, but I certainly cannot, nevertheless I know pretty well that one can relax perfectly thru the Sivananda method after a Yoga session.
Ranjit, who understands my difficulty, explains that relaxation is the key to meditation and thanks to the last, one develops the ability of receiving. Thanks to machines capable of measuring the electromagnetic waves of body and mind it has been possible to ascertain how, on meditative processes, these wave's cycles per second is reduced.
Without relaxation nothing is possible and it can be achieved thru autosuggestion that works at subconscious level. At this point I told him my own meditative experience in Sri Lanka and the Yogic one at Sivananda 10 years ago, in this last one I had my first fundamental experience, thanks to relaxation.
Luis Carlos Rodriguez Leiva

Ranjit points me that an accelerated mind is an ill mind, a tranquil mind is healthy and a quiet mind is divine. He says that if we work quickly our mind tends to be mechanical.

I ask him what made him so interested in Preksha Meditation and if he is a Jain, to what he replies he is; he was born on the bosom of a Jain family and believes that if things remains as they are for the time being, on the year 2015 the main death cause in the world will not be cancer but depression, according to a world health report.

This comment surprises me because I did not know depression could be a subject of interest in India, since the general impression one perceive here is that nearly everybody, regardless it's economic difficulties, have a special joy and are able to put a smile even when in adverse situations. The situation is clearly different in Western countries.
To Ranjit, depression is connected to debility of the immunologic emotional system. One can be bodily and intellectually strong but fail at emotional level, which is the one that deals with love, compassion, tolerance…all of them emanating from our emotional immunity.
The very psychiatrists expose it saying that a very high percentage of the ailments we abide are psychosomatic. It is equally frightful the amount of people who makes more and more use of sleeping pills every time. So it is paramount to be more and more emotionally strong as well as physically and mentally.
I commented to him that I know people back in Spain who practice meditation since years on a daily basis, besides attending meditation courses regularly, but when one reaches to know them a bit better finds how little they have developed the power of tolerance towards other people, which makes one ask what is all that meditation for?
Ranjit replies that, as he told me before, meditation is more than to sit cross-legged, it is a state of mind in which the state of alertness is fundamental. To be aware of what one is doing and that harmony may exists between body and mind in first place.
I was curious to know why a young and rich man was so much interested in meditation and he told me he was aware of the extent his life was being affected by stress, so he started practicing meditation, discovering aspects somewhat magical for him, a stultified man he was, but which in fact has nothing magical once all of us have these powers within. Now Ranjit dedicates to organize meditation workshops under the supervision of the monks and nuns of this Institution.
Ranjit went thru enumerating the extraordinary benefits of meditation, some of which I mention below, while I pointed him that the current system seemed to me too much commercial, more proper of whom is selling a product and that I thought it was not the most adequate to stress the need of meditation. Then I asked him if this was a Hindu style or whether there was some American influence.
I just wanted to tell him that if a doctor recommends Hatha Yoga and explains its benefits at all levels it seemed normal to me, but talk about meditation as a means to overcome stress and insists on it gave me the impression of playing with a spiritual element to obtain palpable results on a consecutive level. Nevertheless, I took the chance to tell him that the very S.N. Goenka who spread the Vipassana practiced in Myanmar thru all over the world, referred for the first time to some sort of Buddhist meditation in order to get over of a stubborn migraine that drove him mad; giving way afterwards to a whole revolution on his personality which caused him to abandon his profession of businessman and dedicate himself to the teaching of this practise.
Ranjit agreed with me and answered that his intention is not the selling of a product but to help people to overcome "Dukkha"(suffering) while disentangling of one's own problems might seems mundane because in fact the intention is to step to more subtle states. To overcome passions, to be above feelings of like and dislike, to be able of staring at situations as a watcher. Depending on the level we reach we could purify the psyche and, who knows, even accomplish the SELF, or ATMAN or soul. Equally, happen to understand that we are not body, nor mind, nor psyche, we are the soul. All this is a matter of diligent and sustained practice for a period of time. Doing so one can come to achieve results that cannot be translated into words. From then on, our relationship with all human beings is extraordinarily enhanced, making ourselves far much better persons who effectively add to the environment we live. If one intends to irradiate happiness, one must first really feels this happiness personally. Someone's aura has improved and this is all thanks to the protection of his master, Acharya Mahapragya.
Jainism is one of the oldest religions on earth although in terms of numbers of followers it does not come close to other religions, a lot of people in the world never heard about it. When asked what made him so proud of his religion he answered me it makes plain eternal values such as non-violence. In fact, the non violence is extremely manifested on the monks apparel, the piece of cloth which with they cover their mouths in order to avoid killing the invisible living beings around thru breathing and speaking. As astonishing as carrying all the time a little yellow broom wherever they go. I told Ranjit for me this is an exceptional manifestation of humility. What we see daily on the TV is people bearing guns but not brooms like these.
We have been chatting about the time I intended to spend around here in India and we swapped addresses, he promised to come around the next day to give me a book but I was out in the field with the social workers visiting one of the villages around, helping the people to be able to help themselves. Something like is being done lately in Spain: inviting people to became entrepreneurs, of course with other methods and resources.
Ranjit Dugar displaces himself every year from Calcutta for the event in which the Code of Behaviour is revised, which means a complete introspection of the Community. The same way it is asked to the monks and nuns Community to attend this event, provided they are not living too much far, once they have to move barefoot.
I have been interviewing with some nuns to whom I make all sort of questions related to the Jain philosophy. When the right time comes I will sit down and organize most of the teachings that somehow did not have reached me until this moment. It is beautiful to be among this people.