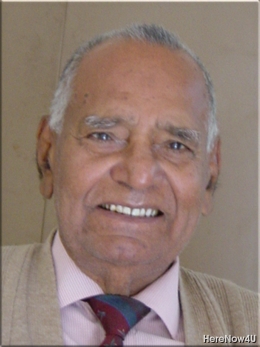 Professor Musafir Singh, who passed away on 14 November 2005 at the age of 83, was an academic and administrator par excellence. Though he spent most part of his career in government service he always was in the midst of the academic community. On retirement from the National Institute of Public Cooperation and Child Development (NIPCCD), New Delhi, an Autonomous Body under the Department of Women & Child Development, Govt. of India, he joined the Jain Vishva Bharati Institute, as a Visiting Professor and was instrumental in the establishment of the Department of Social Work in the Institute. With the blessings and inspiration of the then Anushastha Acharya Tulsi, a great saint & philosopher of the Jain Swetambar Terapanth samaj and the proponent of the famous Anuvrat Movement, he gave form to the department of social work in 1996 and nurtured it for almost 10 years till he breathed his last.
In the field of academics Professor Singh served in his initial years in the M.G. Kashi Vidyapith, Varanasi, as a faculty in the Department of Social Work and after superannuating from NIPCCD in 1978 he was appointed by the University Grants Commission (UGC) as Visiting Professor in the Department of Rural Reconstruction, Mahatma Gandhi Gramoday Vishwavidyalaya, Chitrakoot, Dist. Satna, M.P., and rose to the ranks of Dean Social Sciences in the same University.Born in Budhpur, a small village in Chandoli district, near Varanasi, U.P., he rose from very humble origins to command acclaim in government and academic circles, especially in the Social Work discipline.
Professor Singh's interest was in inter-disciplinary studies and research. He had to his credit a Master's in Psychology, Philosophy and Social Service and had a command over almost all areas in the social sciences. His grounding in social sciences did not deter him in studying almost alien subjects like meta-physics, cosmology, religious studies and spirituality. He revivified moral philosophy, which had become moribund, and pioneered the current debates on Spirituality and Social Work, on the conflict between the personal self and professional self, on the ill-effects of unbridled development as also globalisation and the dangers of post-modernism.
Considered as a moving encyclopedia and English dictionary Professor Singh kept people over-awed because of his knowledge of diverse fields and his possession of a strong armory of words in his vocabulary. In seminars and conferences, both national & international, he would be at his best in giving paradigm shifts to deliberations, which had missed the minds of discussants. Dazzlingly quick and devastating in discussion, he was famously able to summarise other people's arguments better than they could themselves, and anticipate an antagonist's objections to his objections - and, in turn, his objections to theirs before they had even finished their sentence. Utterly rigorous, yet wonderfully non-academic, his philosophy was permeated by a distinctive philosophical voice - witty, erudite and humane - and by a sense of his own humorous and sacred view of life.
He always, as his colleagues and students observed, did philosophy as a whole human being. His major contribution in the field of research was in the production of seminal research works on
Famine Relief in Bihar, Sponsored by the Planning Commission, GOI, 1966-67;
Working Children in Bombay, NIPCCD;
Article entitled "Child Labour", Encyclopedia of Social Work, Publications Division, GOI, 1987.
He was also conferred with the Ford Foundation Award for Academic work in the USA in 1974. He was time personified. Punctual, perfect, devoted and sincere he at the age of 83 was never a laggard in any task that he had to perform. His younger colleagues of grandchildren age would at times be found wonting in steam.
Professor Singh was personally well known as Bhishma Pitamaha to whom every one in the Institute looked up for sublimity, equipoise, academic and spiritual solace as also fatherly and friendly warmth. We request all his well-wishers to joins us in paying tribute to an eminent scholar who will be warmly remembered for his wit and humanity and for the generosity with which he shared his immense learning with others.
Prof. Singh is survived by his wife, three daughters and two sons.
Jain Vishva Bharati Institute
(Deemed to be University)Ladnun
Dist. Nagaur
Rajasthan, India