Long long ago, there was a destitute who collected one thousand Kaarshaapana through begging. He proceeded towards his house along with his friends. On his way, he converted one Kaarshaapana into Kaakini. He kept spending those Kaakinis for food etc. Now, he had only one Kaakini left. Unfortunately, he forgot it on his way Proceeding further, he remembered the Kaakini he had forgotten. He had a bag of Kaarshaapanas with him. He buried it in the ground and went back in search of his one kaakini.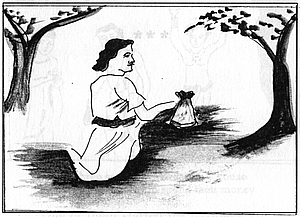 Man burying the bag of Kaarshaapanas in the field.
But someone had already lifted that Kaakini. He returned back empty-handed. But to his grief, someone had dug up and found the bag of Kaarshapanas and had run away with it. The destitute was deprived of his whole treasure.
Just to save a little, the destitute lost his whole savings. Had he thought a little more deeply, he would not have had to loose his wealth.