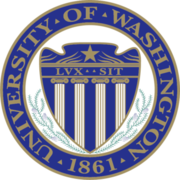 1410, NE CAMPUS PARKWAY,
SEATTLE, WA 98195-5852
United States
(206) 543-2100
University of Washington is a public research university, founded in 1861 in Seattle, Washington, United States. The UW is the largest university in the Northwest and the oldest public university on the West Coast. The university has three campuses, with its largest campus in the University District, Seattle, and two other campuses in Tacoma and Bothell. Its operating expenses for fiscal year 2010 was more than US$ 5.0 billion. The UW occupies over 500 buildings, with over 20 million gross square footage of space, including the latest University of Washington Plaza consisting of the 325 ft tall UW Tower and conference center.
In 2011, the University of Washington was ranked 16th worldwide by the Academic Ranking of World Universities, 23rd worldwide by the Times Higher Education World University Rankings. UW is considered a Public Ivy university.