A dialogue on the occasion of Pragya Diwas (Acharyashree's Birthday)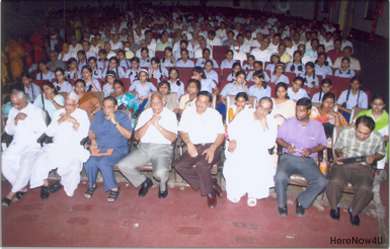 Audience of Pragya Diwas on 23rd June 2006 in Kolkatta
In the huge auditorium of Mahajati Sadan, Kolkatta, Sadhvishree Nirvanshreeji addressed the crowd on 23rd June, "Today is the day for the reputation of human values. By living a restraint life for the last 76 years as a Jain Monk, Acharya Shri Mahaprajna has given meritorious work to all human beings. Science of Living (Jeevan Vigyan) is one of his meritorious works, which is a revival for education. In the present era, science of living is the solution to the problems.
Education is the basis of life. Until human and ethical values do not inspire the educational world, it is not possible to stop the rise of terrorism and crime. With the help of Science of Living, a new human being is taking birth. The supreme expectation of the 21st century is a spiritual cum scientific personality, neither spiritual only, nor scientific only. The complete combination of both could fulfil the expectations.
Small preparations of Science of Living already can give positive results. This education is not bound by religion, caste or community. It is an education of human values, an education, which is co-ordinated with science. Spiritual Science is the best science of life."
The main guest of the function was the chief educational associate Sri Devaditya Chakravorty (I.A.S). He said in his promotional speech, "There are three aims of education - Man is doing studies how to become compatible with everyone. Education is that which enhances our life. It should not only be the source of income. But to form a human completely through education, we will think about the process of Science of Living by sitting together, and we'll give progress to the work."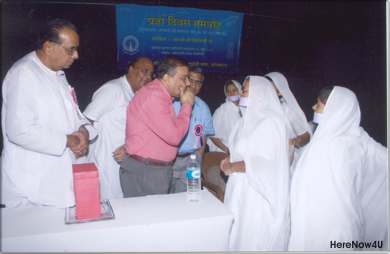 Sri Devaditya Chakravorty (1st l) talking to Sadhvishree Nirvanshree (2nd r)
Sadhvi Dr. Yogkshem Prabhaji said, "Acharya Mahaprajna is the personified figure of Non–Violence, restraint and devoted religion. His thinking has the freshness of the morning, his work has the strength of the afternoon. In the age of 86, he is still working like a young man. We are celebrating his 87th birthday by reflecting his work, as well as giving importance to his personality. Science of Living can enhance the future of India."
Samani Nirdesika Sharda Pragyaji said, "Science of Living turns a man into a complete man. It is a revolutionary step towards education. In the stressful life of today, it's importance is naturally proved."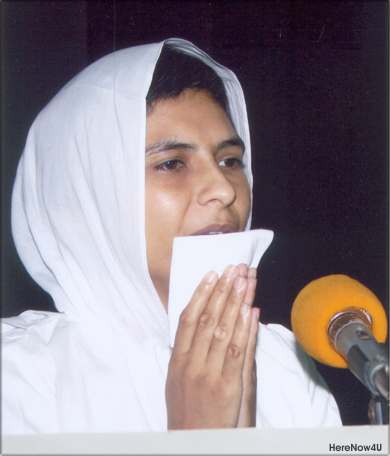 Samani Nirdehika (group head) Sharda Pragyaji
Terapanth Mahasabha president Sri Rajkaranji Sirohia described the importance of Science of Living and thanked Gurudev. The president of Terapanth Sabha Kolkata, Sri Malchand Bhansali, welcomed the guests and conveyed his views on the subject. T.Y.P. secretary Dilip Marothi, Terapanth Mahila Mandal's Manju Surana also conveyed their views. Kanya Mandal started the program with a beautiful song. All Sadhvis and Samanis also presented a song together, whose lines were,
"Shradha samarpan ka Awani par Avatar
Pragya ke suraj se phaila hai Ujiyaar"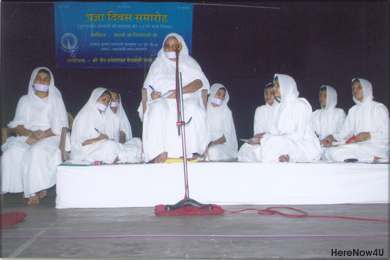 Sadhvishrees (l) and Samanijis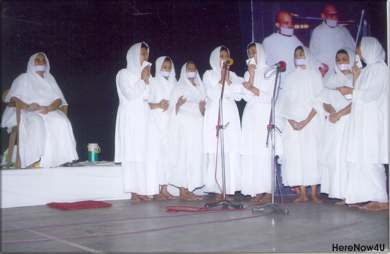 Group of Sadhvishrees and Samanijis singing
Sri Janwarimalji Bengani, Malchandji Bhansali, Budhmalji Dugar etc. gifted Shawls and mementos to the guests. Terapanth Sabha's secretary, Karan Singhji Nahata, gave the thanks speech. Sadhvi Dr. Yogkshem Prabhaji compered the Program in a modern and beautiful manner. Jeevan Vigyan Academy head, Srichandji Bhutoria, expressed his views about Science of Living. All teachers were honoured who had helped to give classes of Deemed University which run under T.Y.P.