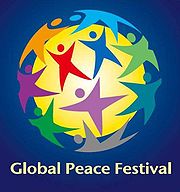 Website:
http://www.globalpeacefestival.org/
Email:
info[at]globalpeacefestival.org
The Global Peace Festival is much more than just a festival.
Founded in 2006, it is quickly spreading around the globe uniting people as one family under God.
This revolutionary way of approaching socially relevant issues in partnership with all sectors of society is quickly transforming traditional approaches to problems.
Programs have already developed in many nations including the Philippines, the United Kingdom, Benin, Germany and France.
GPF promotes and celebrates people and programs that contribute to reconciliation, mutual respect, harmony and cooperation among the members of the whole human family.
In partnership with faith-based organizations, non-governmental organizations, government agencies, educational institutions, and the private sector, GPF encourages programs that strengthen God-centered marriages and families, facilitate intercultural and interreligious cooperation, and foster a culture of peace and service.
Ongoing programs culminate in the Global Peace Festival that consists of three main components: an international leadership conference, a social impact program, and a public celebration.
The Global Peace Festival celebrates the vision of 'One Family Under God' by developing ongoing programs that:
Raise and nurture strong marriages and families
Facilitate Inter-religious harmony
Foster a culture of peace and service
The London Global Peace Festival (GPF) 2008 began on November 20 with a standing-room only plenary discussion hosted at the House of Commons in the Palace of Westminster on the topic "New Paradigm in a Time of Global Crisis." Several representatives from Europe, Africa, and the Middle East actively contributed their ideas how to realise a new paradigm for peaceful change. Detailed report available on Global Peace Festival's official website.