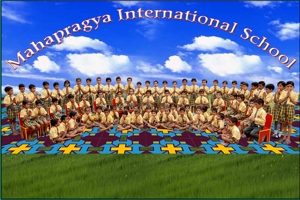 Mahapragya International School, the first English Medium, CBSE School in and around Tamkor and part of Acharya Mahapragya Seva Sansthan. It is the gateway for many of village children towards a bright future. The vision behind the school is to establish a centre for skill, knowledge and wisdom.

The school imparts moral and value education like the Science of living, Prekesha Meditation, Yoga, and Training in non-violence. The school also has a meagre infrastructure like a playground, an audio-visual learning aid and a computer centre. The school has introduced thematic learning, which not only reduces the weight of a student's bag but also his mental stress through multimedia programmes.
The school is an eye opener for the unlettered villagers and paves way for the village children to find a bright future by striving towards the removal of illiteracy and ignorance. In its first year of operation, this school has attracted 100 students from five villages.
Samani Pratibha Pragya is in the project since it started in 2007.
2009 - Appointed Principal: Samani Punya Pragya
Contact: