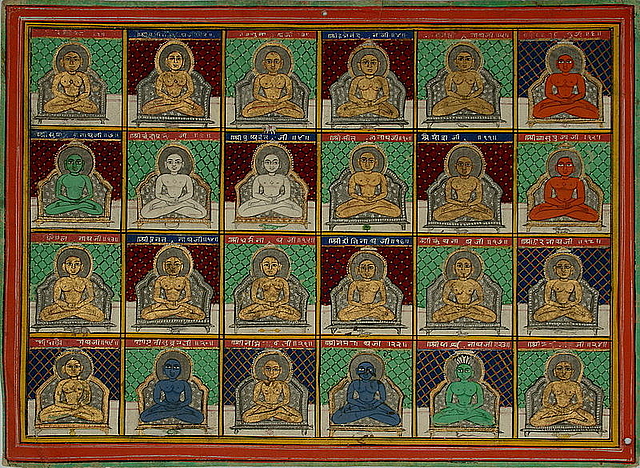 Tirthankara (Prakrit: Tirtha = ford), also called Jina (victor, winner or conqueror), literally meaning 'ford-maker', who (re-)establishes the religion and the Sangh (the four fold order/community of ascetics and lay followers).
The day when a tirthankara was born, got diksha, atteined omniscience and got liberation from the cycle of rebirth, is given in lunar days, so called tithis.
The 24 Tīrthaṅkaras of the present cycle of existence:
Symbol

#

Name(s) of Tirthankara

Symbol
(Svetambara/Digambara)

Complexion

01

Rishabhanatha

bull / ox

golden

02

Ajitanatha

elephant

golden

03

Sambhavanatha

horse

golden

04

Abhinandannatha

monkey

golden

05

Sumatinatha

curlew (krauncha) / red goose

golden

06

Padmaprabha

red lotus

red

07

Suparshavanatha

swastika

golden / emerald

08

Chandraprabha

crescent

white

09

Suvidhinatha

crocodil

white

10

Shitalanatha

shrivatsa / kalpavriksha

golden

11

Shreyamsanatha

rhinoceros

golden

12

Vasupujya

female buffalo

ruddy

13

Vimalanatha

boar

golden

14

Anantanatha

falcon / porcupine

golden

15

Dharmanatha

vajra

golden

16

Shantinatha

antelope / deer

golden

17

Kunthunatha

goat

golden

18

Aranatha

nandyavarta / fish

golden

19

Mallinatha

water jar / kalasa

blue

20

Munisuvrata

tortoise

black

21

Naminatha

blue lotus / blue water

yellow / emerald

22

Neminatha

conch

black

23

Parshvanatha

serpent

blue

24

Mahavira

lion

yellow
The last Tirtankara known as Mahavira (~ 599 BC), a contemporary of Buddha, and Parshvanatha (~850 BC) found acceptance as historic persons. The appearance of the other 22 predecessors reach for eons.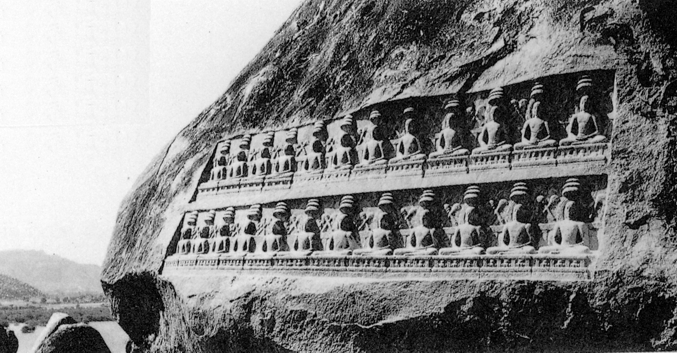 In Jainism a Tirthankara (he or she) is a liberated soul who has attained omniscience and guides the souls to the opposite shores of the ocean of the world to save them from the cycles of repeated earth existences (rebirth). Tirthankara also are called Jina (vanquisher, victor, conqueror), their followers Jains.
To them, a Tirthankara is greater than the gods because he transcends the laws of Space and Time.