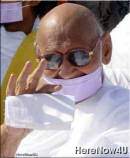 Thursday, July 3, 2008
Formula for a Stress-free Life
We have literature handed down to us from 2,500 years ago. If you read the biographies of great personalities and seers, you will see how much tolerance they had. They were often criticized. Sometimes, they were even punished, yet they never got stressed. If tension is the nature of the man, then we could say Bhagwan Mahavir's life would have been the most stressful. History recounts that many people insulted him and made him suffer - yet he kept himself free of tension. See the life of Krishna, Rama, Nanak, Samarth Ramdas, etc. How much abuse they had to face! Did they ever react by losing their peace of mind? A person who has held his emotions in check does not get agitated because of others' misbehaviour. Who are those who get tensed? It can be said that those whose emotions are not in control get tensed.
In the present generation, it is commonplace for one's mood to go awry. Even a small child will say, "I am not in a good mood." Both men and women face this problem. You will find very few people whose mood does not go off. Why is this so? This happens because they have no control over their passions. The very first step in Preksha Meditation is to learn how to control our emotions. After the session of Preksha Meditation, in general, people would say that they got peace of mind. Nowadays, there are many ways to manage stress. Many seminars and workshops are held for stress management.
We need to distinguish between two points: the first is getting tense and then releasing the tension, while the second is to awaken that inner consciousness which will not allow tension to arise, in the first place.
Physical stress is not a very complex problem. By simple practices physical stress can be relieved. We should progress in the direction of mental and emotional tensions not arising at all. Our spiritual practice should be such that mental tension is not created at all. We should not blame any one for anything. If we see the incident in the right way, and go into it deeply, tension will never arise. Man gets overwhelmed by his emotions. It is not by facts, but only by sheer imagination, that man gets filled with stress. If we analyse our lives deeply, we will come to know that many tension-wrought situations are created by sheer imaginations and unreal doubts. If someone asks you for the essence of Preksha meditation, your answer should be, "Subsiding of emotions." This is the core of Preksha Meditation, the formula for a stress-free life.