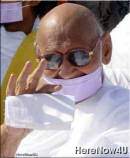 Monday April 21, 2008
Lord Mahavir's Spiritual Practice

MAHAVIR JAYANTI this weekend makes us realise anew that while many of us know him as a pioneer of ahimsa, he is not yet widely known as a pioneer of fearlessness (abhaya). He believed that a person afflicted with fear cannot promote ahimsa. He re­mained alone during the whole span of his penance (spiritual practice), wandering alone in jungles, rivers, valleys, hills, caves and empty houses. Fear never touched him. Once he stayed in the temple of Soolpani Yaksha. The priest warned him against it, saying no one survived there until dawn. Even the villagers dissuaded him but he stayed overnight and survived.
Mahavir was going to a hermitage when the cowherds said. "O mendicant! Do not go further. There is a snake called Chand Kaushik at a lit­tle distance. Its eyes emit venom. It can burn a man to ashes from afar with one look." Ignoring their ad­vice, Mahavir approached the serpent's hole and stood there in a meditative pos­ture. The serpent coiled itself around Mahavir's body and started stinging him at various points. He began to bleed but remained motionless like Mount Meru. He countered the effect of the venom emitted from the serpent's eyes by radiating compassion, for Mahavir had no enemy.
Lord Mahavir resolved: "I shall use my body as body as a boat to cross the river of life. I shall bear all the pangs of suffering by being im­mersed in the soul." After a person has re­nounced attachment to his body, it is natural for him to renounce matter. After becoming an ascetic he retained only a piece of cloth. It fell off after it got entangled in a thorny bush, be­lieves one school of thought. The other possi­bility is that Mahavir gave it up deliberately as an act of non-possession (aparigraha).
Fearlessness, non-possession and non-vio­lence (aparigraha. ahimsa. abhaya) became enlightened conduct (samyak charitra). This trio led Mahavir to the attainment of omnis­cience (kevalya): on the sandy bank of the Baluka river, in the farm of a householder named Shyamak, under a tree in the Godohi-ka posture.