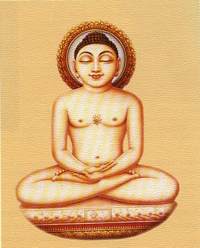 JVB London - Souvenir 2007
on
Ahimsa
Non-violence
Know Yourself
Mukhya Niyojika Sadhvi Vishrut Vibha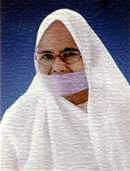 Each person in this world wants to be virtuous. He wishes to progress and achieve success at every step of his life. He longs for a happy and prosperous life. We take a keen interest in the external world - with open eyes colours, light and objects are visible. But with our eyes closed, we cannot see anything in the normal way.
A person realizes all these things, when he meditates or concentrates deeply. He can acquire everything provided he becomes introspective. We may not believe it but this really happens. To see within our self, i.e. our inner-self, is the foremost acquisition.
Alexander Pope says, "Know then thyself, presume not God to scan, the proper study of mankind is man." A person who never inspects himself and always peeps into others' evils never finds joy and success in life. Looking always at others encourages evils like anger, pride, deceit, greed and envy. These are the negative results of focusing on others.
Anger is the consequence of looking at others. Such a person will usually be short-tempered. For instance, if the servant does not complete the instructions on time, the master gets angry. If a wife does not follow any of her husband's advice, her husband usually loses his temper. Likewise, if an assistant does not complete the task on desired time, the officer gets infuriated. Thus, it is truly said, "An angry man opens his mouth and shuts his eyes." Anger causes delusion, which in turn causes loss of memory. This further destroys intelligence resulting in complete destruction.
According to psychotics, if a person stays continuously in the state of anger, it is equivalent to spending nine hours doing physical labour. However, if we try to understand our nature, anger will gradually vanish.
Pride is the second hurdle in achieving success. When one compares oneself with others and thinks that the latter has no money, power or knowledge, then this creates pride. Pride encourages the former to boast of his caste. This air of superiority means a proud man cannot improve further. Pride is thus a speed-breaker in one's progress. Here starts the fall of a superior man.
Deceit and greed are also obstacles in realizing the goal of progress. When a person commits a mistake and then hides it from others he displays deceit. Greed is an effort to acquire and accumulate wealth by foul and fair means. Even at the last stage of one's life, all he is concerned about is his wealth.
Let's take a story. An old man was bed-ridden at the last stage of his life. He called, "Where is my eldest son?" "I am beside you, father," said the eldest son. Then he called for the other two sons. Both of them were also present there and replied, "Father, we are also looking after you. We are here."
As soon as he heard this, he got very tense and said, "You are all fools. If all of you are here, then who is at the shop? Customers will have to go empty-handed and you will suffer losses. Move from here right now and attend to your customers. All that matters is money." This anecdote displays the extent of how greed rules human nature - even in his last moments he is thinking of money.
Retaliation is also an impediment in the spiritual path and the main cause of disease. A patient went to a doctor for examination. But the doctor could not find the symptoms of any disease. He concluded that the blood was oxygenated, organs were healthy too and all was functioning well. The patient was however disappointed. He got in touch with many prominent doctors but in vain.
In the end, he approached a psychiatrist. During their conversation, the doctor concluded that once his grandfather had been insulted in front of him and that had created a hot and terrible reaction in his mind. He had therefore promised himself that he would take revenge from that person who had affronted his grandfather. The psychiatrist recommended to him, that no medicine could be useful until he got rid of this feeling of revenge. A person, who is always under another's influence - leads a miserable life.
Hence, it is clear that there are many bottlenecks in achieving the desired goal, i.e. knowing yourself. Whilst these evils rule human nature, it is impossible to achieve our spiritual targets. Once we begin practising self-realization, these evils are eliminated.
A good human-being is always eager for such a change. If we want the sea to gift us precious pearls, then we must dive deep. Otherwise, all we will get are shells and sea-weeds. Likewise, if we desire to know our soul or realize our consciousness, we shall have to practice meditation. As the saying goes, "Heaven comes after Death." So, if we perceive our inner-self and stop looking into others' lives, then we can live a life that is no less than heaven.