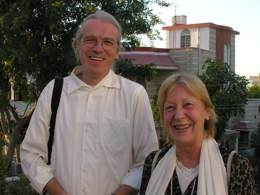 It is a good tradition to visit regularly one's Guru to get new spiritual inspiration for day-to-day life. Our last visit to H.H. Acharyashree Mahaprajna and the Sangh was about two years ago, and we felt that time has come to give fresh energy to the spirit. From this moment on, we started to plan the tour to India around this event, trying to meet all our friends. See what has come out until now and see why HereNow4U office will be closed for four weeks.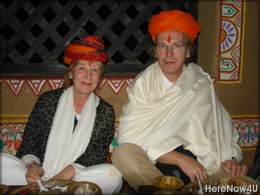 Rajasthani Dinner in Jaipur
---
HereNow4U - Living Jainism Tour 2006 - Schedule
Day
Date
Destination
Arr/Dep
by
Time
Note/Contact
Monday
13.11.2006
Berlin
Departure
flight
07:10
office closed till return.
Monday
13.11.2006
Delhi
Arrival
23:00
Swami Dharmanandji,
Adhyatma Sadhna Kendra, Delhi
phone0091-11-26802679
Tuesday
14.11.2006
Delhi
Wednesday
15.11.2006
Delhi
Departure
Train 2302
17:00
Thursday
16.11.2006
Kolkatta
Arrival
10:45

Sushil Kumar Bafana,
HN4U correspondent Kolkatta

mobile: 09231648992

Friday
17.11.2006
Kolkatta
Saturday
18.11.2006
Kolkatta
Departure
Train 2301
16:55
Sunday
19.11.2006
Delhi
Arrival
9:50h
Swami Dharmanandji,
phone0091-11-26802679
Monday
20.11.2006
Delhi
Departure
Car
morning
Monday
20.11.2006
Taranagar
Arrival
Car
afternoon
Guru Darshan of H.H. Acharyashree & the Sangh
Tuesday
21.11.2006
Taranagar
Join Ahimsa Yatra
Wednesday
22.11.2006
Satyu
Foot
Ahimsa Yatra
Thursday
23.11.2006

Hadiyal

Foot
Ahimsa Yatra
Friday
24.11.2006
Tamkor
Foot
Ahimsa Yatra
Saturday
25.11.2006
Tamkor
Departure
Car
morning
Saturday
25.11.2006
Ladnun
Arrival
Car
evening
JVBI University and Mumukshu Center
Sunday
26.11.2006
Ladnun
Departure
Car
morning
Sunday
26.11.2006
Jaipur
Arrival
afternoon

Balwant & Prem Mehta,

mobile: 91-98294-18190,
Shivani & Sanjeev Bothra and Tagore Hospital Jaipur

Monday
27.11.2006
Jaipur
Tuesday
28.11.2006
Jaipur
Wednesday
29.11.2006
Jaipur
Departure
Train 2980
20:40h
Thursday
30.11.2006
Surat
Arrival
10:16h
Surat friends, including Mahima Bokariya,
HN4U correspondent

Friday
01.12.2006
Surat
Departure
Train 2926
11:00h
Friday
01.12.2006
Mumbai
Arrival
15:25h
Gurudev Shri Chitrabhanu & Pramodaji
and friends in Mumbai
Saturday
02.12.2006
Mumbai
Sunday
03.12.2006
Mumbai
Departure
flight
12:05h
Sunday
03.12.2006
Goa
Arrival
13:05h
Relax & charging batteries for long cold German winter
Monday
11.12.2006
Goa
Departure
flight
17:00h
Tuesday
12.12.2006
Berlin
Arrival
11:55h
office starts next day
23.11.2006 - 26.11.2006:
Change in schedule:
To meet Samani Dr. Mangal Pragyaji we had to leave Ahimsa Yatra for 24 hours hurrying to Ladnun and back.
---