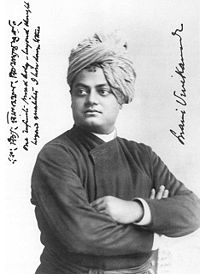 Lifetime
Born:
12.01.1863, Kolkata, Bengal, India
Passed away:
04.07.1902 at Belur Math, near Kolkata
About
Birth name: Narendranath Dutta Swami Vivekananda (Bengali: স্বামী বিবেকানন্দ, Shami Bibekānondo; Sanskrit: स्वामी विवेकानन्द, Svāmi Vivekānanda) (January 12, 1863 – July 4, 1902), born Narendranath Dutta is the chief disciple of the 19th century mystic Ramakrishna and the founder of Ramakrishna Mission. Vivekananda is the first Hindu missionary to the West. He is considered a key figure in the dissemination of Hinduism and Yoga in Europe and America and is also credited with raising Hinduism to the status of a world religion during the end of 19th Century.Vivekananda is considered to be a major force in the revival of Hinduism in India. He is best known for his inspiring speech beginning with "sisters and brothers of America",[6][7] through which he introduced Hindu philosophy at the Parliament of the World's Religions at Chicago in 1893.
Wikipedia