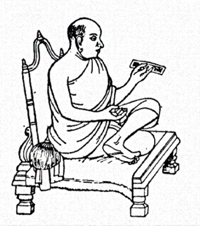 Lifetime
Born:
1088, Dhandhuka
Passed away:
1172
About
Hemachandra Surī (Sanskrit: हेमचन्द्र सूरी) (1089–1172) was an Indian Jain scholar, poet, and polymath who wrote on grammar, philosophy, prosody, and contemporary history. Noted as a prodigy by his contemporaries, he gained the title Kalikāl Sarvagya, (all-knowing of the Kali age).
Works
A prodigious writer, Hemachandra wrote grammars of Sanskrit and Prakrit, poetry, prosody, lexicons, texts on science and logic and practically all branches of Indian philosophy.
Grammar
Siddha-Hem-Shabdanushasana

This Sanskrit grammar was written on the Ashtadhyayi style of Panini. It has seven chapters with each chapter having four section similar to that of Bhoj. It also included six Prakrit languages; Standard Prakrit (virtually Jain Maharashtri), Saurseni, Magadhi, Paishachi, Chulika-Paishachi and Apabhramsha (virtually Gurjar Apabhramsha, prevent in the area of Gujarat and Rajasthan at that time and the precursor of Old Gujarati language). He gave detailed grammar of Apabhramsha and also illustrated it with the folk literature of the time for better understanding. It is the only known Apabhramsha grammar.
Poetry
Dvyashraya Kavya

To illustrate the grammar, he produced the epic poetry Dvyashraya Kavya on the history of Solanki dynasty. It is an important source of history of region of the time.

Trishashthi-Shalaka-Purusha

The epic poem Tri-shashthi-shalaka-purusha-charitra (Lives of Sixty-Three Great Men), is a hagiographical treatment of twenty four Tirthankaras and other important persons who were instrumental in defining the Jain philosophical position, their asceticism and eventual liberation from the cycle of death and rebirth, as well as the legendary spread of the Jain influence. It still serves as the standard synthesis of source material for the early history of Jainism. The appendix to this work, Parishista-parvan, contains his own commentary and is in itself a treatise of considerable depth (translated into English as The Lives of the Jain Elders by Richard Fynes (Oxford University Press, 1998)).
Other
His Kavyanuprakasha follows the model of Kashmiri rhetorician Mammata's Kavya-prakasha. He quoted other scholars like Anandavardhana and Abhinavagupta in his works.
Lexicography
Abhidhan-Chintamani is a lexicon while Anekarth Kosha is a lexicon of words bearing multiple meanings. Deshi-Shabda-Sangraho or Desi-nama-mala is the lexicon of local or non-Sanskrit origin. Niganthu Sesa is a botanical lexicon.
Mathematics
Hemachandra, following the earlier Gopala, presented an earlier version of the Fibonacci sequence. It was presented around 1150, about fifty years before Fibonacci (1202). He was considering the number of cadences of length n, and showed that these could be formed by adding a short syllable to a cadence of length n − 1, or a long syllable to one of n − 2. This recursion relation F(n) = F(n − 1) + F(n − 2) is what defines the Fibonacci sequence.
Other works
His other works are Chandanushasana (prosody), commentary in rhetoric work Alankara Chudamani, Abhidhana-chintamani, Yoga-Shastra (treatises on Yoga),[2] Pramana-mimansa (logic), Vitaraga-Stotra (prayers).