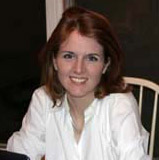 Address
University of Ottawa 70 Laurier
K1B 6N5 Ottawa, Canada
Contact
Phone:
613-562-5800, ext. 1168
E-Mail:
Links
http://www.cla-srs.uottawa.ca/eng/faculty/vallely.html
About
Assistant Professor, Department of Classics and Religious Studies
Member of the Faculty of Graduate and Postdoctoral Studies and thereby authorized to supervise theses.
University degrees
1999 - PhD, University of Toronto
1994 - MA, University of Toronto
1990 - BA, McGill University
Fields of interest

"My research interests fall within the Anthropology of Religion, and focus on the Jain religious and cultural tradition in India, as well as on the transnational Jain community outside of India. I am particularly interested in ethics, asceticism and women's religious lives.

I am also deeply concerned with religion and 'nature,' especially in the area of animals in religious thought and practice, and in terms of the symbolic construction of human/non-human boundaries cross-culturally.

The field of death and 'transcendence' is another area of interest, as it allows me to explore the ways in which knowledge of mortality informs religious and cultural institutions.

As a secondary research area, I am pursuing work in the field of contemporary Jewish spiritual life in North America."

Selected publications

Guardians of the Transcendent: An Ethnography of a Jain Acetic Community. University of Toronto Press, 2002.
Animal Others: Explorations of the Nonhuman for Human Self-Understanding, forthcoming.
"The Politics of Embeddedness and the Quest for Transcendence: Teaching South Asian Religions," in Methods in the Teaching and Study of Religion, 17.3 (2005).
"These Hands Are Not for Henna: Jain Women Renouncers," in Meena Khandelwal, Sondra L. Hausner, and Ann Grodzins Gold (eds.), Women on Their Own: Female Renunciation in South Asian Religions, forthcoming. Palgrave Press, 2006.
"Jaina Dharma," in Gene Thursby and Sushil Mittal (eds.), Religions of South Asia, forthcoming. Routledge Press, 2005.
"Jain Epistemology & the Question of Pluralism," in Tara Sethia (ed.), Ahimsa and Anekant, pp. 99-112. Motilal Banarsidass, 2004.
"Jainism," in Rosemary Skinner Keller and Rosemary Radford Ruether (eds.), Encyclopedia of Women and Religion in North America, in press. Indiana University Press, 2005.
"The Jain Plate: The Semiotics of the Diaspora Diet," in Knut Jacobsen and Pratap Kumar (eds.), South Asians in the Diaspora, pp. 3-22. EJ Brill Publishers, 2003.
"Ambiguous Symbols: Women and the Ascetic Ideal in Jainism," in Gail Currie and Celia Rothenberg (eds.), Feminist (Re) Visions: Landscapes, Ethnoscapes and Theoryscapes, pp. 131-144. Lexington Press, 2001.
"Moral Landscapes: Ethical Discourses Among Orthodox and Diaspora Jains," in Michael Lambek (ed.), A Reader in the Anthropology of Religion, pp. 555-569. Blackwell Press, 2001.
"From Liberation to Ecology," in Christopher Chapple (ed.), Jainism and Ecology, Religions of the World & Ecology Series, pp. 193-216. Harvard University Press, 2001.