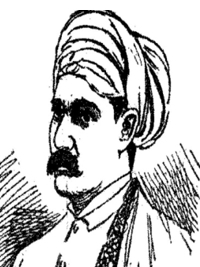 Lifetime
Born:
1864
Passed away:
1901
About
Virachand Raghav Gandhi (1864–1901)
Gujarati: વીરચંદ રાઘવ ગાંધી

from Mahuva, represented Jains at the first World Parliament of Religions in Chicago in 1893 and won a silver medal. Gandhi was most likely the first Jain & first Gujarati to travel to the United States and his statue still stands at the Jain temple in Chicago. In his time he was world famous personality .

Gandhi represented Jains in Chicago because the Great Jain Saint Param Pujya Acharya Vijayanandsuri, also known as Acharya Atmaram, was invited to represent the Jain religion at first World Parliament of Religions held in 1893. As Jain monks do not travel overseas, he recommended the bright young scholar Virchand Gandhi to be the emissary for the religion. Atmaramji provided 6 months training to VRG . His disciple Param Pujya Vijay Vallabsuri also used to assist VRG & same is traced by Natuji Shah (Europe) and written in book " Jainism: The World of Conquerors". The 29 year-old Virchand Gandhi impressed everyone with his expressiveness, brilliance and tremendous erudition.