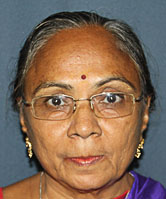 Address
400077 Mumbai, India
Contact
Phone:
(91-22)-25138463
Mobile:
09323079922
E-Mail:
About
M.A., Ph.D First Class, Gold Medalist University of Mumbai.


Hon. Prof. K.J.Somaiya Centre for Studies in Jainism
Academic Positions held:
Recognized post Graduate teacher & Recognized Guide for Ph.D University of Mumbai- in the Subject of Philosophy. Resource person at ICPR's Refresher Course M.S. University, Baroda.

Seven students awarded degree of Ph.D & two Students awarded degree of M.Phil. Four students currently doing research for the degree of Ph.D.
Seminar and Workshops:
Participated in a number of workshops, presented papers at Seminars & Conferences, National & International. Some of the Research papers Published in English & Gujarati.

Publication:
One book-Nyaya & Jain Epistemology, Published by S.C Research Institute, Ahmadabad 2001

Number of research articles edited in book and special issue of Journal.