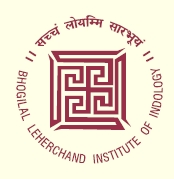 Vijay Vallabh Smarak Complex,
20" Km. G. T. Karnal Road,
P.O. Alipur, Delhi 110036, India
Tel: 011-27202065, 27206630, 27201467
Director: Prof. Phool Chand Jain Premi
Former Director: Dr. Balaji Ganorkar [2007 - 2011.04]
About BLII
The Bhogilal Leherchand Institute of Indology was first started at Patan (North Gujarat) in the year 1980, through the funds provided by the trust of Bhogilal Family to sponsor and promote research in Jainology/lndology and other aspects of Indian culture.

The setting up of the Institute was inspired by Jain Sadhvi Sri Mrigawatiji a disciple of saint scholar Rev. Sri Vijay Vallabhsuriji. Later on, in 1984 the Institute was shifted to Vijay Vallabh Smarak complex at Delhi with the active support of Sri Atma Vallabh Jain Smarak Shikshan Nidhi. Since then the Institute has been a unique centre of excellence for Jainology/Prakrit and allied subjects of Indology.

Late well-known Jain/lndology scholar, Prof. Dalsukhbhai Malvania was instrumental for the development of the academic activities of the Institute. Similarly, Late Pt. Laxmanbhai Bhojak supervised the management of about 25,000 Manuscripts mostly brought from Gujaranwala, Pakistan with the great efforts of the then Prime Minister of India, Jawaharlal Nehru, the then Education Secretary Mr. Dharmaveer, and other members of Jain Society.

The Institute posseses about 30,000 printed books and 10,000 periodicals related to Indological Studies. Till now, the Institute has organized 21 All-India Summer Schools on Prakrit Language & Literature and 7 National and International Seminars. The Institute has so far published 19 valuable publications and about 9 are in the press.

The Institute works on projects sponsored by Government/Semi-government / Non-government organizations. It is engaged in editing old Texts of Sanskrit, Prakrit, Ardha-magadhi, Apabhramsha and Pali languages. It extends all possible facilities to the scholars and monks from India and abroad. Bhogilal Leherchand Family and Shri R. K. Jain on behalf of Shri Atma Vallabh Smarak Jain Shikshan Nidhi are fully supporting the Institute for which it is always obliged.