An universal forgiveness day was celebrated on Sunday, 3rd October, at the Terapanth Bhavan in south Kolkata.
Like the years before it was organised by members of all branches of Jain sects in Kolkata, Digambara and Svetambara. Their regular meetings are held in the organisation of Jain Sabha [meeting, gathering].
Traditionally the function took place after the completion of Paryushan and the Daslakshan festival.
At the opening a message of Acharya Mahaprajna was read out.
The three saints, Sadhvi Kanchan Prabhaji, disciple of Acharya Mahaprajna, Murtipujak Acharya Vijaypadamprabh Surisvarji, and Sthanakvasi saint Girish Muniji, elaborated the importance of forgiveness and friendship. They all referred to the message of Lord Mahavira to treat all creatures with amity and to let them live without fear like oneself wants to live.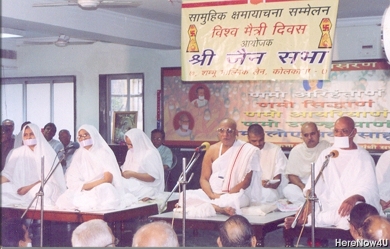 From left to right:
1.Sadhvi Shree Manjurekhaji - 2.Sadhvi Shree Kanchan Prabhaji - 3.Acharya Vijaypadamprabh Surisvarji - 4.Muni Girish Kumarji
At the social level many Shravaks and Shravikas, Surendra Dugar, trustee of the Jai-Tulsi Foundation and Mahasabha, Mr. Vishnukant Shastri, former governor of Uttar Pradesh, Harakh Chand Kankaria, president of Jain Sabha Kolkata, Surendra Kumar Banthia, representative of the Sthanakvasi Jain community, Pannalal Kochar, president of the girl section of Jain Vidyalaya Howrah, Tilok Chand Daga, president of Jain Sanskriti Sansad, Bhupat Bhai Kamani and Ashwin Desai from the Gujarati Jain community, and Anand Chand Oswal from the Kolkata Digambara Jain community, attended the activities.

From left to right:
1. Sri Tilokchand Daga - 2.Sri Pannalal Kochar - 3. Sri Surendra Banthia - 4.Sri Harakh Chnad Kankaria - 5. Sri Vishnukant Shastri - 6.Sri Surendra Dugar