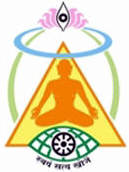 A series of Workshops by
Swami Dharmandji & Nirmalaji
[Adhyatma Sadhana Kendra, Delhi]
on
Be Your Own Therapist "Preksha Yoga Therapy"
(learn how to cure, control and even reverse some ailments)

Swami Dharmanandji preparing for the power point presentation Then we rushed to the yoga school for the second workshop on Depression and Stress Management. These two important subjects were treated under the focus how to work on and handle them. Time flew away, and the participants expressed their regrets that the workshops were over already. They were interested to practice those techniques of the Preksha system, which are helpful in this regard. Everybody was happy to have met Swami Dharmanandji & Nirmalaji and having profited from their treasures of knowledge.
Students practising techniques of the Preksha system against Depression
Then all posed for the group photo, in the first and third row the students of the yoga school; in the second row from l to r: Swami Dharmanandji, Nirmalaji, editors Karuna & Aparigraha Jain On our way home, we took the opportunity for a sightseing tour to the new centre of Berlin and to give an impression of the mood in the town, where the final game of the football worldcup would take place next weekend. Swami Dharmanandji took as much rememberences in form of filming with his video camera.as possible. Next morning, after the early morning meditation session, all were happy to sit down for a relaxed breakfast on the terrase in the garden.
From l: Nirmalaji, Swami Dharmanandji, Paulo from Spain, editor Aparigraha Jain Then Trupti arrived with Tshapatis, which she prepares really the Indian way, and to have another meditation session with Swami Dharmanandji. We took lunch together, which has been prepared by Nirmalaji and had a delicious taste.
Trupti (l) and editor Karuna Jain serving Dal for lunch prepared by Nirmalaji The next day, it was unusually hot weather. All enjoyed it in the garden, had talks and meditation sessions together. Lunch was prepared again by Nirmalaji who made wonderful cooking. Trupti and Swami Dharmanandji discussed on yoga and meditation, Paulo enjoyed witnessing the discussion In the afternoon, professor Bruhn came with Mrs. Bruhn and his charming granddaughter Cynthia to refresh the connection with Swami Dharmanandji whom he had met already during his first visit to Berlin, two years ago.
Professor Bruhn (l) talking to Swami Dharmanandji and Nirmalaji

Mrs. Bruhn and their granddaughter Cynthia who had ornamented herself like many youngsters do during the football worldcup in Germany When it was time to start for the airport next morning, all wondered how fast these four days had past... We only hope that there will be another visit as soon as possible.