Samanijis Jayant (l) and Sanmati Pragya (r) arrived in Houston on March 9th. The Jain Society of Houston welcomed them with a special morning program on 13th March, in an evening ceremony on the same day they were saluted by a large group of followers of JVB Houston Inc..
The ceremony was marked by welcoming addresses from several people, including young children. A welcome Bhajan specially choreographed for the occasion was followed by an outstanding Pravachan by Samani Jayant Pragya.
‰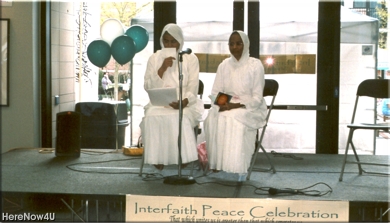 As usual, Samanijis were very busy since their arrival. They participated in a discussion forum on different religions at the Interfaith Ministry on March 19th at Guinan Residence Hall, where Samani Sanmati Pragya spoke about Jainism and Samani Jayant Pragya on Meditation.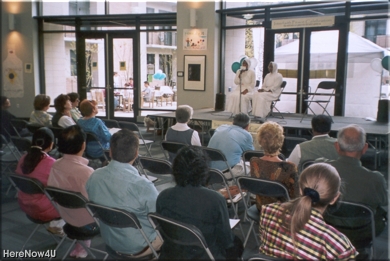 Further they conducted the 4th Annual Preksha Meditation Retreat Camp organized by Jain Vishva Bharati Houston Inc. at the Margaret Austin Center. This year's retreat was attended by 35 participants, including 7 children and some couples participating for the first time in a retreat.
One big success of the retreat was a quiz on the system of Preksha Meditation prepared by the Samanijis. The participants received a list of 75 questions with multiple choice answers which tested their comprehension and understanding of the subject. The quiz was designed in the form of a fun filled game with a variety of prices. The participants could win a price of their choice by answering the questions correctly. This did not only test the attendee's comprehension of the subject, but also provided entertainment for the attendees.
Samani Jayant Pragya gave a lecture on Preksha Meditation, which was followed by a discussion on the concept of Sukh and Dukh. Samani Sanmati Pragya explained to the participants how that the practice of Preksha Meditation prepares to face Dukh with less pain and suffering than persons do who did not undergo a training in Preksha Meditation.
Another important aspect of the retreat was a lecture on Anger Management by Shivani Botra. This was followed by a discussion using a real life example from one of the volunteers in the retreat. The retreat was both, appreciated and enjoyed by the attendees.