Terapanth Maha Sabha (general assembly) Kolkatta had invited Manak C. Singhi, auditor general & economic adviser, to give a lecture on the economics of Mahavira on 6th November 2005. About 200 people were interested to know, how the concept of dispossession can produce the philosophy of possession, as Munishree Dhananjaya Kumarji had put it in his editorial to the book of Acharya Mahaprajna, 'Economics of Lord Mahavira'. Based on the principles of Lord Mahavira, the Muni quotes his Acharya, "Only by the understanding of possession can one produce the sacred philosophy of abnegation."
Manak C. Singhi, economic specialist and follower of Ahimsa, had chosen this interesting subject for presenting his reflections on a solution, mankind has to find in the 21st century, how sustainable development can be installed in a technically high developed material world, having lost spirituality, but realising the insight that survival of everyone has to be secured, independant from native place and social status, if we aim to be a global civilisation. He referred to the teachings of Lord Mahavira who 2600 years ago had defined economic principles, sounding familiar to responsibility oriented contemporaries.
We hope that this article, compiled from the notes, our Kolkatta correspondant Sushil K. Bafana had taken during Manak C. Singhi's presentation, might inspire the one or the other among the readers for own reflections on this important issue.
Preposition Of Presentation
In history of human thinking, new, interesting and most fruitful developments frequently take place when two different lines of thoughts, having their roots in quite different parts of human culture, in different times, or religious traditions meet and mutually interact.
Werner Heisenberg
The points of the presentation have not been specifically indicated by Mahavira, but are based on adequate hints in his teachings. He did not write treaties, but answered questions and cleared doubts. His teachings are proposing a balance between spiritual and material world, founded on the five vows; their content might serve as economic guidelines.
Some points of the presentation are assorted in the following.
Assumption & Approach
Human wants are unlimited while resources are becoming scarce
Resources continuously get to known world from unknown
Mahavira recognized asymmetry of information & self-restraint
In rules of the universe, no single force/factor is supreme/sovereign
The doctrine of Anekanta (non-absolutism) made it possible to look at and reconcile differing/conflicting interests
Mahavira's approach was both, contemporary and universal, for all times and all beings
According to him, each individual is capable to identify truth or to find a true path
He suggested to set own standards and to monitor them
Self-advancement is the most important motivating factor
Philosophy Of Production
Avoiding wrong allocation of resources
Restraining from production of weapons & training of warfare
Industries/manufacturing based on mining, forestry, or other ecology disturbing products

Mahavira proposed
Production in line with resource availability to reflect priorities of society and to ensure intertemporal sustainability of production
Philosophy Of Consumption
Inequalities in consumption are identified responsible for misplaced priorities
Convergence of consumption level was most important for Mahavira
He sought to achieve it by provision of public goods like education, health, eradication of poverty and hunger & self-restraint in consumption by economically better-placed members of society
Restraint of individuals implements a physical limit on possession for own use
Philosophy Of Distribution
Exploitation, cheating, withholding dues are considered as violence (Himsa)
Wages have to be sufficient to meet necessities
Concept of development with regard to economic properity, consciousness about nature, ethical values, and mutual respect
Questions resulting from these points
What institutional setup does it call for?
Who is arbiter?
Is it a utopia or in realm of feasibility?
Implementations
Role of state
Fiscal policy
Scale of operations
Priorities of production
Pricing & distributional issues
Compability with other economics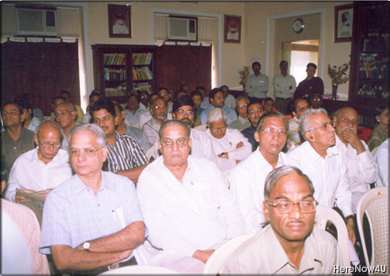 A very attentive audience followed the presentation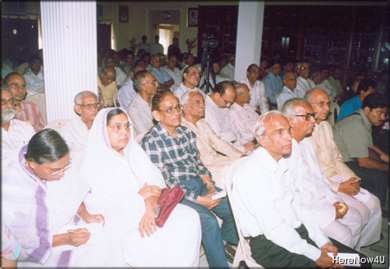 The two ladies are (from left) Veena Jain from JVBI Ladnun & Dr. Mumukshu Shanta Jain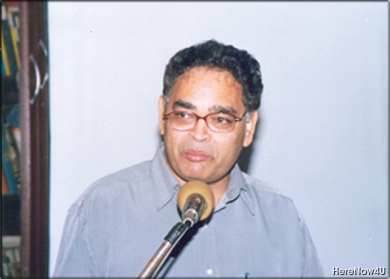 Manak C. Singhi has presented his reflections on a economy based on Mahavira's teachings in Kolkatta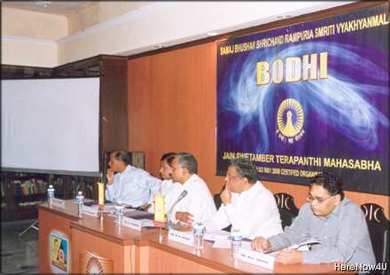 They all contributed to make this presentation a success, (from left) Ranjeet Singh Kothari, chief trustee of Kolkatta Maha Sabha, H. K. Choudhary, Surendra Choraria, president of Maha Sabha, Mahendra Kumar Jalan, honorary consul of France in Kolkatta, Manak C. Singhi, the lecturer
For those who feel inspired to deepen their knowledge on the subject, we hereby give the details of the book:
Acharya Mahaprajna: Economics of Lord Mahavira,
First published in January 2000, second edition published in January 2001 by Jain Vishva Bharati, J.V.B. University Ladnun, Rajasthan, India,
Jain Vishva Bharati Orlando, Florida, USA,
JVB Preksha Meditation Center, Houston, Texas.