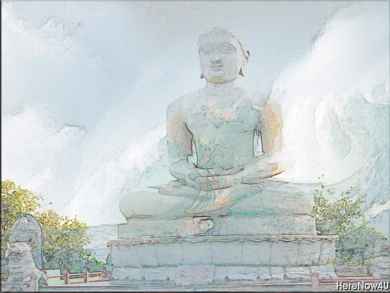 The past affects the present.
The present is very short while the past is infinite or endless.
One of its outcomes is history while the other is reminiscences.
The third outcome is a lesson in enlightenment.

History has created literature and reminiscences have created an environment of harmony and utility.
Little or no attempt has been made to learn a lesson from the past.
Mahavira's birth anniversary is an annual feature.
It is celebrated with great joy.

His followers remember him, listen to discourses and read the Jain sacred texts to rediscover his message and thus everything comes to an end.
Mahavlra's Contribution

Lord Mahavira attached much significance to the enlightened world-view. He has made tremendous contribution to both individual and society. Hence celebrating his birth anniversary is an expression of gratitude. This dimension cannot be dubbed as trivial or unimportant but it cannot be described as worthwhile as well if it lacks the will and the objective to create a new society. Mahavira's philosophy has in it a basis of a new society as well as its fundamentals. The main concept of the philosophy of Anekant consists in the trio of basic elements of truth viz. every object originates, perishes and remains permanent - it always preserves its existence. Every moment the process of origination and consumption goes on. As a result an object metamorphoses into different forms every moment. Remaining eternal is also a cosmic norm or what we call niyati or destiny. Order, creation or production are paryayas or modes which remain changing constantly. They are never eternal. The moment an order gets the form of permanence, it gives rise to conservatism or customary practices. The root cause of violence and terrorism also lies in conservatism. The practice of individual luxury and exhibitionism has degenerated into a customary practice. That is why economic prosperity is giving rise to reactions in the form of violence and terrorism which are on the increase.
Affluence Is Dangerous

Efforts to eliminate poverty are going on at global level. Prosperity too is swelling. Perhaps affluence is more dangerous than poverty. The resources that we have on this planet are so meager that it is impossible for all its inhabitants to live a life of prosperity. Notwithstanding this there is a race as well as a spirit of competition for becoming rich. Lord Mahavira didn't say anything about the elimination of poverty but he spoke at length for restraining affluence. The code of conduct he had formulated for householders put a lot of curbs on the intoxicated elephant of affluence. Consumerism is the adopted child of riches. Epicureanism or hedonism is a branch of that very poisonous tree. Acquisitiveness is a source of its nourishment. of the twelve basic vows he prescribed for shravaks (votaries} the following vows enjoined on them to limit their needs:
The vow of limiting the quantity of things one will use (upbhog-paribhog-vrat} is a device to control consumerism.
Digvrcit or the vow of limiting the area of travelling in all directions is a device to control hedonism.
Parigrahapariman or the vow of limiting the desire of possessions controls the tendency to acquire.
Can socialism and communism establish themselves in a state of unlimited consumption, unlimited comfort and unlimited acquisition of wealth? Can democracy remain pure? A new society cannot be created without practising the mantra (specific efforts} or bringing about a change of heart and without developing the spirit of vrata or a vow. Giving a new face to the old social order is an exercise in futility.
Code Of Conduct For Building A Healthy Society

Lord Mahavira made an experiment which resulted in the birth of a society free from the attitudes that are rooted in consumerism, hedonism and acquisitiveness. Half a million men and women enrolled themselves as the members of this new society. If that tradition had made headway and developed further, the formation of a new healthy society would have grown in size and stature but it has not happened.
The additional activity of affluence is the production of weapons. One of the directives laid down in the code of conduct meant for shravaks (votaries) is that one should not manufacture weapons nor should their parts be handled. Production of arms is an indirect way for an uncalled attempt to increase poverty. People resort to arms production with a view to imposing their ideas on others. They also do so to subdue freedom and self-esteem. A code of conduct is a beacon and a source of inspiration. It can't restrain our conduct in its entirety. The way of restraining it lies in creating awareness. It is our duty to direct the process of awakening in the light of that consciousness. Mahavira's birth anniversary becomes a source of inspiration for that duty and inner awakening.