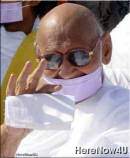 Friday, July 19, 2007
Philosophical thinkers are divided into two categories those who emphasize the primacy of knowledge and those who emphasize the primacy of actions or conduct.

This distinction first came into existence in the field of sadhana and from thee it was transferred to the field of logic. Knowledge and conduct then came to be completely separated. It, however, does not hold much water in the field of sadhana anymore. We cannot keep knowledge detached from conduct. They form a unity.

To speak of the two as separate is a matter of emphasis only. When the emphasis is placed on one, it does not exclude the other. However, in the course of time they came to be looked upon as separate. This gave birth to two distinct schools of philosophy.
In a state of enlightenment, the mind and the instincts go hand in hand with each other. The mind remains involved in each action and every action becomes a rational action.

Every activity of the body becomes a conscious activity. Even instinctive activities take place under the auspices of consciousness. The enlightened man is always wakeful. He keeps the mind associated with every action he does. His mind never remains alienated from action. This wakefulness is the consequence of the third stage of the transformation of personality. Thinking and doing become a unity.

With the further progress of sadhana and self-consciousness a fourth transformation takes place. It brings about a dispassionate attitude of mind. The practitioner arrives at the state of vitaraga.

His consciousness becomes undefiled. The influence of the passions on his mind disappears. The self does not remain conditioned by external influences and comes to itself. The practitioner becomes centred in the self.

His relationship with external things ceases. He becomes self-propelled. He develops pure and unconditioned knowledge. There is no difference between freedom from passions and pure knowledge or kaivalya.

As a matter of fact kaivalya means freedom from infiltration by passions. It means the rehabilitation of consciousness. Once consciousness has been rehabilitated, inertia disappears from it once for all. Disappearance of inertia results in a dispassionate attitude of the mind, which in its turn frees consciousness from further defilement. Kaivalya means the emergence of pure consciousness.

A complete reconstitution of personality is the tail end of sadhana. It implies a surrender of the empirical self or personality. This surrender leads to the emergence of man's real and unqualified existence. This is the outcome of sadhana. It is, however, difficult to achieve it.