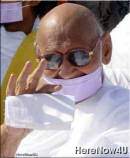 When a youth was asked about religion, he said, "I do not consider it to be necessary.''
Another youth, in reply to the same question, answered, "I'm not interested in it''.
A third said, "I consider religion to be necessary. I am also interested in it. But what am I to do? I'm terribly busy. I can't find any time for religion''. Lack of faith, lack of interest and `busyness' - these three problems confound the mind of the modern youth. The third problem is not very intricate. The first two are. If one learns the secret of utilising time, the problem of busyness is easily resolved. I said to a young man, "You possess two vital elements - the body and the mind. The body is very strong but the mind is weak. Is this desirable?'' The youth answered, "Not at all! If the mind is feeble, the body cannot accomplish anything great''.
I proceeded further, "If a man's body is feeble, but his mind is strong and vigorous, what would you say?''
The young man said, "If the mind is strong, the feebleness of the body will not cause as much pain as a feeble-minded person feels''.
The next question was - "How much time do you spend on keeping the body strong and how much on strengthening the mind?''
He said, "Many hours are expended on the upkeep of the body, there is no time left for the mind''.
In answer to this question, one young man said, "I get it now. Henceforth, I will spend some time on keeping the mind in good health''. He further said, "To say that I am very busy and that I have no time, is a mere pretext. The fact is that unless the necessity of religion is felt, there can be no proper planning of time''. Religion means control over the passions (anger, pride, attachment, greed, fear, etc), it means the practice of exercises for developing the power of control. Non-belief is possible with regard to the invisible or the unattainable. But to exercise control over one's emotions is good for life. It is something perceptible and intelligible. It is necessary for leading a peaceful life, free from tension.
The question of non-belief just does not arise here. People who talk about lack of faith in religion, do so without understanding its nature. One may display want of faith in respect of imponderables like God and Soul, inaccessible to the intellect, but when we talk of religion on the mental and emotional level, there is no room for unbelief there. Dislike can be changed into liking. An awareness of utility and right values can transform aversion into fondness. Anekant is an important contribution of Jain philosophy. By assimilating it, truth can be known and lived. Living is a fact. All people are living. In order to rightly comprehend this fact, one must adopt the Anekantic approach. A social being is an island in the great ocean of desire and money-acquisition. If life is confined to gratification of desire and money-making, then the individual is surrounded on all sides by the waters of craving and he is most likely to be engulfed by the stormy waves. Life is continually movingforward. It contains within itself infinite possibilities and unlimited capacity for development. It can rise above the waters of desire. It is capable of a vertical movement. There are two paths moving upwards - religion and liberation. Through these life is elevated. The wholeness of the life of a social being can be viewed in four dimensions: desire, money, religion, and liberation. A man living in these four dimensions lives holistically. It is essential for him to develop his social consciousness along with his religious consciousness and to develop his religious consciousness along with his social consciousness. That makes for a balanced life. Ancient acharyas have laid down the frontiers of desire, of acquisition of wealth, of religion and liberation. From the viewpoint of wholeness, this is very significant. There is a limit placed upon desire - it should not hinder the acquisition of wealth. Similarly there is a limit placed upon the acquisition of money, it should notobstruct desire. There is a limit placed upon acquisition of wealth and desire - these should not obstruct the pursuit of religion. There is a limit placed upon religion - it should not obstruct desire and acquisition of money. Only through balanced development in all fields, can a social being lead a healthy life.