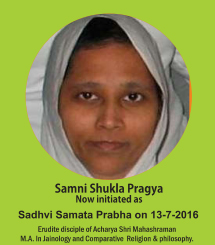 Preksha Life Skill - A Way To Win
Lao Tzu said, "The journey of a thousand miles begins with a Single step." This reflection inspires us to embark on a journey that can steer us from darkness to light, and from bondage to freedom. It awakens our consciousness, helping us surmount darkness and karmic bondage. The world today is beleaguered with constant conflict and war between and within countries, communities, friends, and family. All of us want to win in every single aspect of our life. However, we should understand, "To win in life, you must first win yourself." A question then arises-how to win?

Three phrases that are used to kickoff a race can be applied to life as well, and can lead us towards a win
On Your Mark,
Get Set, and
Go...
On Your Mark:
At the commencement of the journey we should ask ourselves if what we are doing is up to the mark. This is the first step towards success in life and enables us to ensure that we are on the right track. Do we really yearn for affiliating our material existence with spiritual heights?Then let us search for ways that lead us to self-discovery.
Get Set:
We should set our SMART GOALs (Specific, Measurable, Attainable, Realistic, and Time- Targeted goals) so that we know where we are headed.
Go:
We may have great plans and desires, but unless we give ourselves that first push and start running, we will never win in life! This is a race that involves tackling ill thoughts and psychological weaknesses. This is the winning over of the attitude and habits that lead to failure in life. This is about triumphing over psychosomatic diseases, weak memory, feeble concentration, and poor mental power. Now is the time to begin our journey - a journey to win ourselves. A question arises again - what is the way to win the self and win in life?

Preksha Life Skill is an ideal path to self-discovery. It is a certificate program designed to impart the required skills for achieving success in every walk of life. It paves a strong platform for managing the hurdles in life, the turmoil in relations, the struggles of daily routine, and achieving sustainable success. It can provide a mature outlook by shaping Attitudes and Attributes for effective functioning in diverse challenging situations. When we empower ourselves, we move ahead of the crowd.

When we see successful people in the spiritual or corporate world, a question arises - what made them materially and/or spiritually successful? Is it their IQ, a good education, or a motivated family background? These attributes are important. However, a vital factor is their soft skills. Whether they are successful leaders like Dhirubhai Ambani, Narayan Murthy or Warren Buffet, the secret of their success lies in their skill of getting along with people. They are 'out of box thinkers'.

They think differently, accept challenges, try new things, set their morale and spiritual values high in order to ignite the power of wisdom, and train themselves to handle failure. That is where Preksha Life Skill can help us move forward in life. The essence of PLS Certificate Program is to help us grow as true human beings, and to provide us with spiritual energy for maintaining balance in personal, family, work and social life.

A form of mindfulness process called Preksha Meditation is incorporated in this program. Preksha Meditation is the core foundation of the development of an integrated personality. It aids in exploring our energy sources to win over the self. This in itself is a great victory in our human world. As Bhagwan Mahavir said - Egam jinejja appanam, esse paramo jao - Winning the self is the greatest victory. According to Human Physiology, the neuro-endocrine system regulates the actions of the human body. Emotions and hormones are responsible for good and bad acts. According to Psychology, the subconscious mind controls human behavior.

Preksha Meditation works with both systems and brings in tremendous positive transformation in a human body. We pay our humble gratitude to Acharya Mahapragya ji for endowing us with such a great technique.

Practice makes a man perfect! Thus, it is necessary to commit some time from our daily routine for Preksha Meditation in order to get in touch with our inner self. This will allow us to develop a positive attitude, boost our self- esteem, improve our mental outlook, increase our patience, relax our mind and body, and generate compassion and friendliness towards all.
GRACE the Human Life with a Human Heart
Knowing about Preksha Meditation is one thing, but following it sincerely is what makes the real difference. With true endeavor, we can surely make our human life gracious and worthy. Hence, it is time to practice the GRACE formula in everyday life. Let us allow it to help us develop higher self-awareness and get charged in order to embark on our own spiritual journey.

By adopting the GRACE formula, we can co-create with others, a vibrant, harmonious and firmly grounded situation that is consistent with our values and ethics.
Gratitude
Attitude of Gratitude nurtures our positive energy and lifts us up from stressful situations. It allows us to see the bigger picture of life and swipes our sorrows away.

Respect - Respect for self, others, and for all living beings, keeps us away from inhumane actions - be it physical, mental or verbal.

Amicability- Being friendly with everyone helps in eradicating the feeling of enmity. It constructs a strong bridge in relationships and helps open doors for achieving heights of success.

Compassion - Cultivating Compassion adorns our life with happiness and makes those around us happy as well. It encourages us to practice empathy so we can contribute to the eradic

Enthusiasm - Enthusiasm keeps our energy ignited, and forces us to pursue our goals with the same passion that we began with. As it elevates our mental energy levels, it is an antidote to depression.
Time moves quickly. It is crucial that we understand the importance of Human life. Adopting a life filled with constant awareness of every single moment will certainly pave the path towards spiritual heights. Best wishes will always be there for the self-seeker!