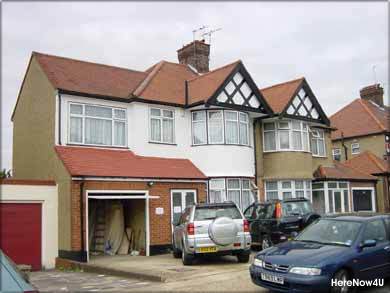 On Sunday 20th August, one day before Paryushan started, we all were invited to Raksha's and Rajeev's house to participate in a Bhaktamar Stotra Pooja celebrated there. Raksha and Rajeev were born in Kenya and their families had moved to Birmingham, where they met. Later, the young couple had moved to London. Now they are living here together with their son and daughter. Their house (photo above) is situated in the nortern random of London, about twenty minutes by car from the JVB London centre. People were asked to enter the house via the garage, as the celebrations had already started when we arrived and the entrance was near the living room where the Pooja took place.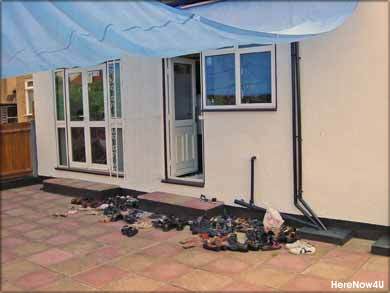 The sounds of music as well as the number of shoes indicated the many visitors present. The blue plastic cover closed the gap between the veranda and the tent in the garden where delicious homemade lunch was served after the celebration. It was meant to cover the passage to the tent for lunch as well as the shoes against the rain, a caring thought of the hosts, which was necessary because of the changeful weather. We were happy that our shoes did not get wet and were reminded to some occasions in India, when we had to return from a function in our wet shoes.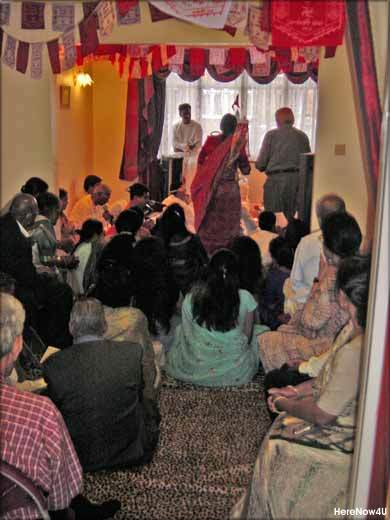 Inside the house, nearly the whole basement had been bereft of furniture and was changed into a wonderful smelling and sounding Pooja location.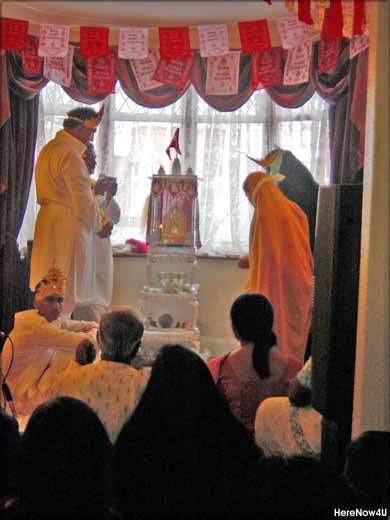 A four-storied ritual shrine had been installed in front of the window, wonderfully illuminated from the daylight. Rajeev (standing left in his Pooja clothes) is lightening candles. His son (sitting) looks into the camera. Raksha (sitting, seen from behind) and her father are watching Rajeev, their daughter is standing at the right.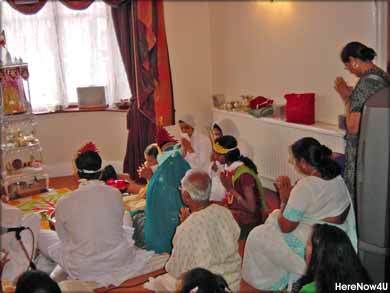 The Samanijis (right near the window) were sitting near to the shrine.
They followed the celebration reciting the Bhaktamar Stotra in their mind.
The singer recited the same from the book pitched in front of him.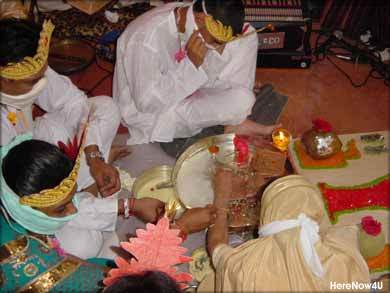 Raksha (l) with Rajeev and her son. On the right, the beautiful Mandala made of coloured rice grains can partly be seen.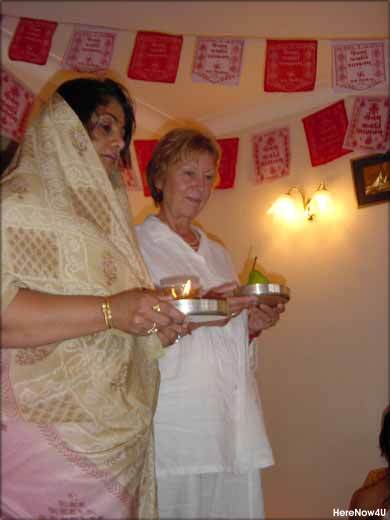 Pushpa Banthia, chairperson of JVB London's women's wing, had invited editor Karuna Jain, to offer the purifying flame together with fruits. The room was decorated with the Stotras written on coloured papers.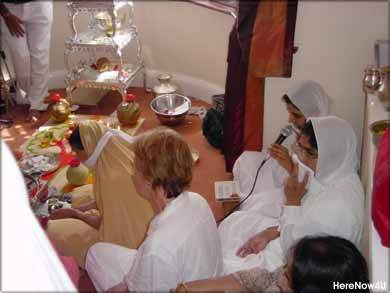 Samani Punya Pragyaji (second r with mic) recited one Stotra.
To get an impression of the atmosphere, click here for a short,
small video clip.