When we arrived in our room at Karnataka Jain Bhawan in the afternoon before departure to Trivandrum we found all our gifts from Shravanabelagola neatly batched on a small table. The president of Karnataka Jain Association, Mr. Jitendra Kumar, and its general secretary were awaiting us already. The latter was very helpful in organizing a licensed taxi to the airport at the scheduled time, as only those taxis are allowed to bring passengers to the airport. We were happy that all went so well and again express our heartfelt thanks to all who contributed in making our stay unforgettable.
According to our friends' recommendation departure from Jain Bhawan was fixed at 06:00h for flight departure to Trivandrum at 09:20h, as traffic and distance had to be considered. At present on national flights in India only 15kg are allowed free, so we had to think over what to pack in the suitcase and what to carry as hand luggage. It matched perfect that there were no further obligations in Bangalore. After having solved our logistic problem we ate dinner at the fast restaurant already familiar to us and then went to sleep. The night ahead seemed not to be a long one. At 06:00h sharp we loaded our luggage into the taxi, bid farewell from our friends who so kindly had managed all formalities and took a deep breath. So far, so good.
At this early hour life in the streets of the city is just about to start. People obviously were on their way to work or school. All was fine for us, until the taxi driver headed towards a very crowded market place. There were gathered as many plants and flowers as people, and the taxi drove exactly in their direction. The taxi was entering the flower market! But the taxi driver seemed to be familiar with the route, horned softly and took every opportunity to move slowly, but resolute forward in the midst of the crowd, consisting of people and plants, all together remaining unharmed. Who knows which jams we missed because of our drive over the flower market? About 07:30h we reached the airport and had to pay only 15€ for our excess baggage. From Trivandrum, where we landed 3 hours later, we had 30 kg free on the flight back to Germany and no more problems.
At the airport we asked for some hotel recommendation for Kovalam Lighthouse Beach after arrival, which was given for Sagar Beach Resort by a very kind employee of local tourist office. We reached there after a short taxi drive and liked it that much that we stayed there all days of our stay and did not regret our choice.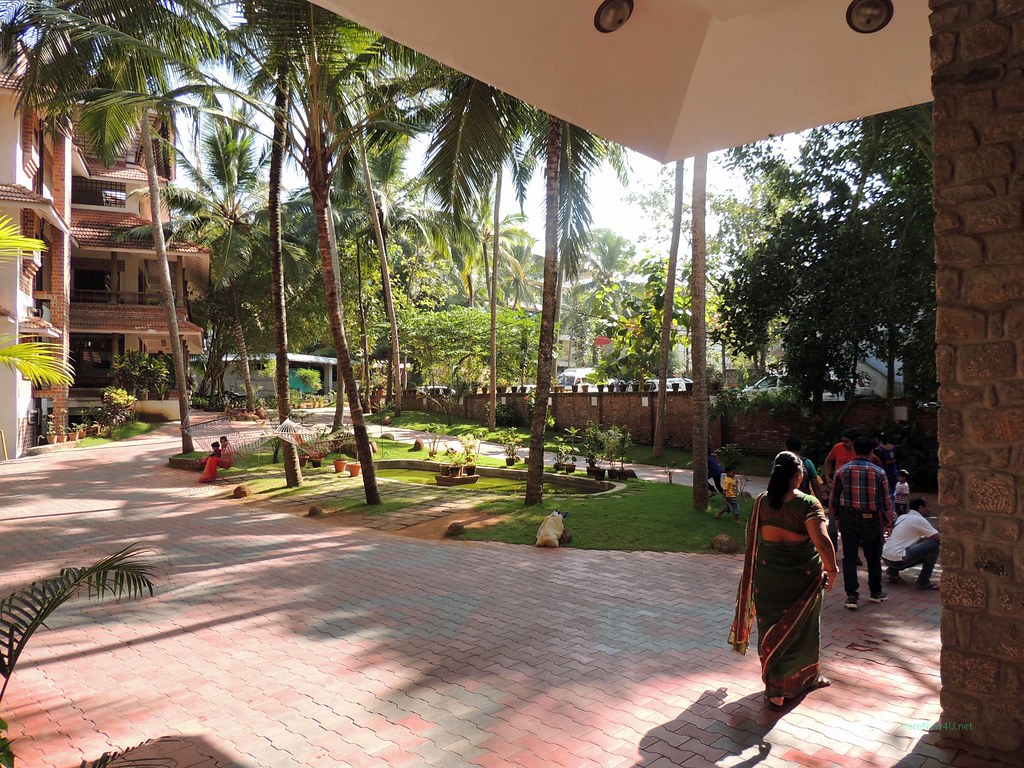 Driveway to the hotel seen from the reception hall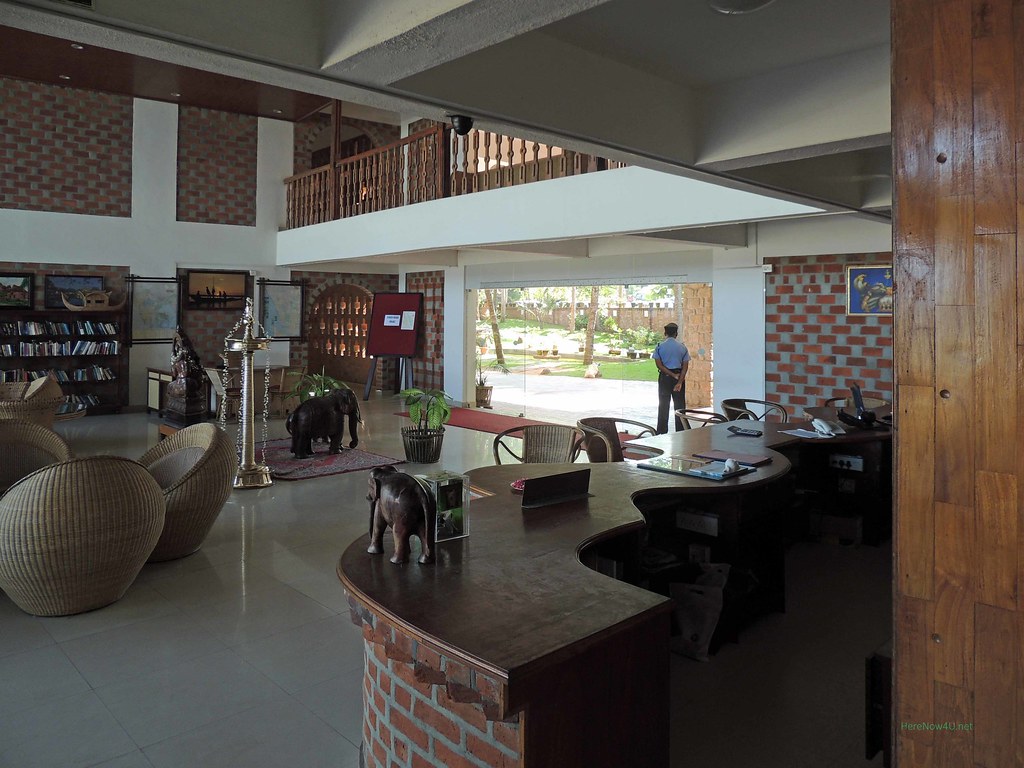 Reception hall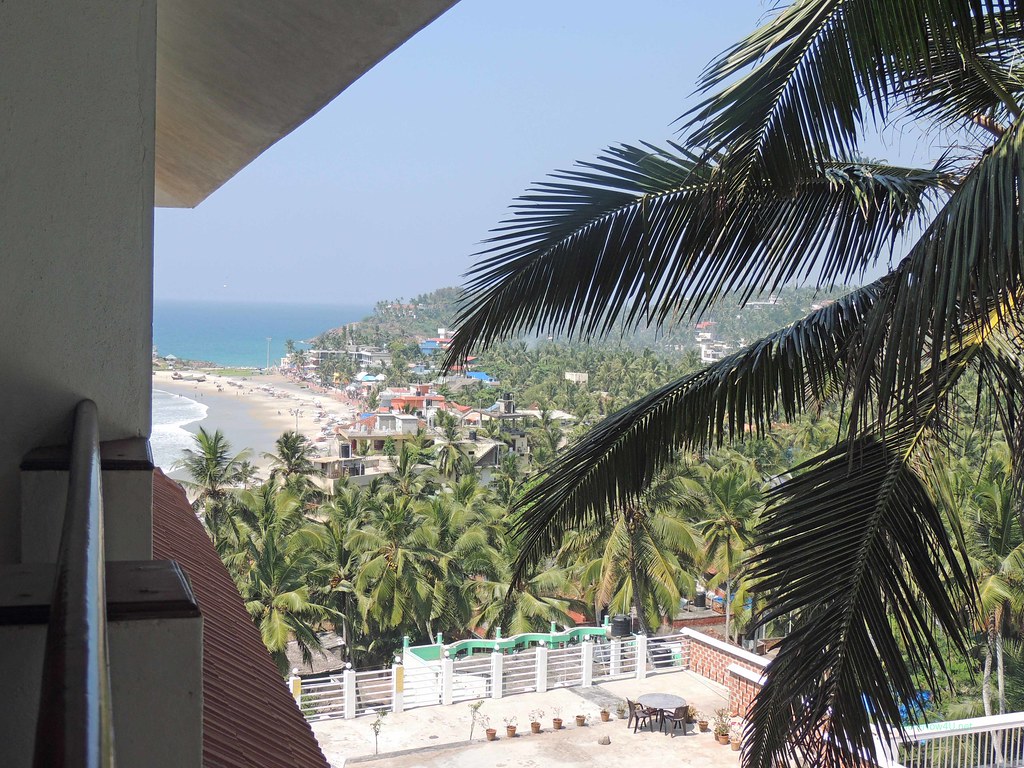 View from the balcony of our room on Kovalam Lighthouse Beach …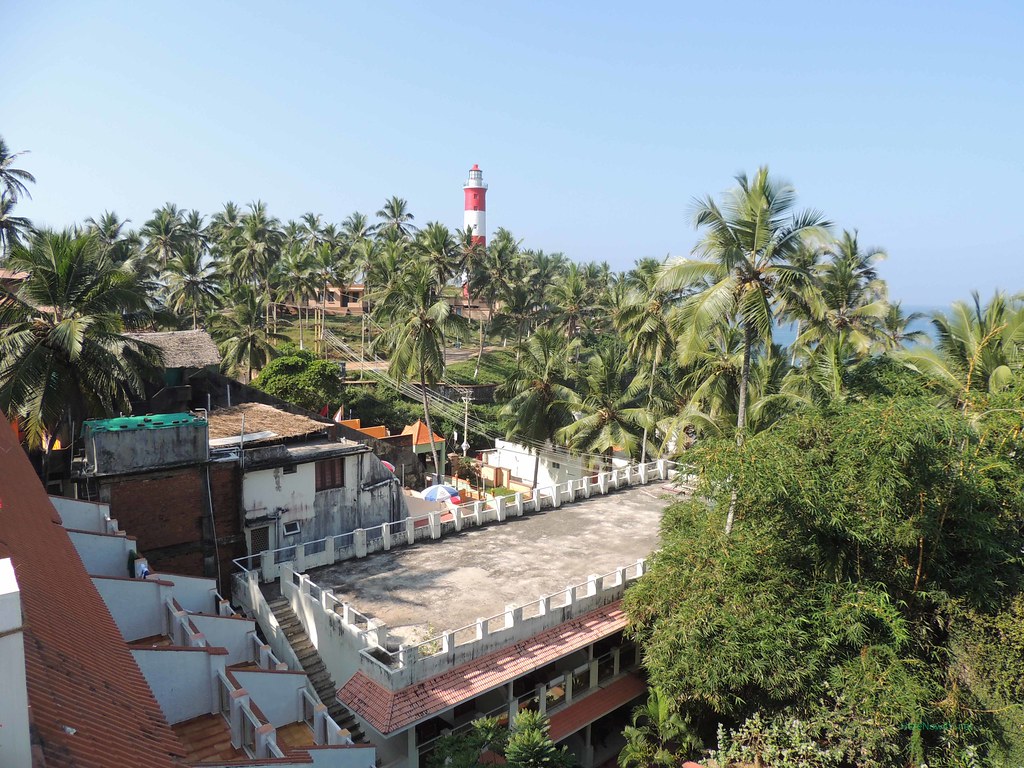 … and on the neighbouring hill  with the lighthouse.
The hotel consisted of several buildings on a hill, which all were connected through stairs. The country house like style matched perfect with the landscape, giving a neat and proper impression, an important aspect considering the Southern Indian coast climate.
On the neighbouring hill beside the hotel there is the lighthouse on the top of a small tongue of land. This means for the guests not to be accommodated in the midst of beach and night life. In our eyes this is an advantage, further there are two times of daily gym included, while descending to the beach and climbing up back to the hotel. Anyway, comfortable stairs are available. There are also plenty of trips to the backwaters possible and other destinations worth sightseeing.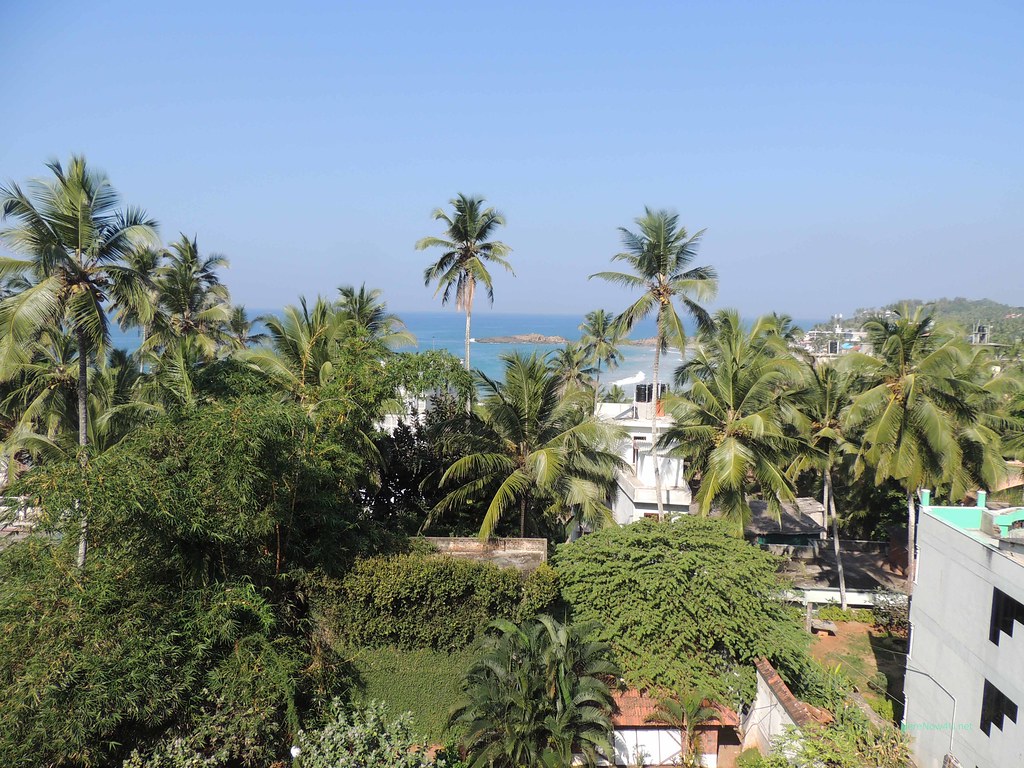 Kovalam Lighthouse Beach is immediately behind the palm trees.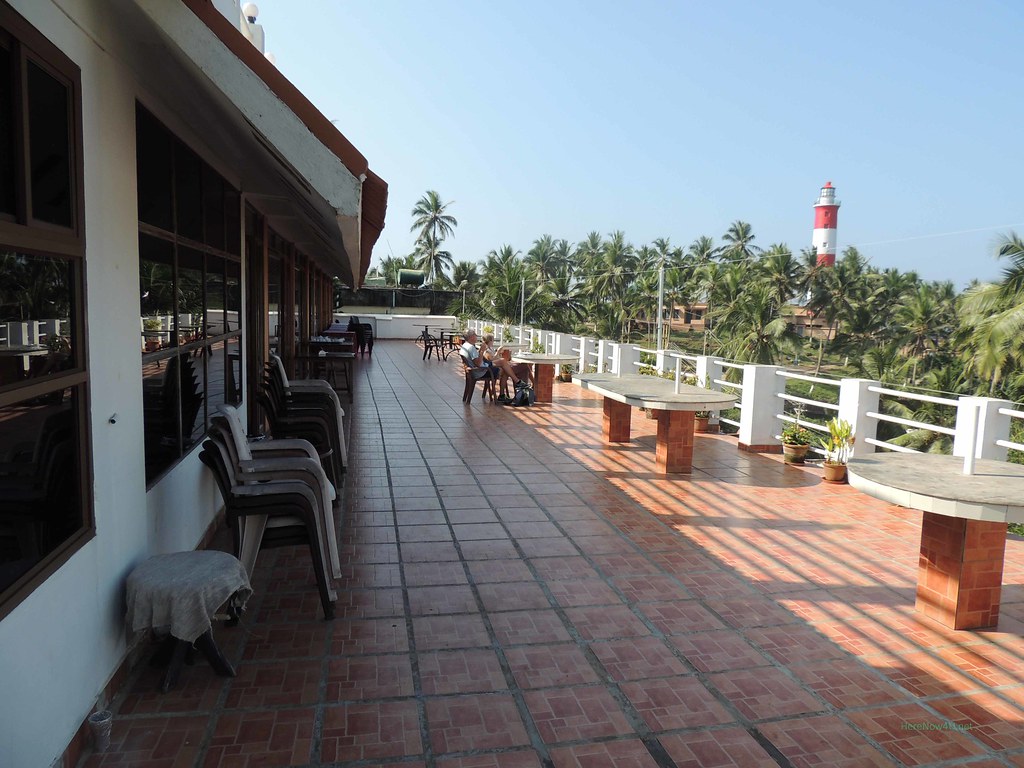 There is a good overview from the hotel terrace.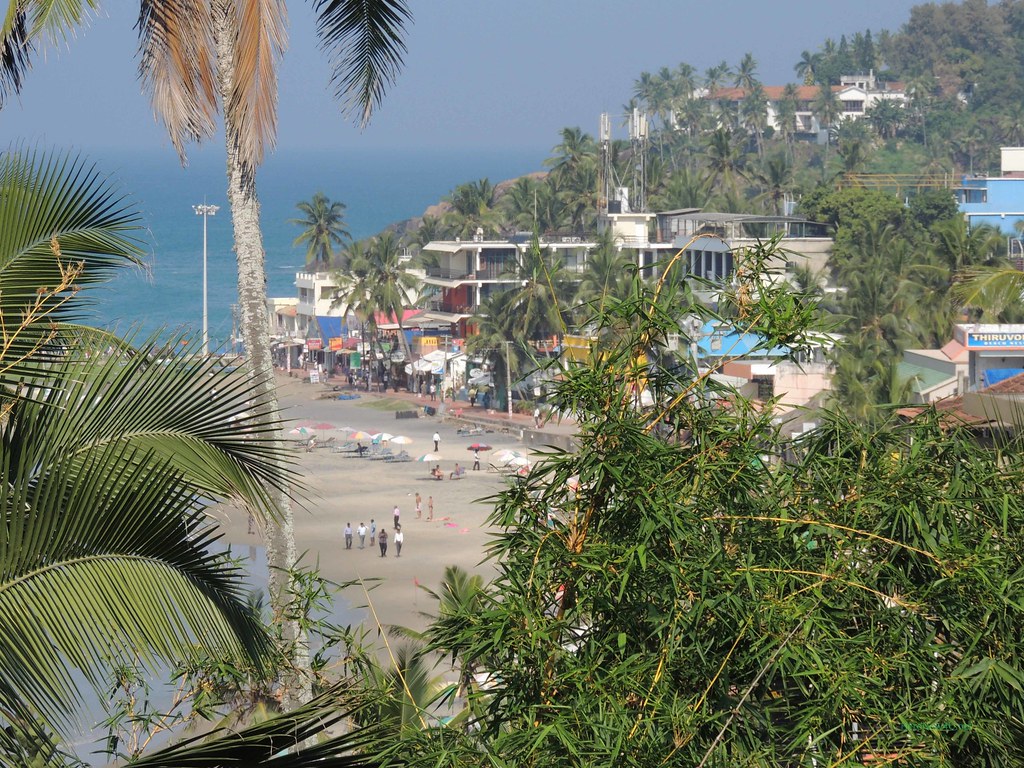 Beach and boardwalk in the morning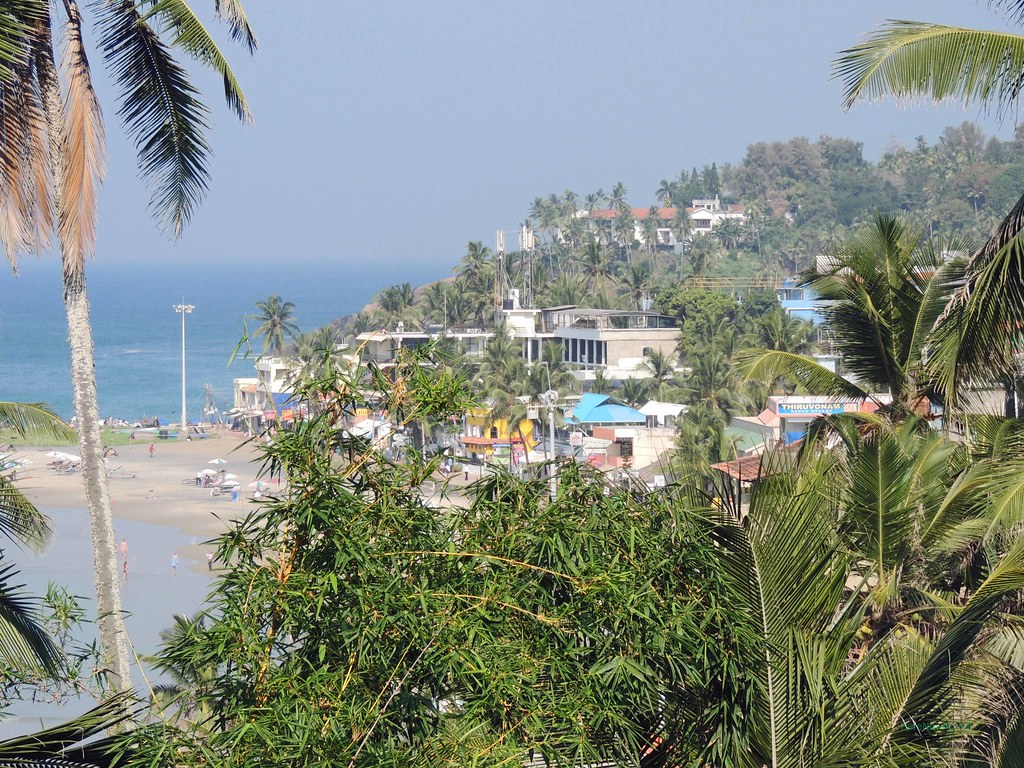 Palm trees in front of the ocean, anything else?
Kovalam Lighthouse Beach is not far from Trivandrum airport and this was not the only reason to complete our India trip full of events here. We liked very much local life, which can be watched on the beach and the ocean, when i.e. native youngsters are meeting before sunset on the beach to play ball or circle games, highlighted with happy laughter, or when local Indian families are enjoying the beach and the ocean shouting with joy when the waves are raising higher and higher again. When we were there, it was a harmonious together of national or international tourists and residents. Certainly it has changed a lot in the last decade, as did so many destinations, but still the beach is very suitable for relaxation while watching the coming and going of the waves or to throw oneself into them enjoying their cradling movements.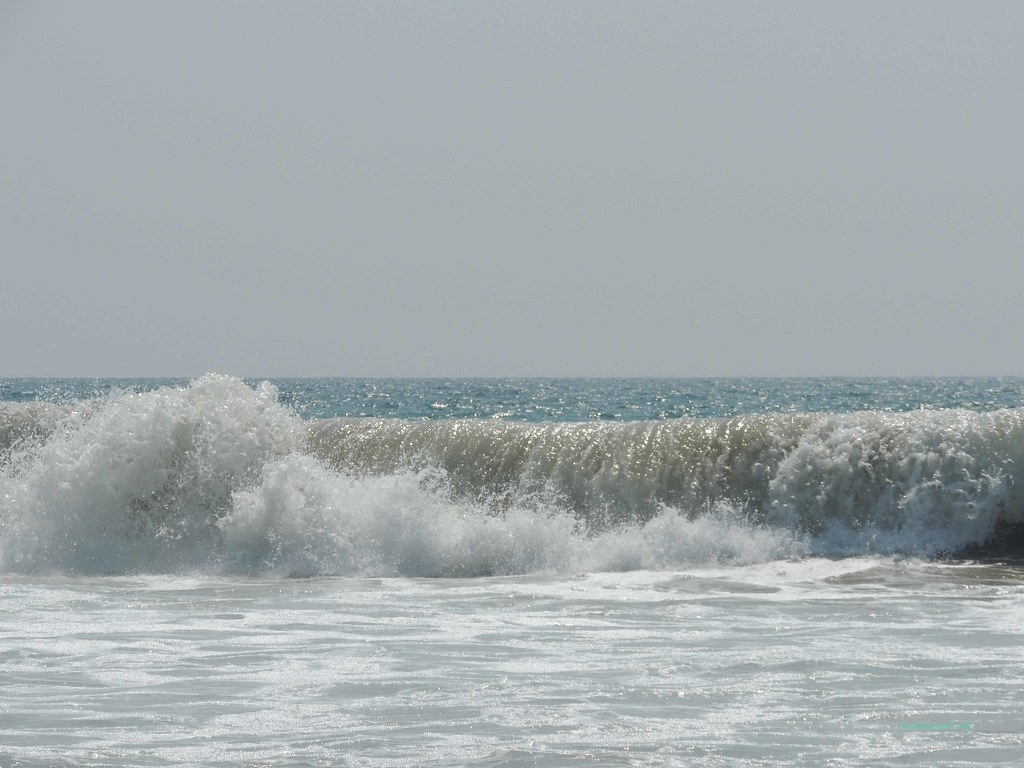 Sometimes the breaking of the waves was rather strong.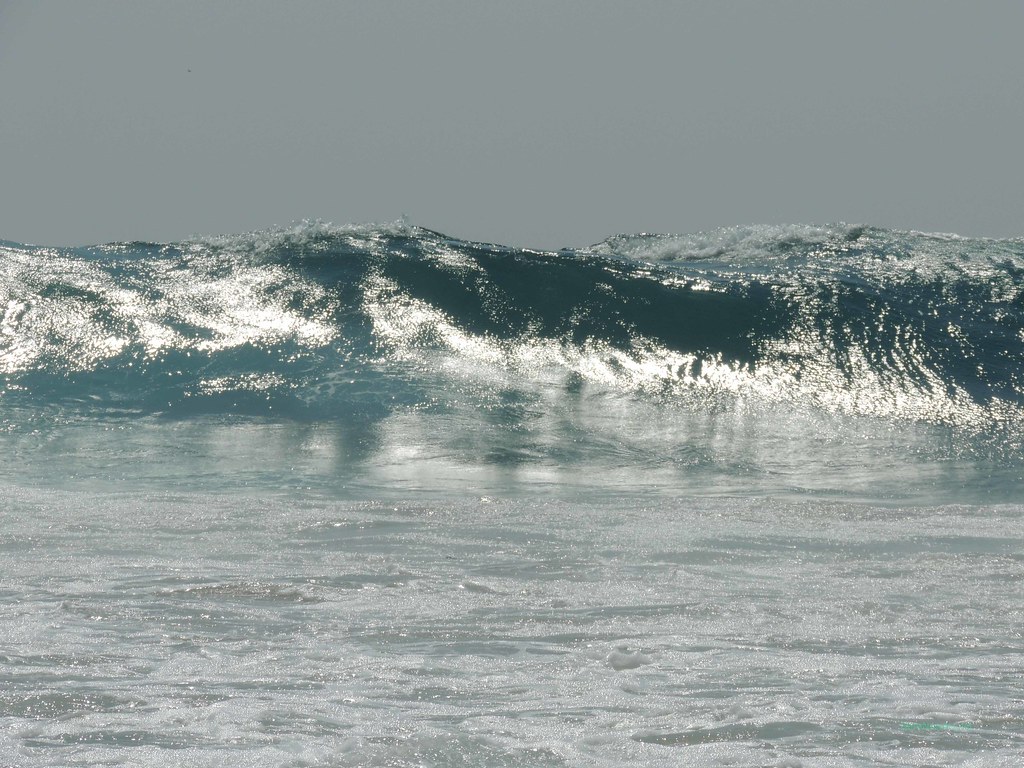 Watching the waves come and go is very peaceful.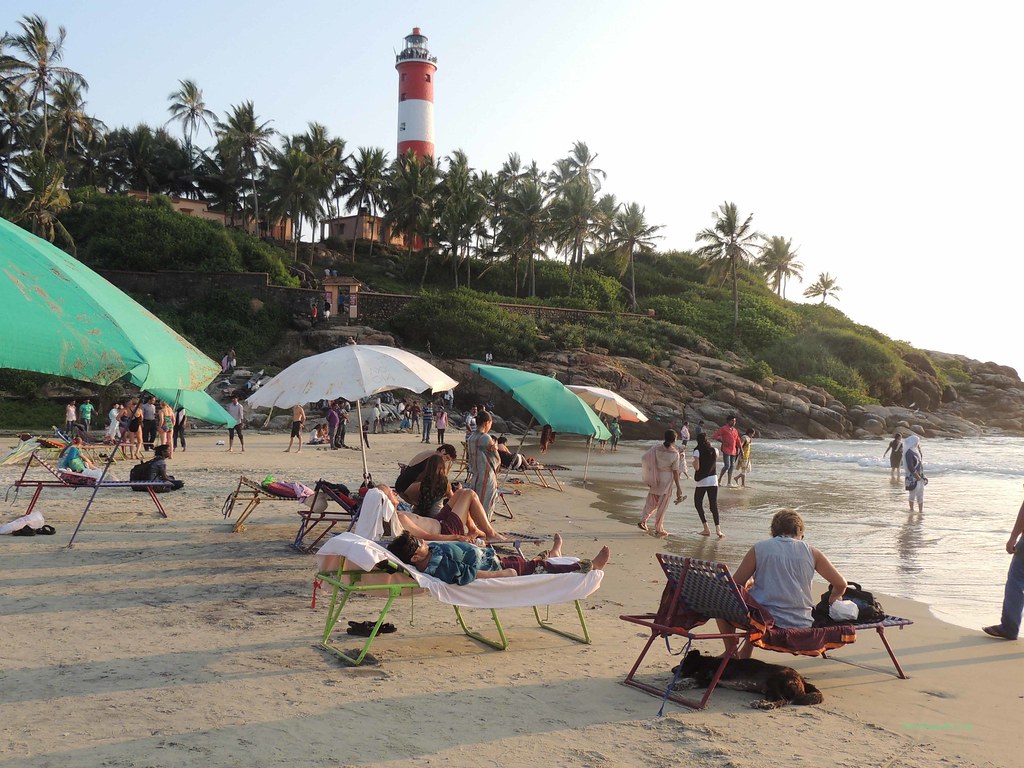 Beach life in the afternoon, in the background its characteristic lighthouse.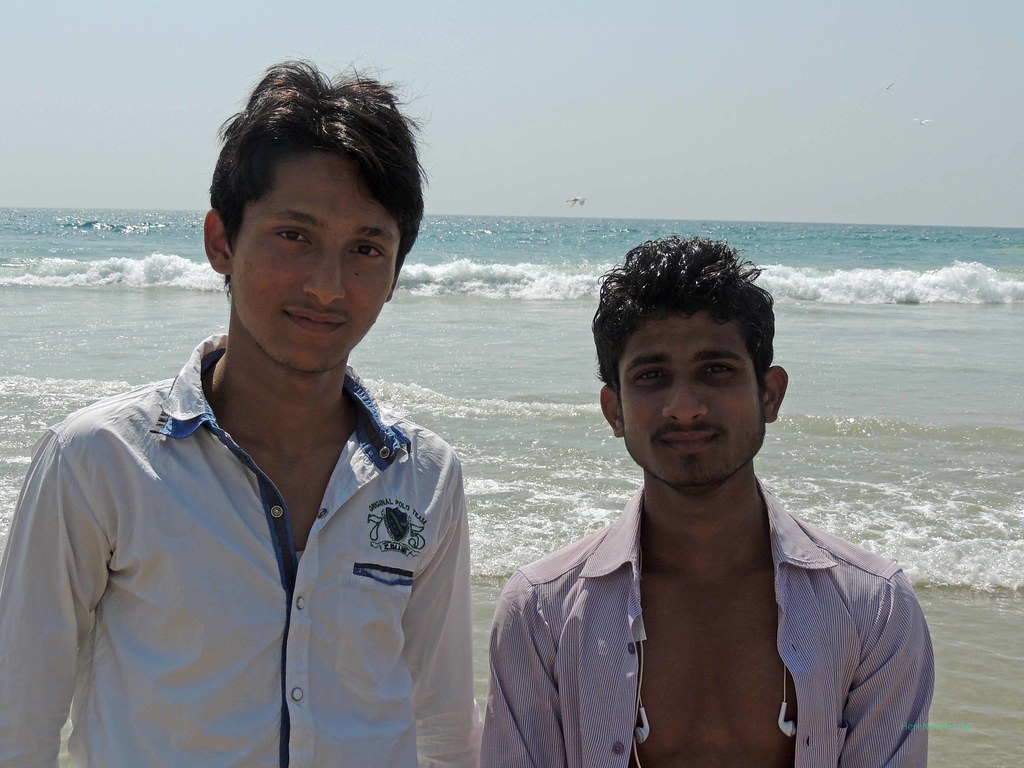 Youngsters on Kovalam Lighthouse Beach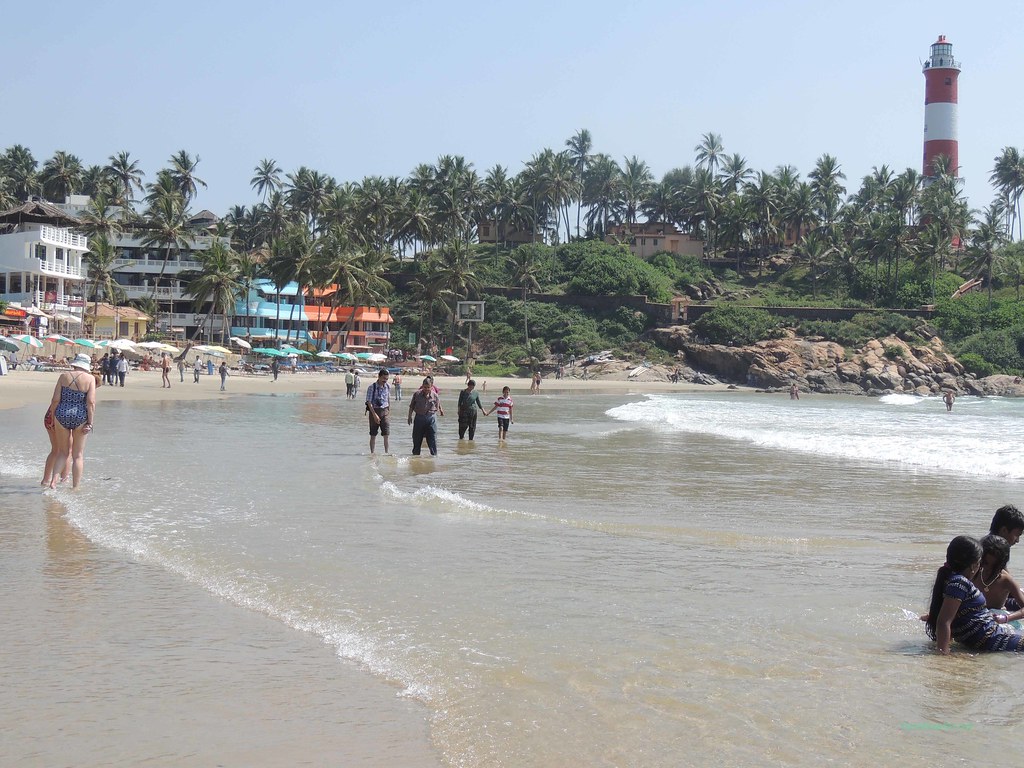 Beach with lighthouse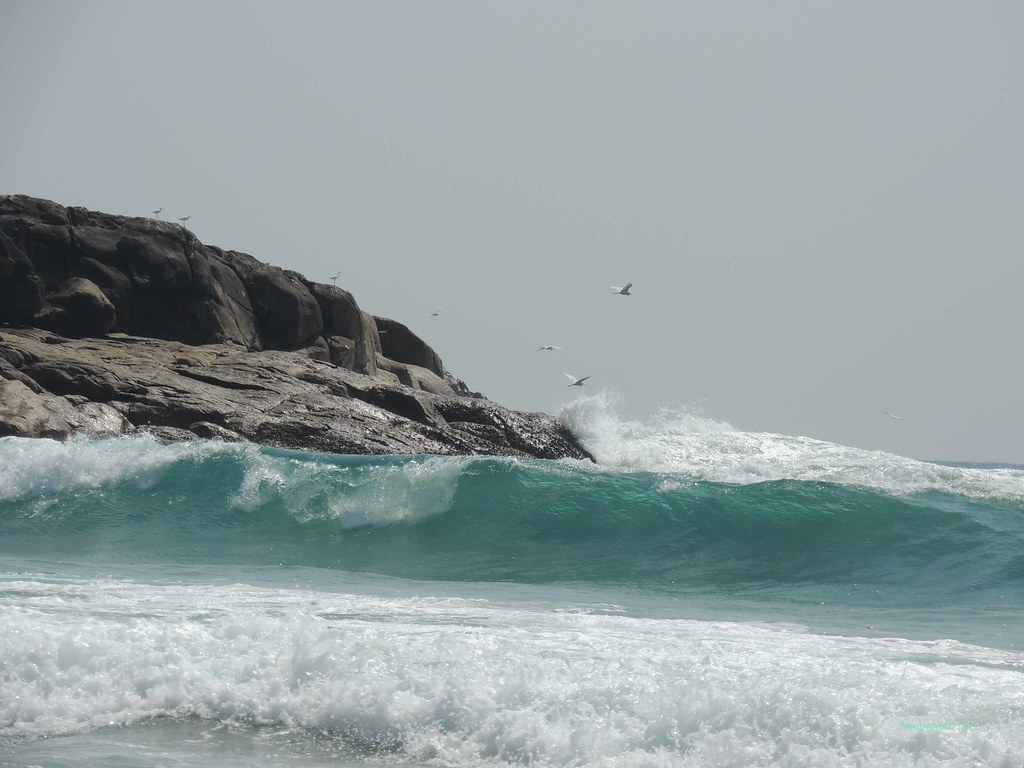 The rocks in front of the lighthouse are a frequented meeting point for birds.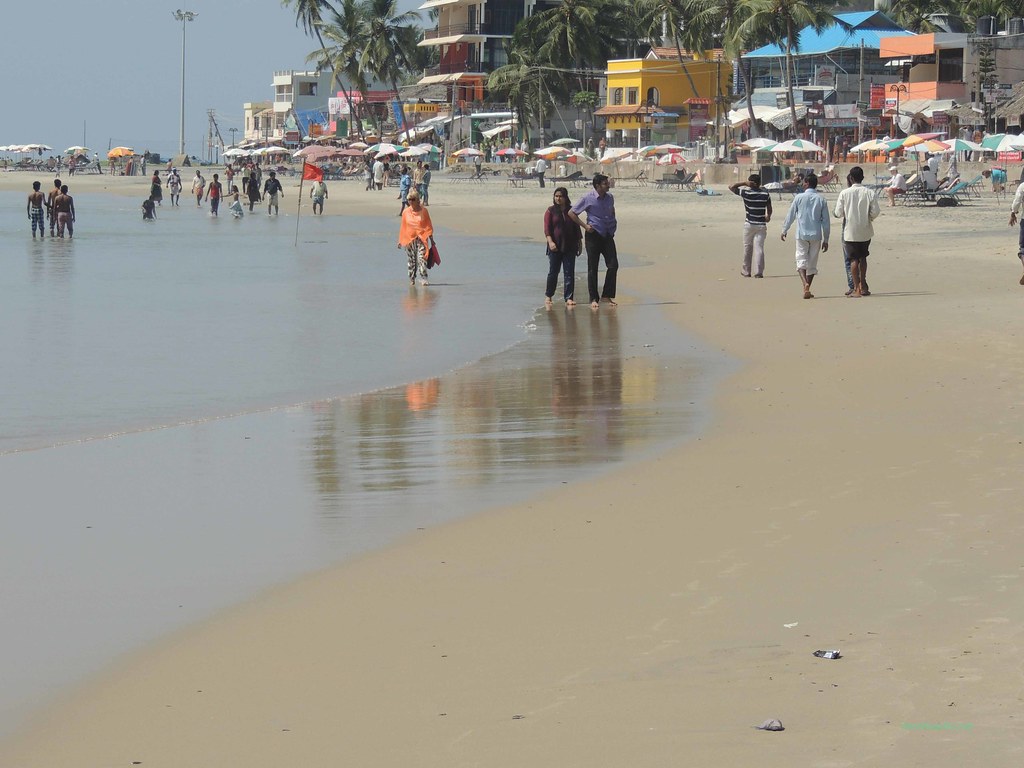 The other side of Lighthouse Beach in the afternoon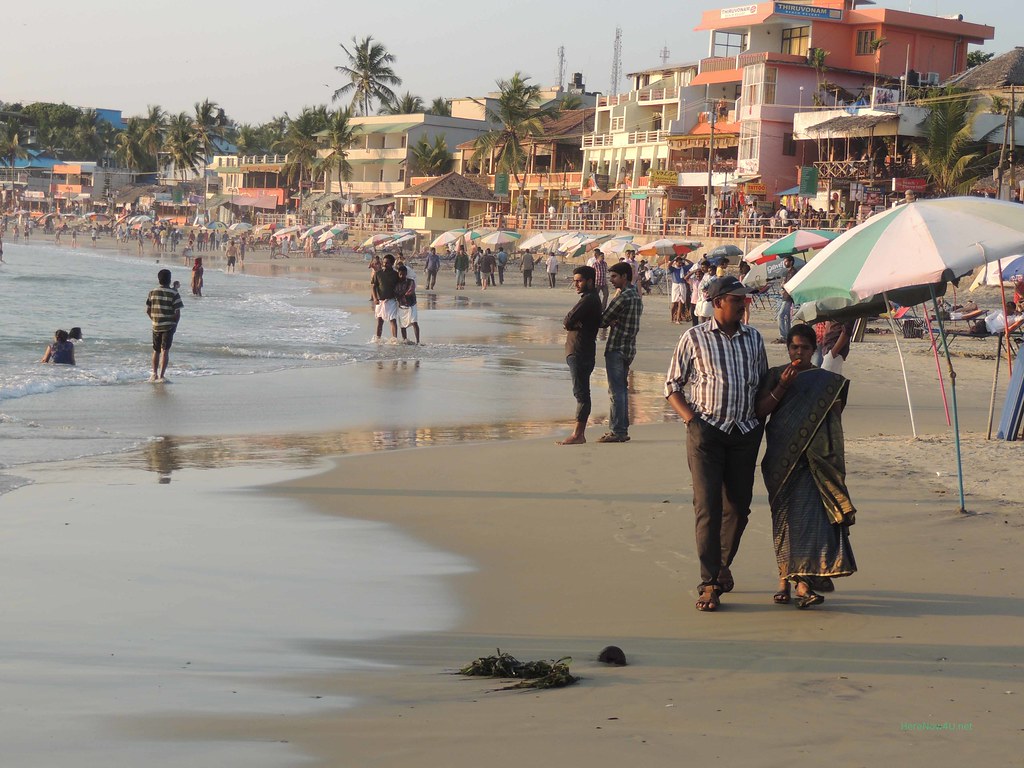 Beach walker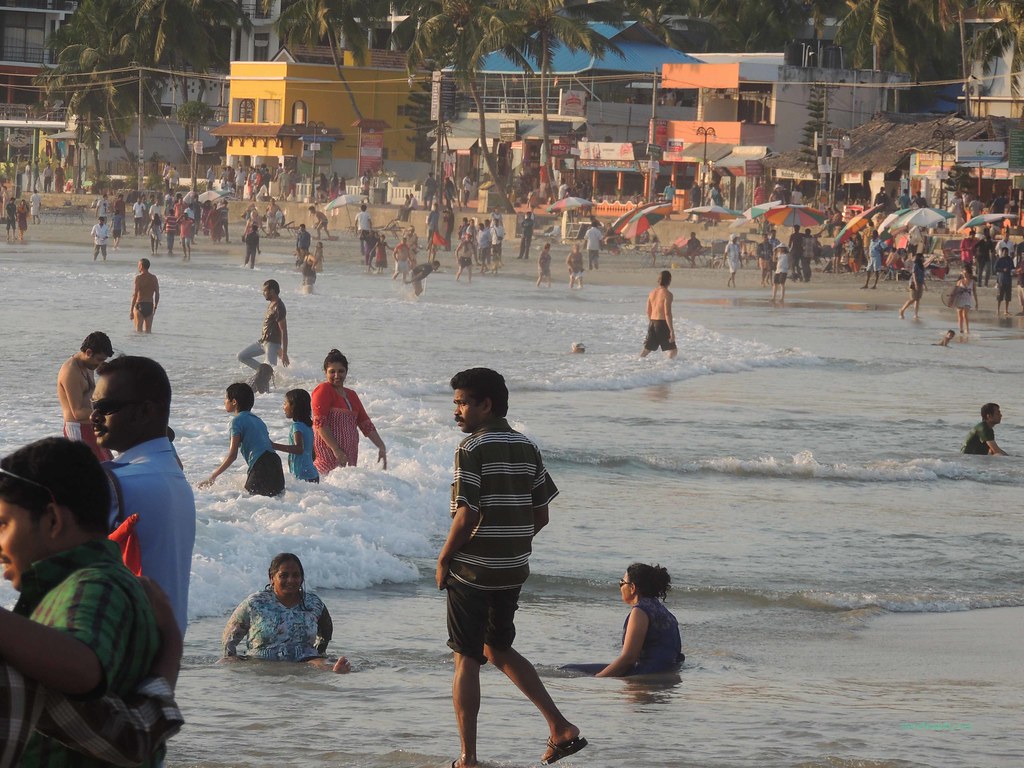 Waiting for sunset
Sunset coming very soon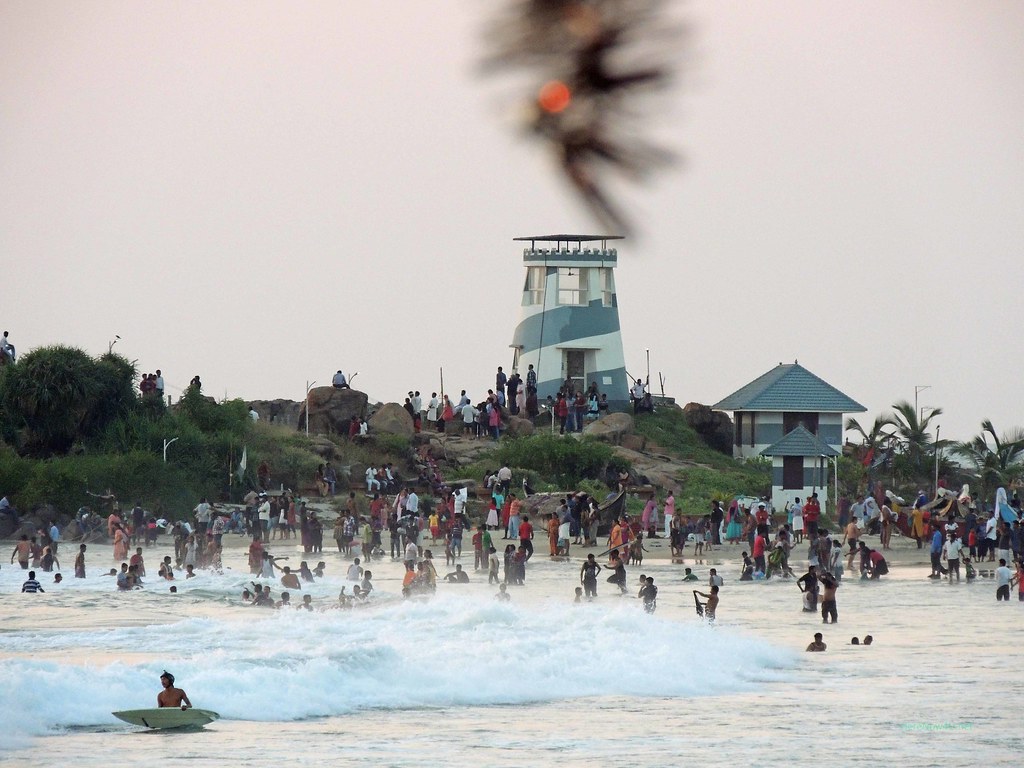 After the day's activities taking a bath in the ocean is very refreshing.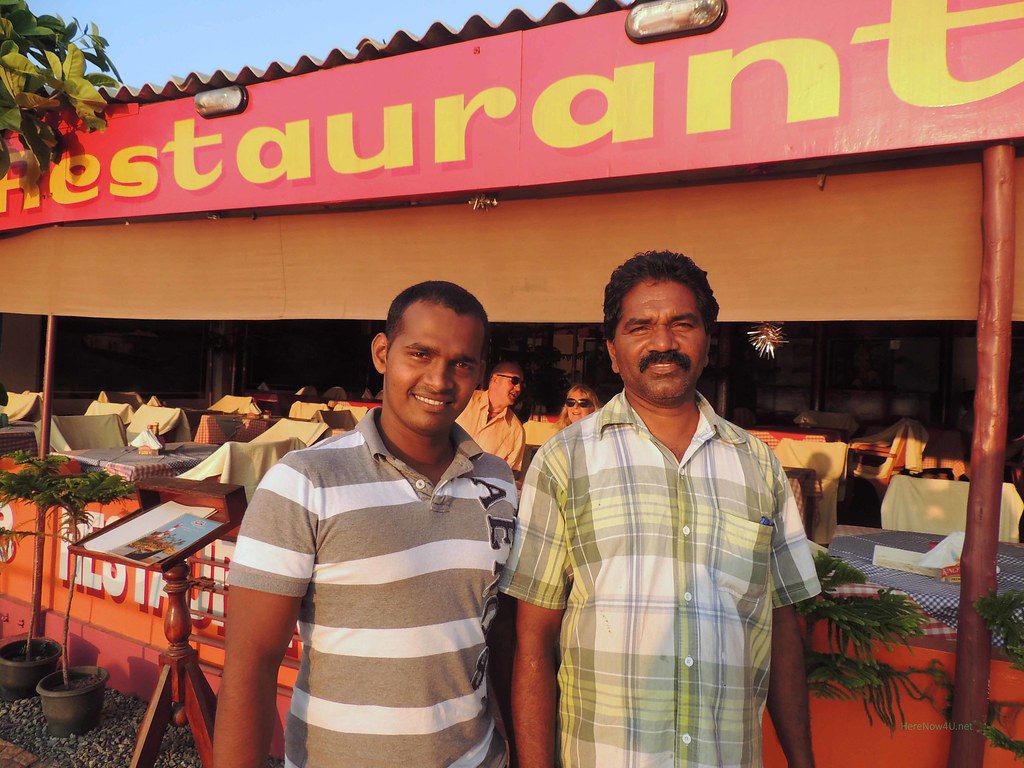 From here we watched the sun vanishing behind the horizon very often.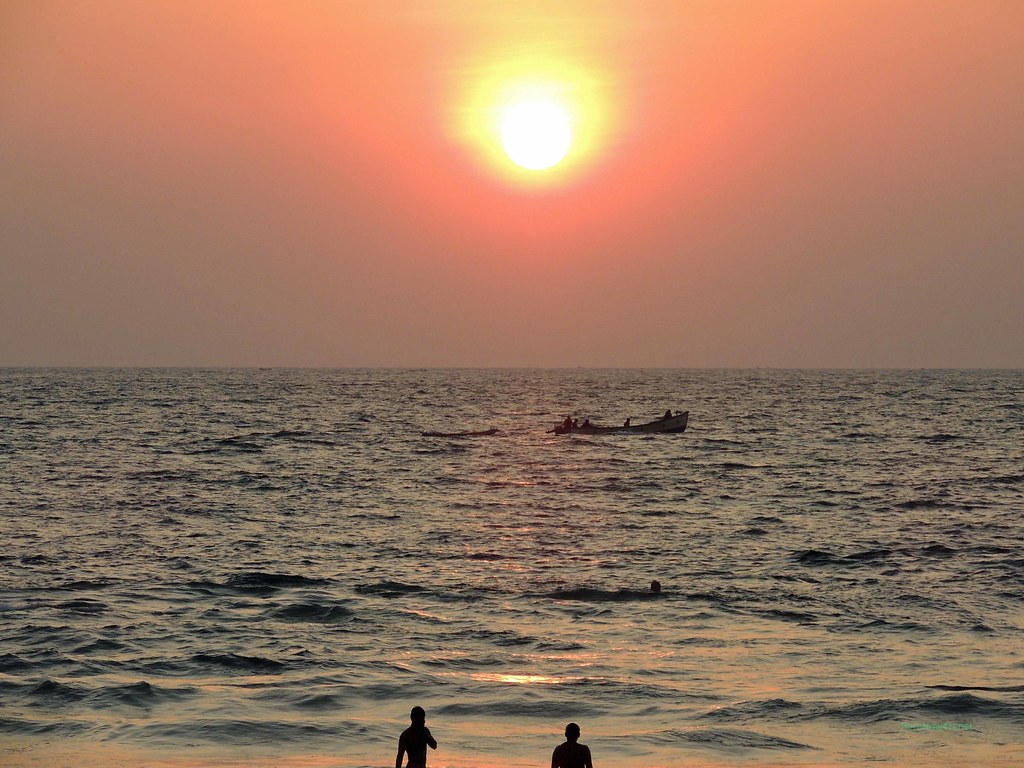 Good bye or see you next time!
Here our first trip to South India in January 2014 ended. It was full of unforgettable impressions and most of all, encounters with people we had failed to meet if we had not travelled so far. What a pity for us, in any case. Our heartfelt thanks to you, dear readers, for your readiness to accompany us. Until next time? With really great pleasure.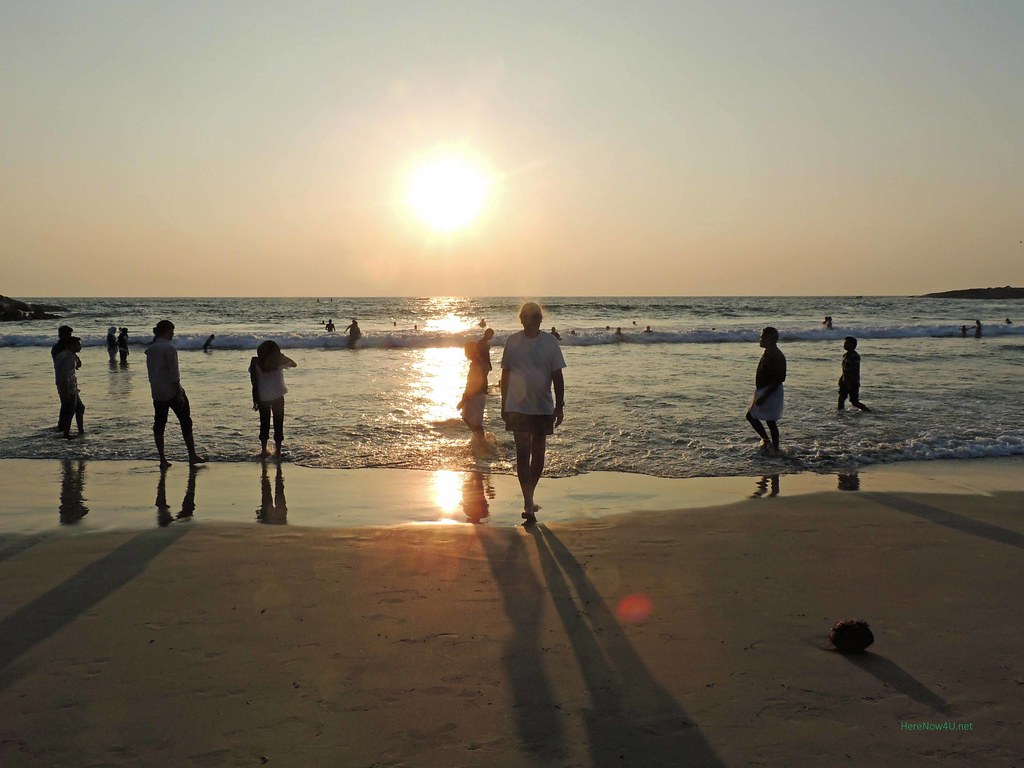 Good bye!
See you next time!