2012 Karuna's Mewar Tour
Arrival was at 06:45am in Mavli Junction. When we got off the train, daylight started to win the battle against the darkness of the night. Mr. Kailash Jain approached me and told me to go with another family to Amet. So I went all along the platform with some people I hardly would have been able to recognize. Then they gave me sign to let me down the rail track, and we crossed it. My whole system was on alert, not being used to cross any rail tracks and not discerning much in the semi-dark, neither subjects nor objects. But then I calmed down and relaxed, realizing that trains in India always slowly enter the junctions with very, very loud signaling. Now I perfectly knew why.
Before I wondered how things will go on, someone of the group pointed on a coach standing nearby. I was surprised that our way would lead us through a coach. But I was on error. I was handed over to 3 very kind persons in the coach, two ladies and a gent. The took care for my luggage, showed where to put it, and to sit on the wooden seats. None of us shared a common language, nevertheless communication was perfect. I understood that we will go to Amet together and after some time I realized, that the coach we all were sitting in would be the vehicle. Okay. Many times I had seen passing rural trains while the car we were sitting in had to come to halt. In some way I really was happy for the occasion to be at ease with the situations my life offered. There was no agonising choice; the 3 people with me knew where to go and where to leave the train. I only had to entrust myself to them, which I voluntarily did.
After some time the train started. Meanwhile daylight gave sight on my fellow passengers. They also were on their way to Guru Darshan and Maryada Mahotsav. So I leaned back and enjoyed the noise when the wheels of the train met with the desert sand on the rail tracks. Inside the coach the doors flew open when the train went into a curve. There were many curves. Every curve additionally was accompanied with bright light and blasts of biting cold from the open doors. All 5 minutes I looked on my watch. After 2 hours we reached our destination, Amet.
On first sight, Amet was a small, bustling rural town. All around the station posters of HH Gurudev were indicating that I was just where I wanted to be. My fellow travelers hired a three-wheeler and left me at Terapanth office. People looked at me quite astonished, but after realizing that I had come alone, they were very kind and helpful, and someone asked if I needed some accommodation. I nodded, but it was around 09:30 am, and I really was tired. They immediately understood and brought me in a car to a very kind family, where they showed me a very comfortable bed. Again no common language, but perfect understanding. I put out my sleeping bag and fell asleep for nearly two and a half hours. When I woke up, I was welcomed by this nice family.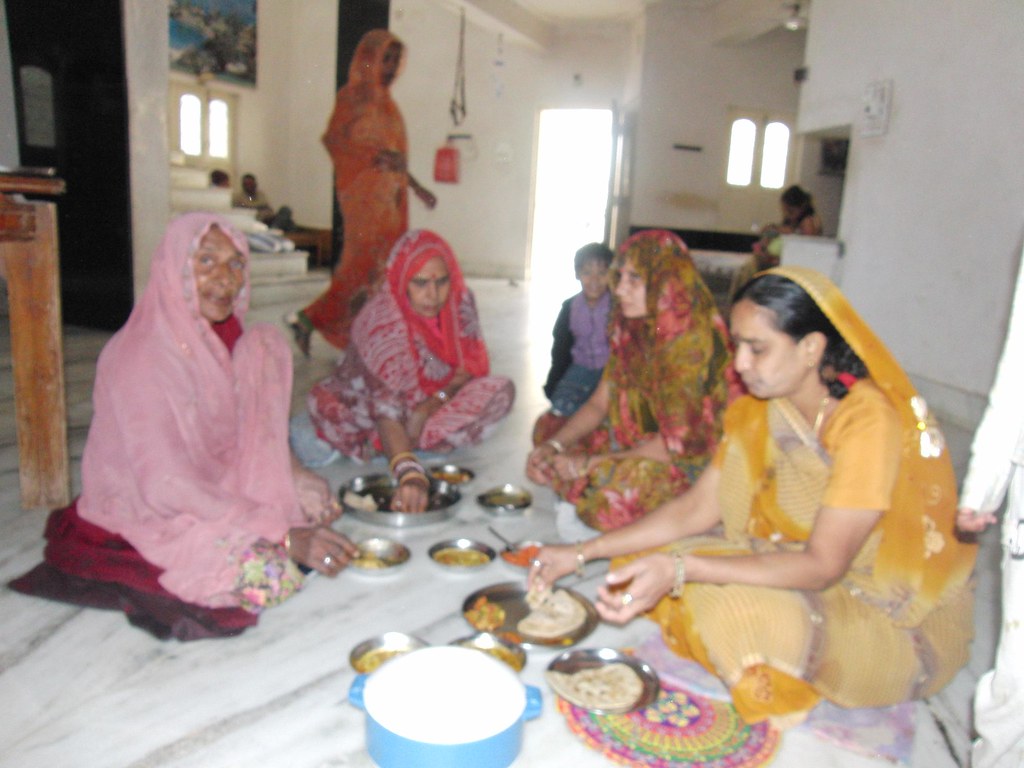 After having passed the night in train, I got refreshed in the hospitable house of the family of Mr. Sandeep.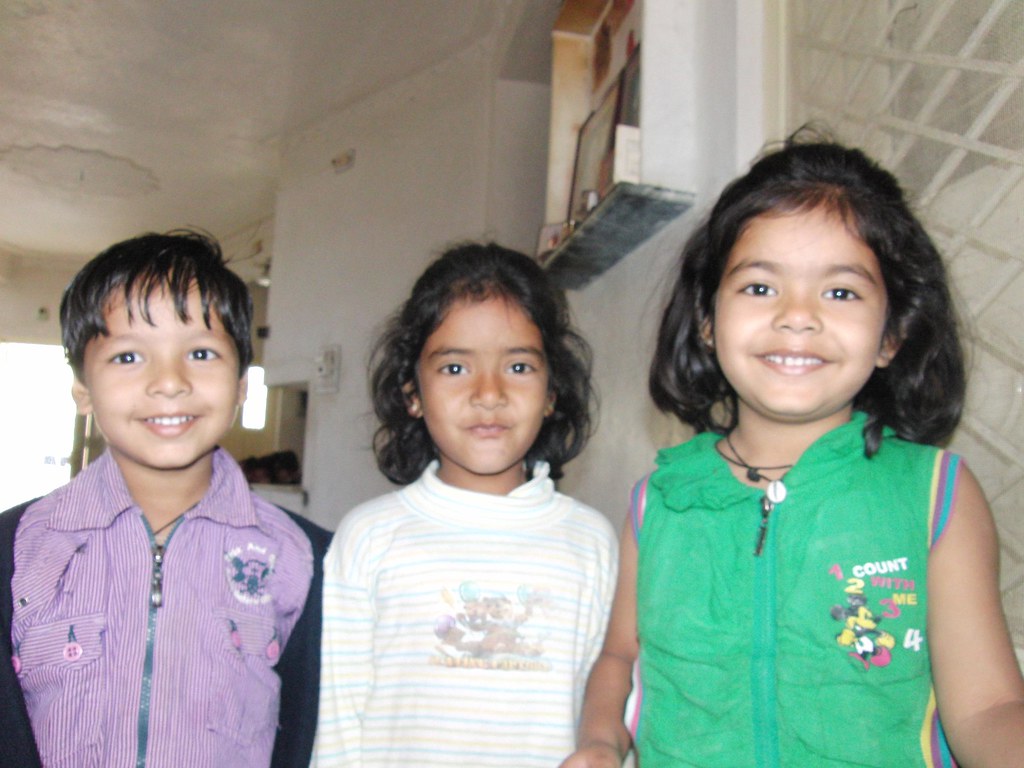 The children were happy to be photographed by me.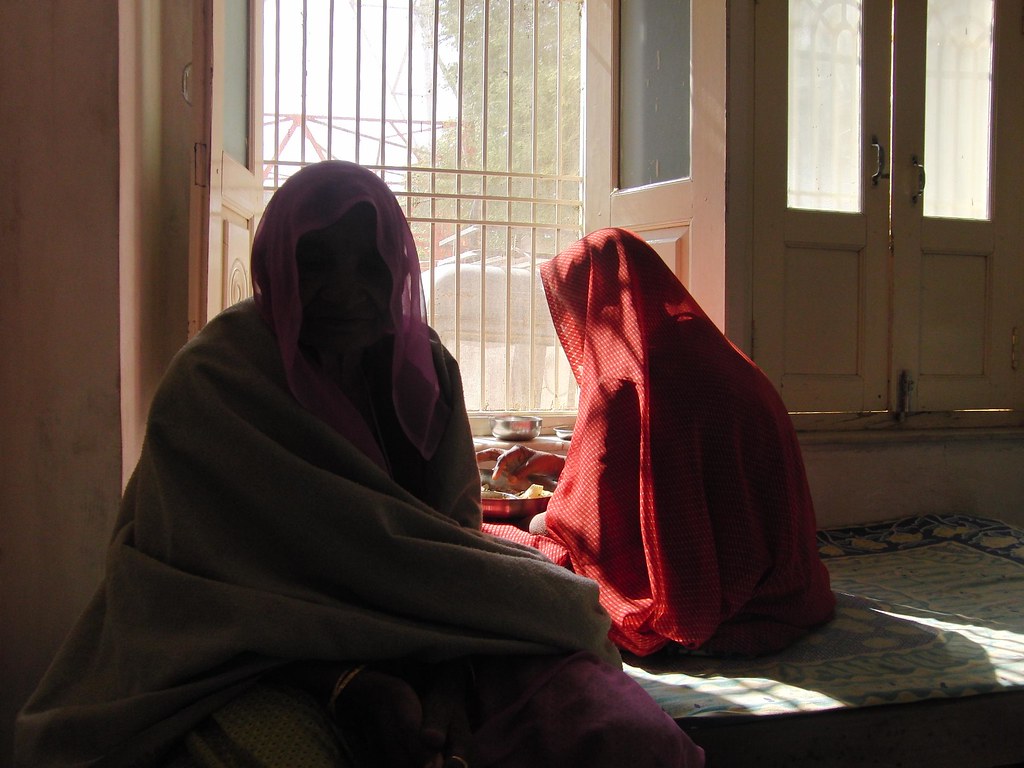 The old ladies of the family are still hiding their faces.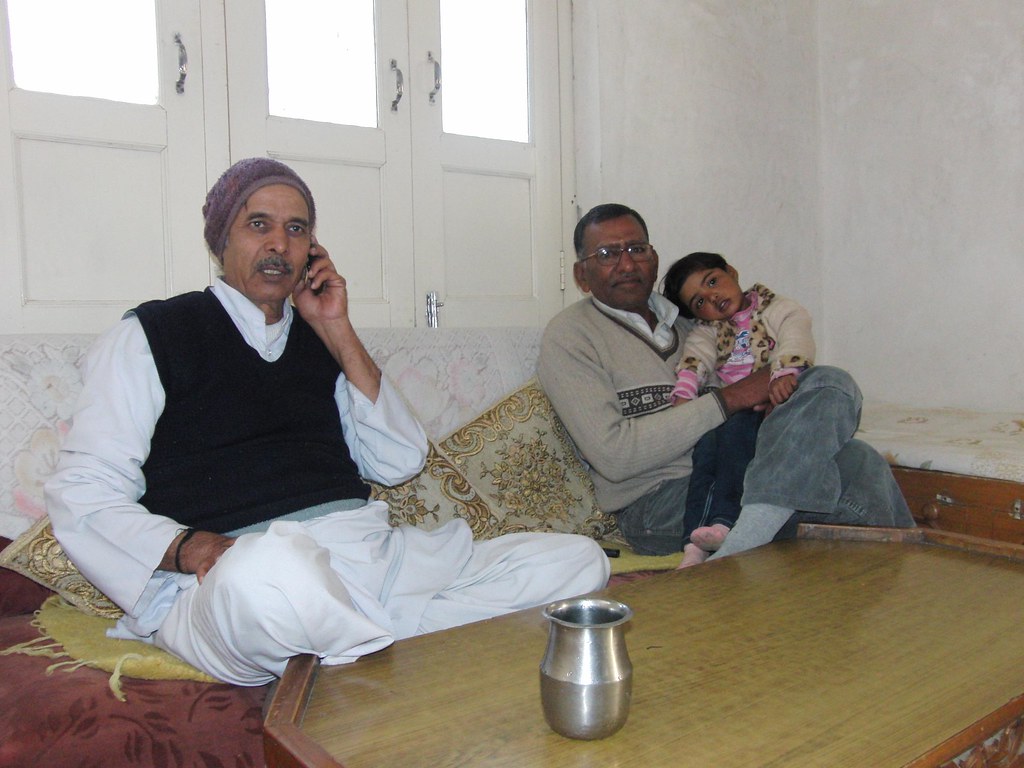 But modern times found their way into Amet's houses as well.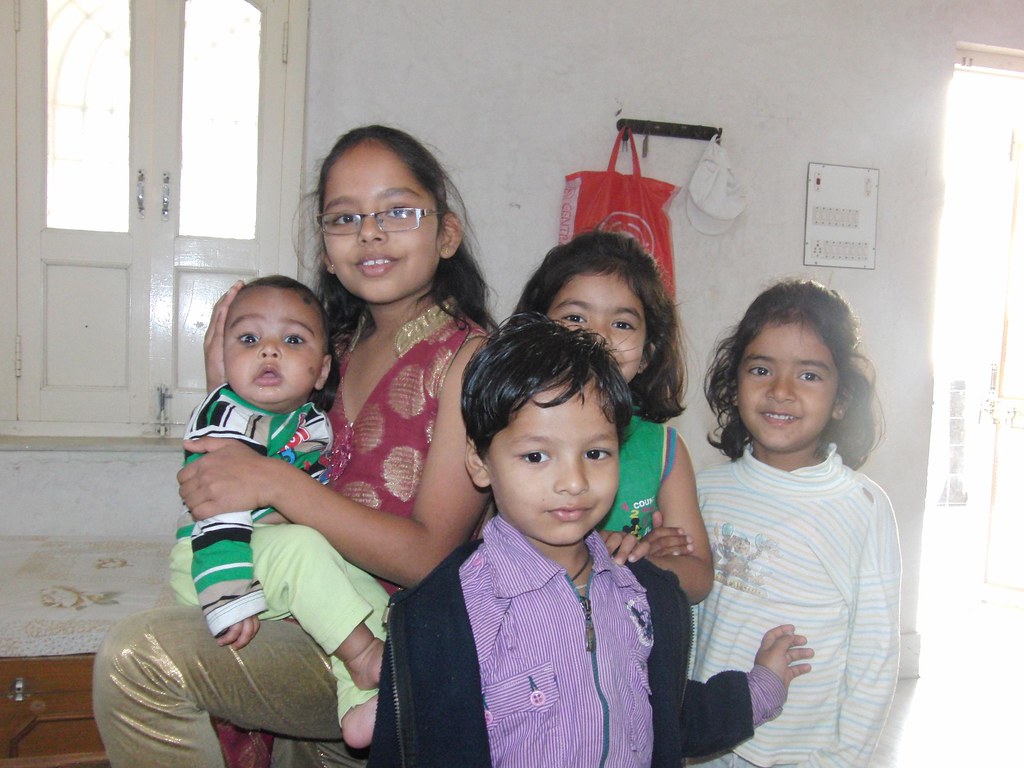 All the children of the family had gathered for ther photo.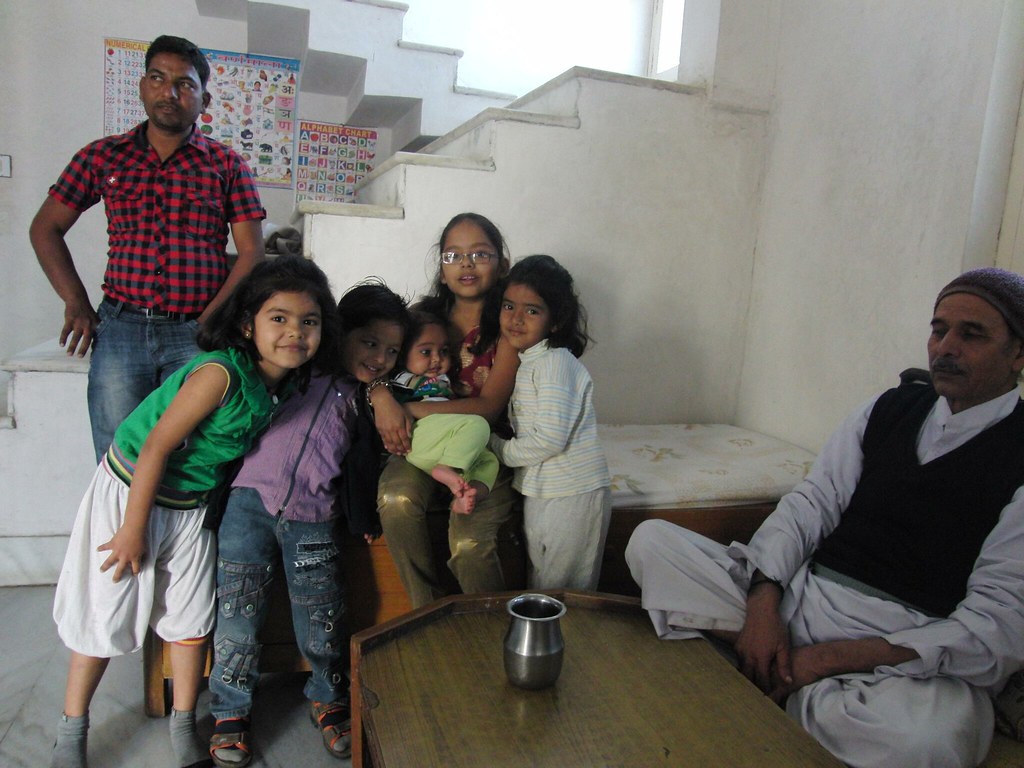 They loved to be in the photo with their father, resp. uncle and grandfather.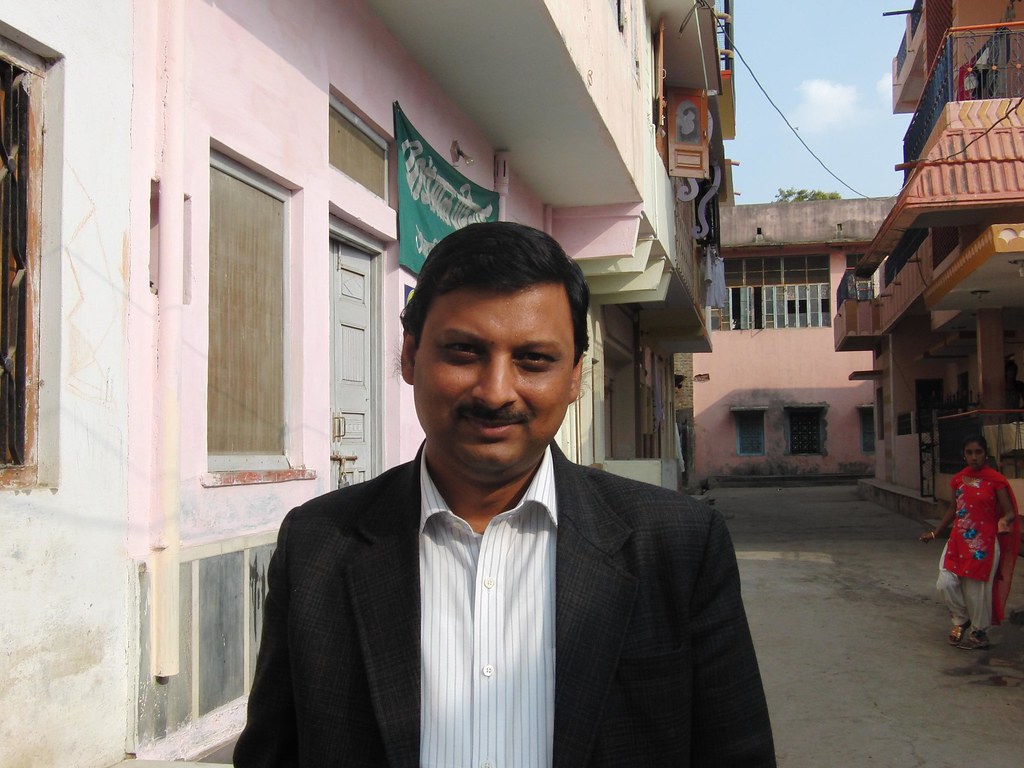 Mr. Arvind Gothi, Joint Secretary of Jain Vishva Bharati from Delhi was very helpful to find accomodation in a wonderful family and to organise the tours I had planned to visit famous Jain Temples nearby.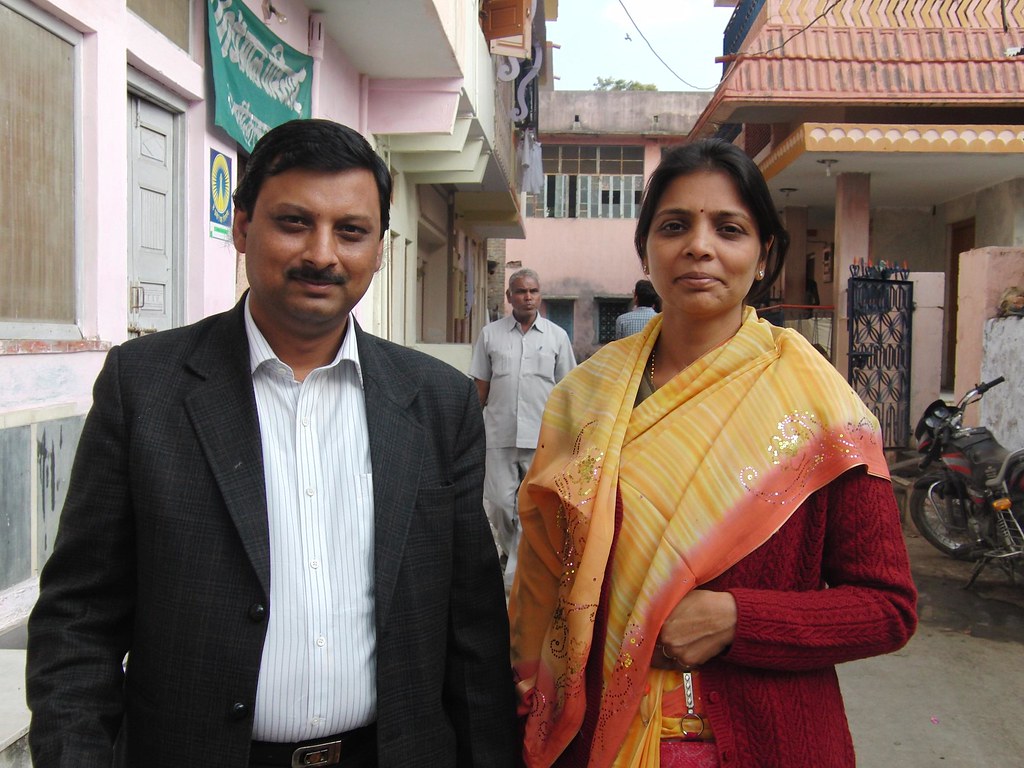 Mr. and Mrs. Arvind Gothi
Back to Terapanth Office, Mr. Dharamchand, head of Maryada Mahotsav Samiti Amet, told me that he had found an accommodation for me. He kindly offered tea and asked me to wait for some time. I used the time to frame the realisation of tours I had planned with the help of Google maps at home. This was the moment when Mr. Arvind Gothi came into the picture. Together with 3 local people they helped me to fix the necessary, car, driver, and the sequence of sites visited. 2 tours were elaborated. After details were fixed for next morning they brought me to the Dak family's house in Amet, my home for the next 10 days, precisely for the next 10 unforgettable days.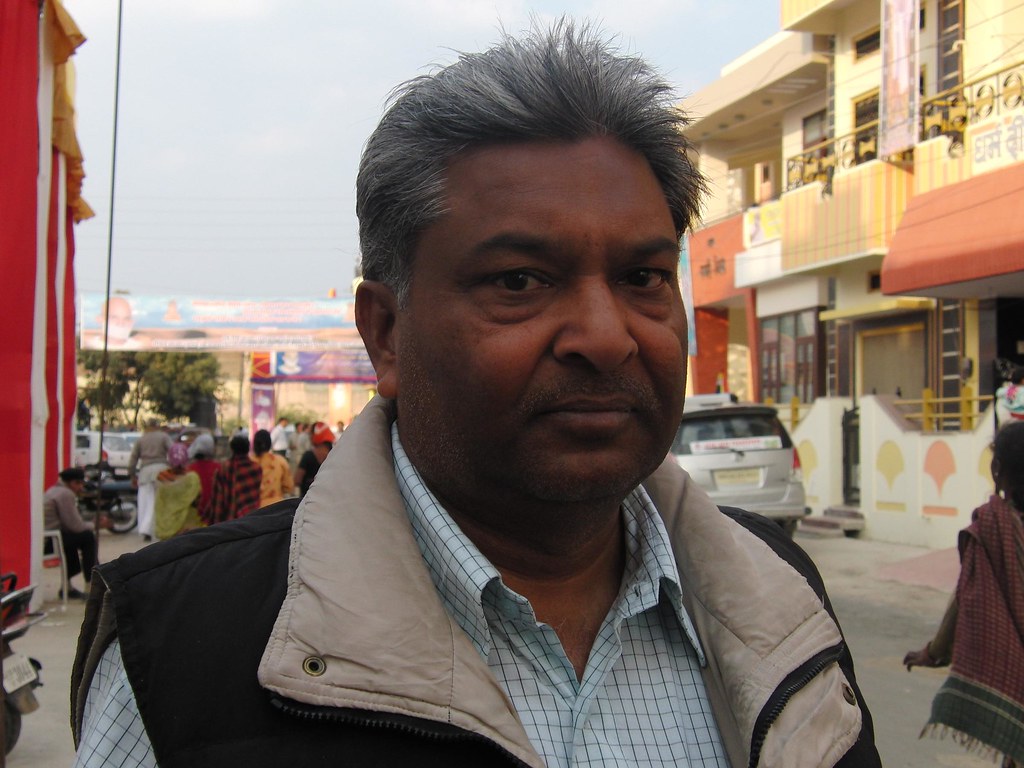 Mr. Om Prakash Jain had come the way all along from Punjab. First time we met was in 2001 at Gangashahar. Again Mr. Om Prakash Jain invited us cordially to visit him in Punjab.
After lunch and taking rest, someone picked me up for Terapanth Bhawan where I wanted to meet Muni Kishanlal ji and take Guru Darshan of HH Acharya Mahashraman. Just in front of Terapanth Bhawan an old friend approached.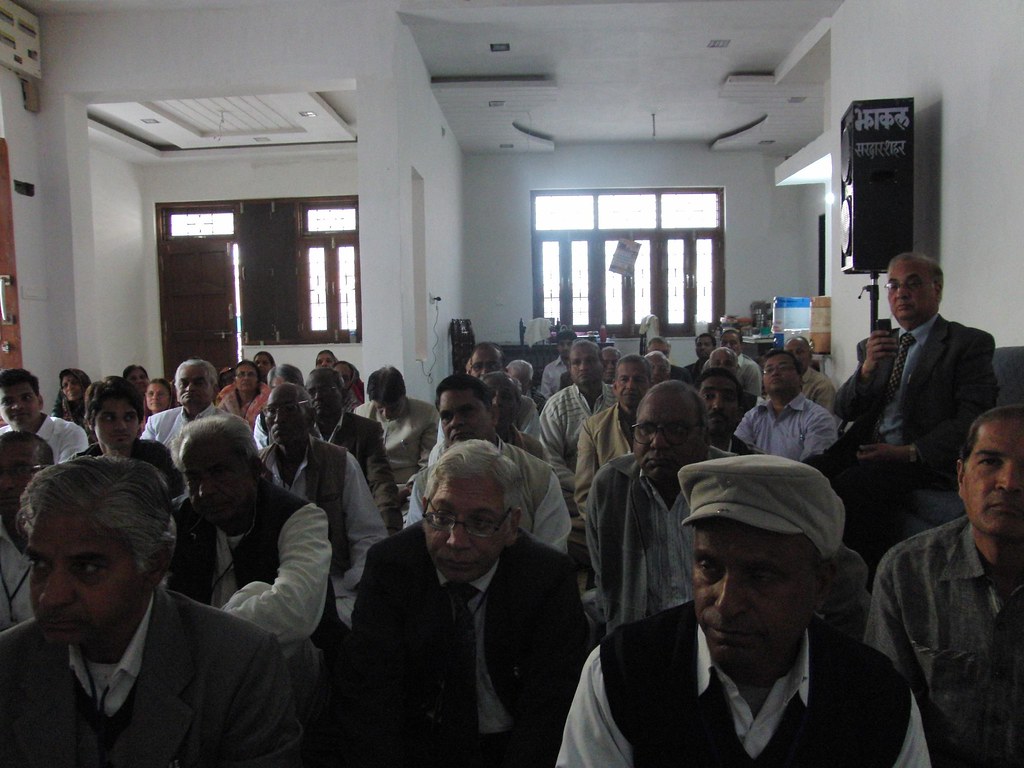 Many people had gathered to attend the Jeevan Vigyan Session with Munishree Kishanlalji. Among them Mr. Mohan L. Jain, PhD, sitting to the right of the loudspeaker. He is from Willowbrook, Illinois, USA, where he works actively for the India Development Coalition of America.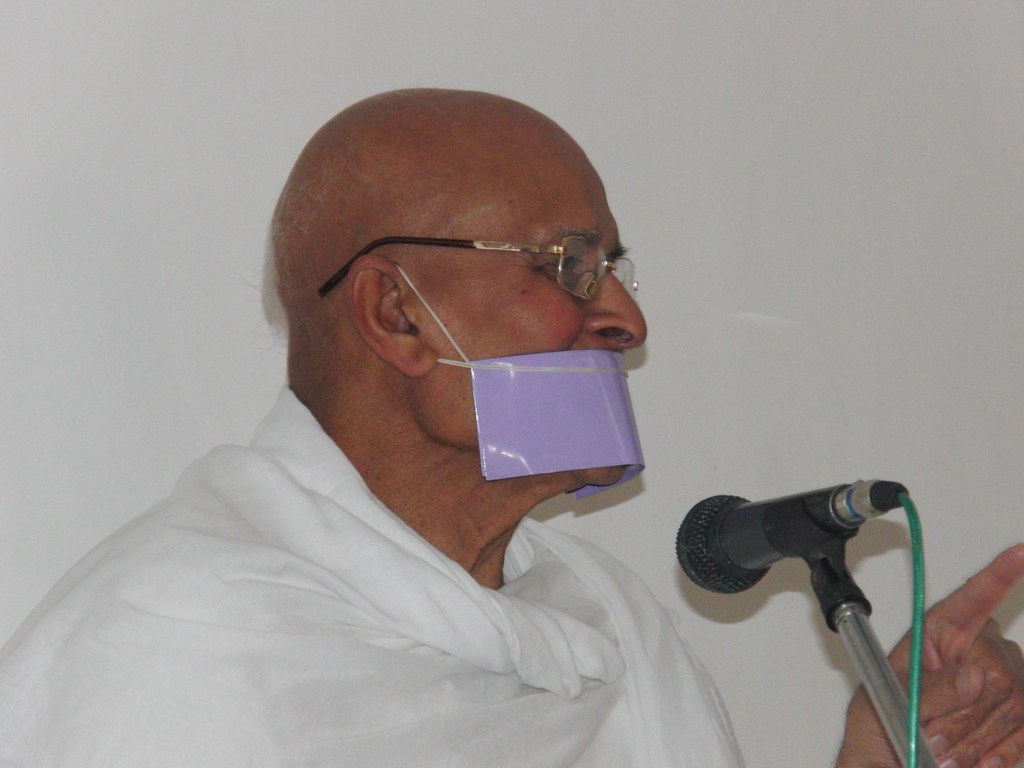 Muni Kishanlal ji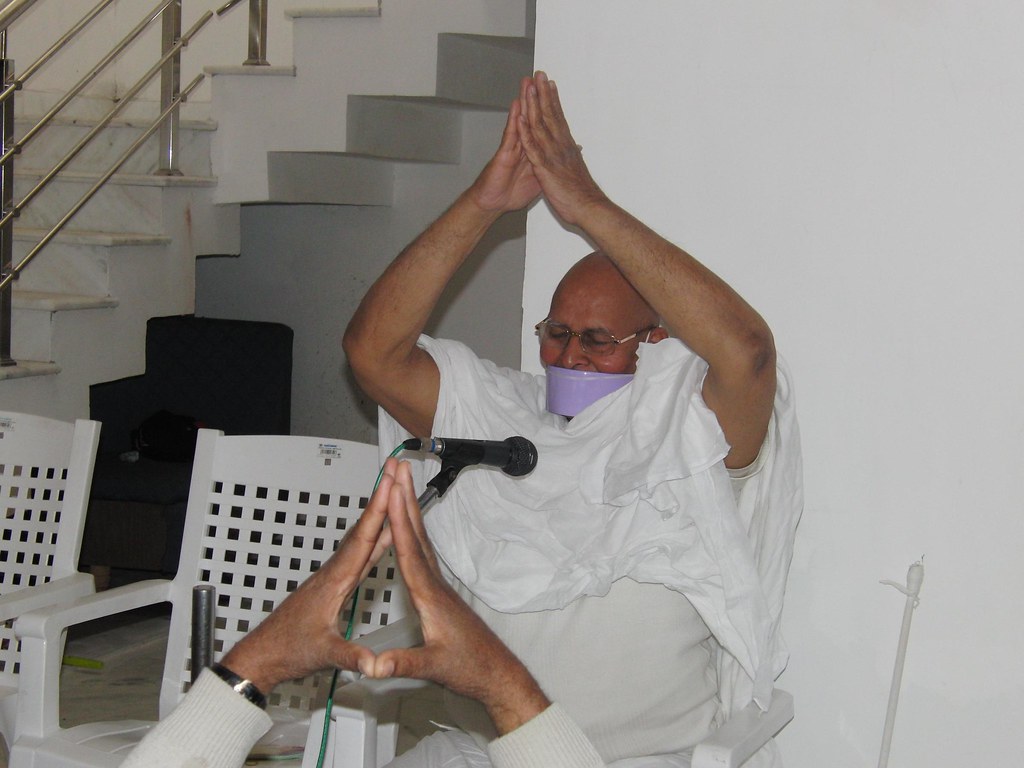 Muni Kishanlal performing Arham Mudra.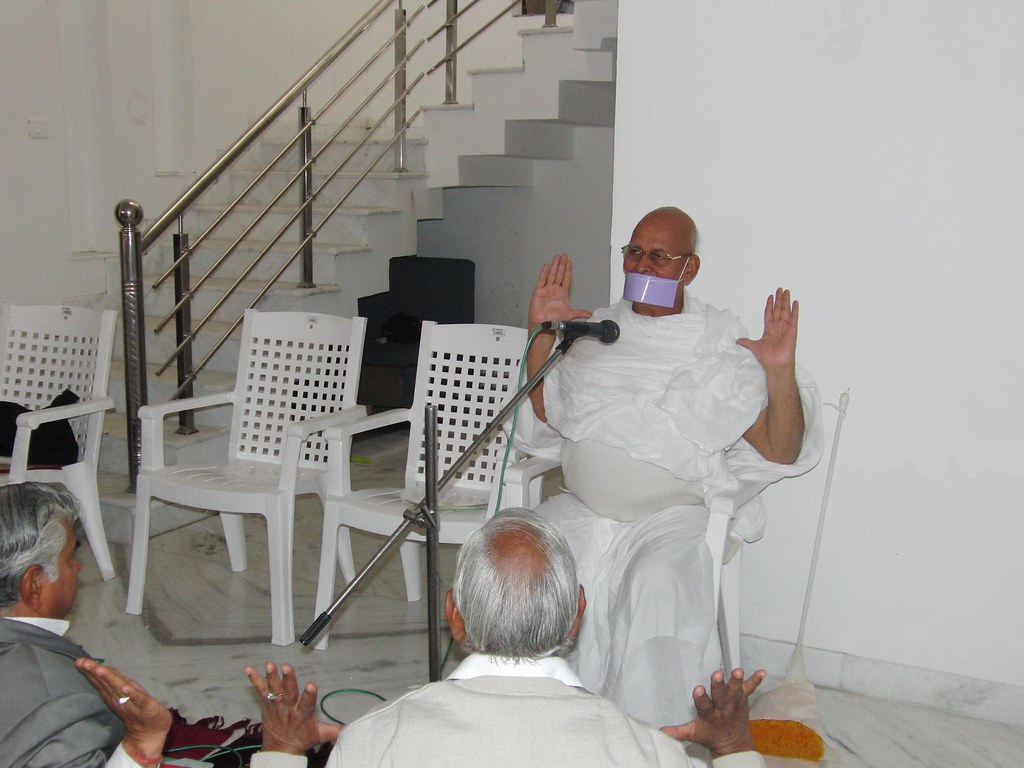 Muni Kishanlal performing Acharya Mudra.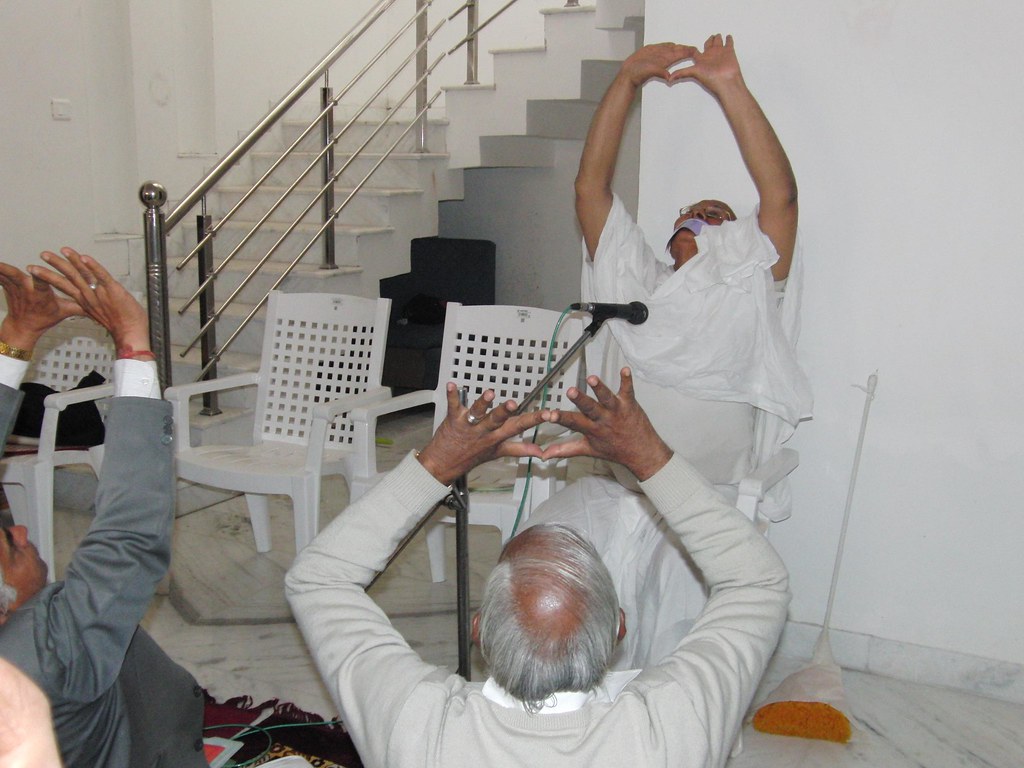 Muni Kishanlal performing Upadhyaya Mudra.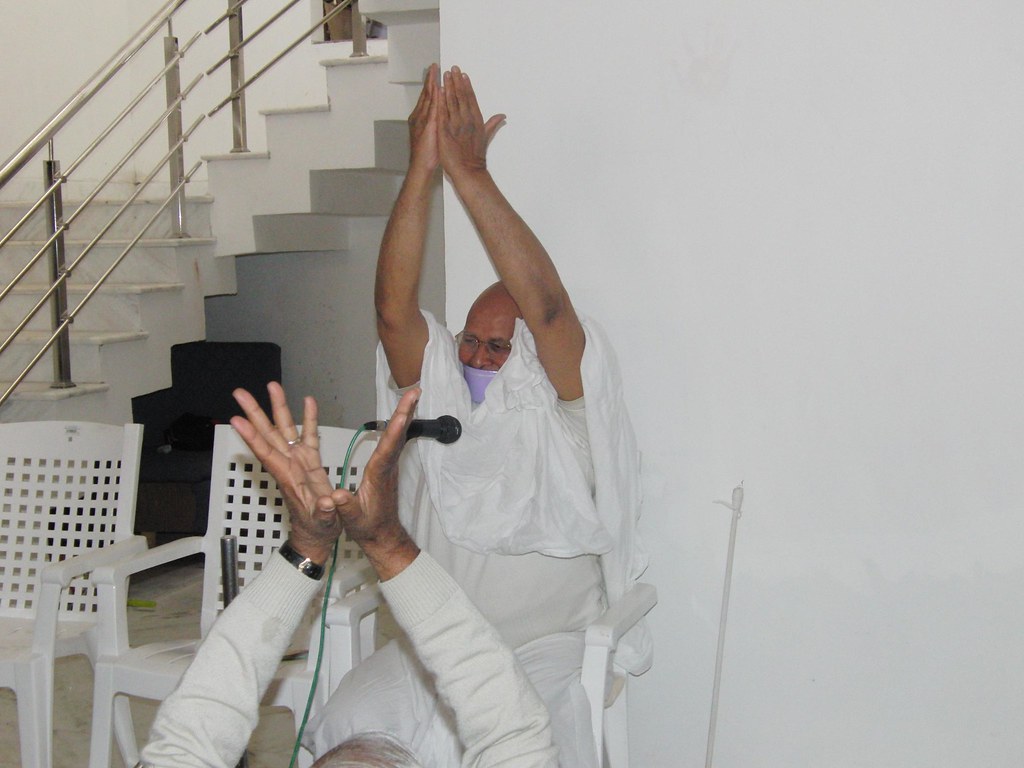 Muni Kishanlal performing Muni Mudra.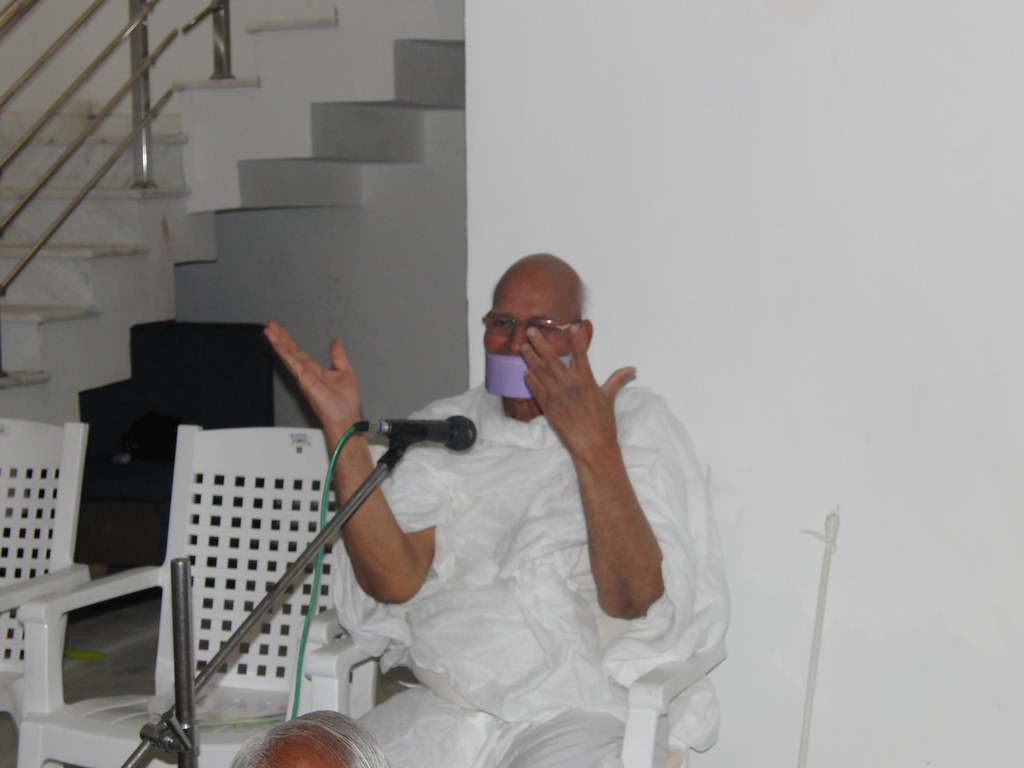 Muni Kishanlal explaining the benefits of performing Namaskar Mudra.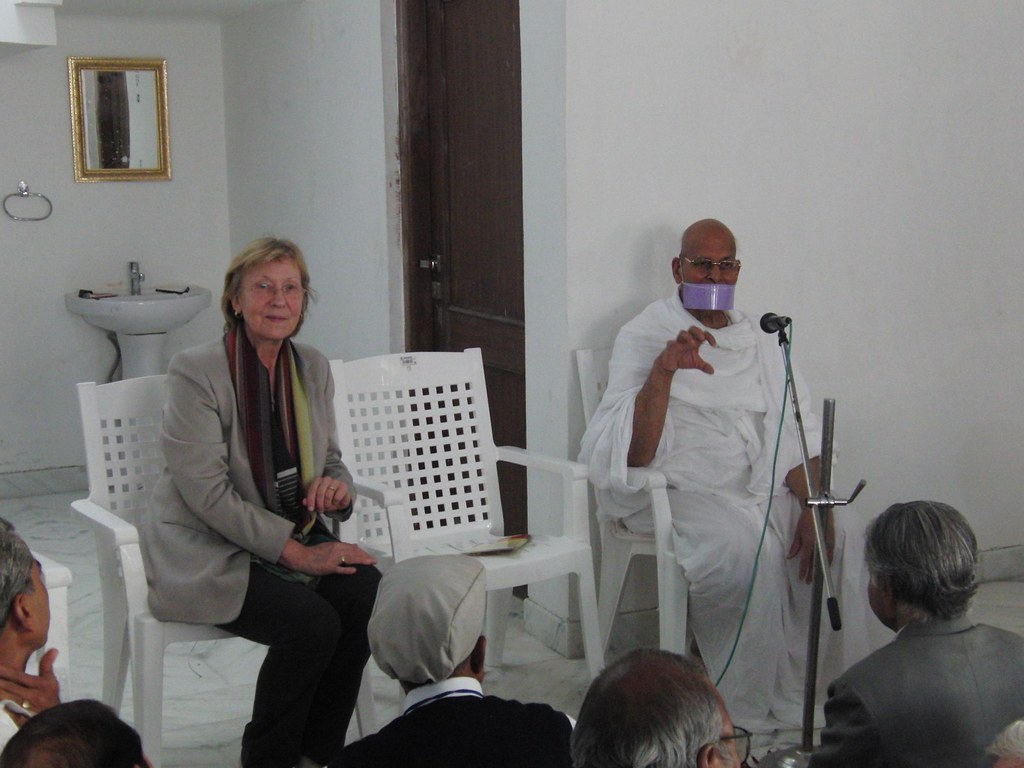 Muni Kishanlal addressing the audience, Karuna Jain from Berlin sitting at his side.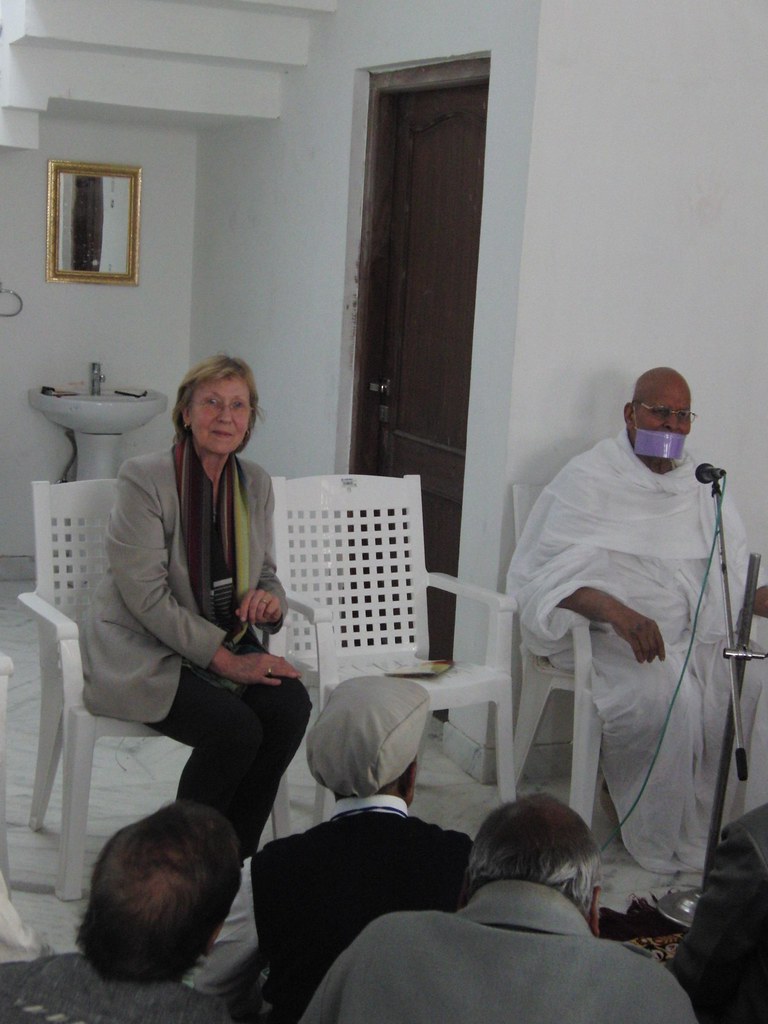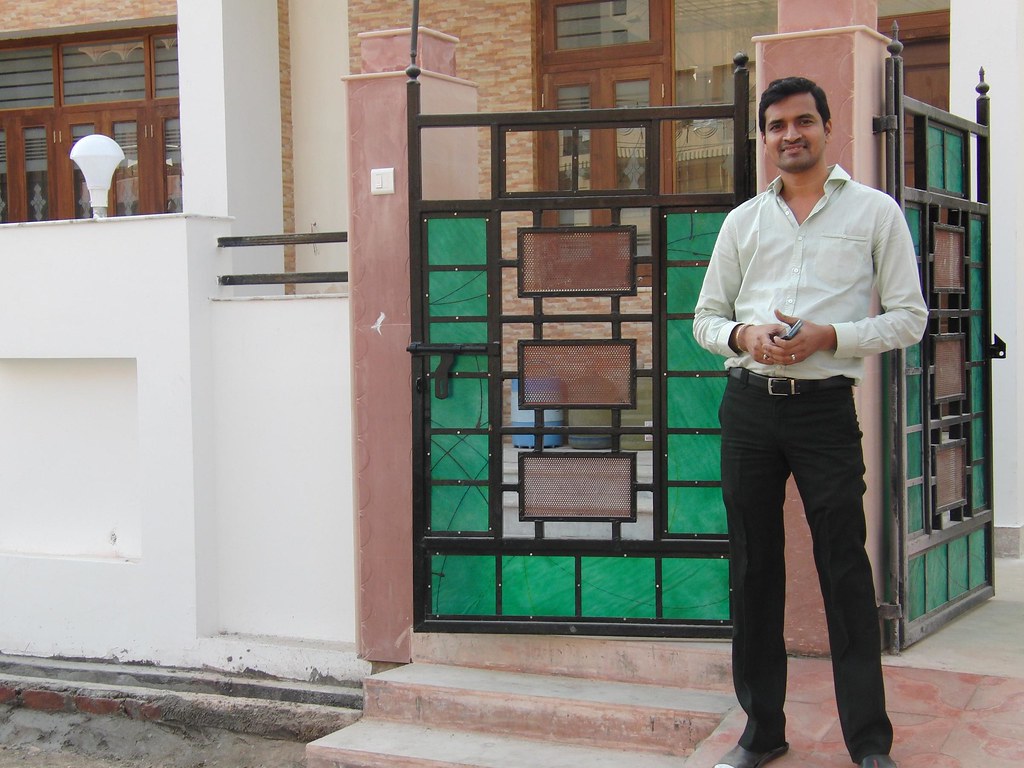 The son of the house in front of the building where many pilgrims were hosted and the Jeevan Vigyan Session took place.
Muni Kishanlal ji in a nearby house gave a lecture on Jeevan Vigyan. In the audience was Mr. Mohan L. Jain Ph.D. from Willowbroke, Illinois, USA, trustee and former president of India Development Coalition of America, working together to eradicate poverty and mitigate climate, and last not least, who on a regular basis is a reader of HereNow4U. Muni Kishanlal ji had invited me to sit down beside him, and I felt much honored. Munishree demonstrated Namaskar Mahamantra.
After the session I experienced the spiritual highlight of the day and of the whole trip, Guru Darshan of HH Acharya Mahashraman. Two years back was my last encounter with HH Acharya Mahashraman, then Yuvacharya. This was my first since he had become head of the Sangh. I was wondering all my way to India, to Amet, if he would remember my name, as I was aware of the fact how multiple his responsibilities are, mainly at the time around Maryada Mahotsav. When I approached together with other ladies, I had to wait my turn. But then, a young Muni of his environment gave me sign to approach and murmured something to HH. After some seconds his eyes left their task, and HH looked at me. There was an incomparable light in his eyes, when he gifted a smile to me while pronouncing without any hesitation my name, Karuna. There was an immediate awareness of the preciousness of this moment in me, which helps me until now to recall the uplifting feelings of this enlightening moment. Every cell in me was full of soul with manifold vibrations. The words, you are no body, you are soul, got an entirely new dimension for me.
After a meditation session with Muni Kishanlal ji someone brought me back to the Dak family's home. After dinner I fell asleep until next morning.