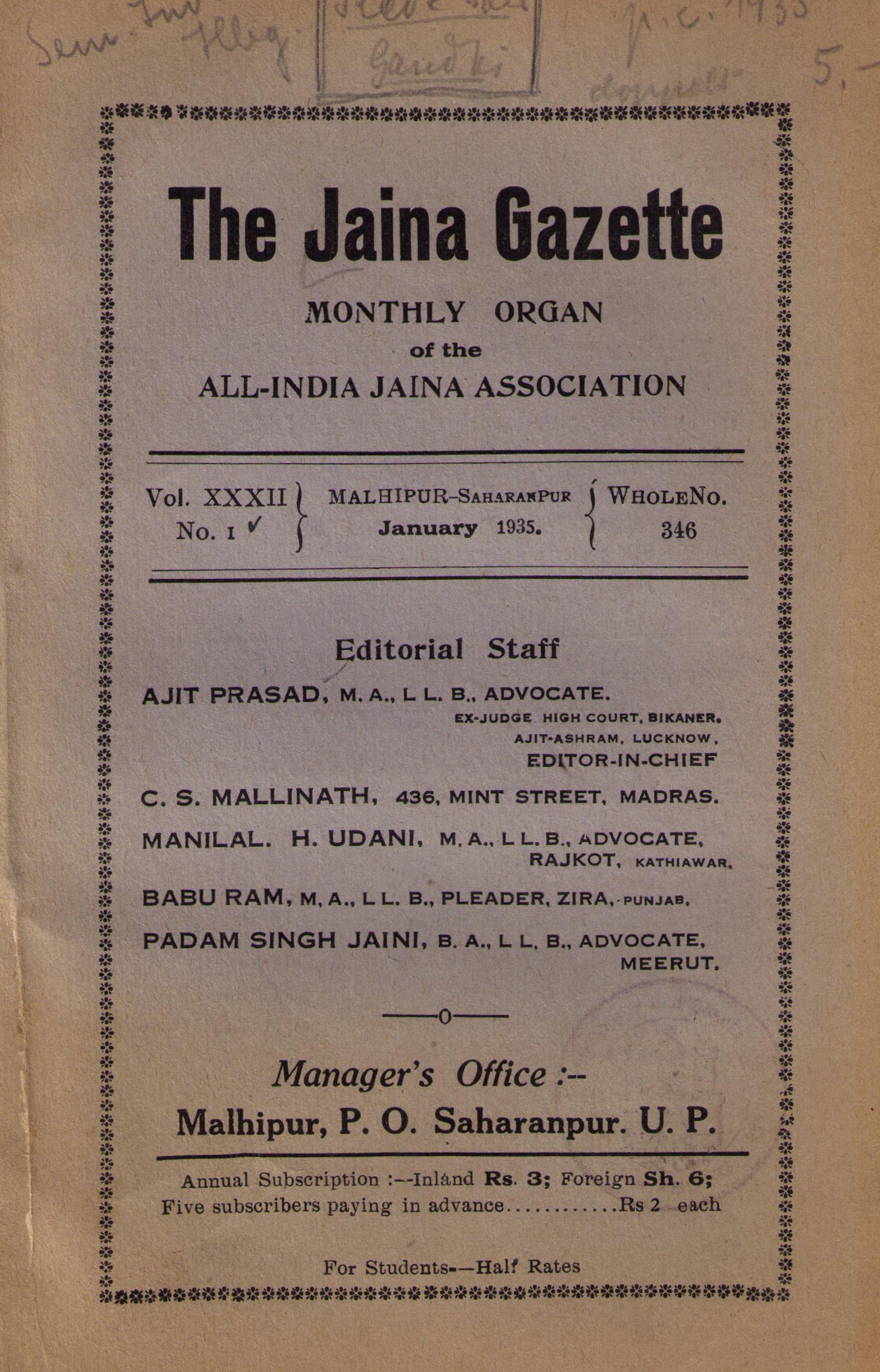 ---
This biographical paper was published in January 1935 in The Jaina Gazette (Vol. XXXII, No. 1, pp. 1-8).
---
Life and Work of Shrimati Magan Bai
Born on the 5th January 1880, Jain Mahila Katna, Shrimati Magan Bai, Justice of the Peace (J.P.), or as she was affectionately called Magan Ben, was a pioneer worker in the cause of the emancipation of Jain womanhood.
She was the daughter of Dana-Veera, Jain Kula-Bhushana Seth Manik-Chand Hira-Chand (J.P.) who was permeated with a deep, boundless, and immeasurable love for the Digamber Jain community, and who served it whole-heartedly and incessantly with all his might and money till the last day of his life, the 16th July 1914.
She lost her husband when she was only 19 years and was left with a daughter, Shrimati Saubhagyavti Keshar Bai (now living with her husband, a Jeweller, in Paris) who was then a baby of 18 months. Her husband was a millionaire, and had she adopted a son she would have lived in a wealthy household. But, she courageously renounced the lure of riches and resolved to live with her father, and lead a life of simplicity, austerity and service, for the uplift of her sisters. Her father appointed Pandit Madhavajee, an elderly scholar as her tutor and under his guidance Magan Bai learnt Sanskrit, and by constant study acquired a mastery over the subtle and sublime details of Jain Karma Philosophy.
Her daily life was intensely religious and regular. She was punctual in the performance of the daily duties of a Shravika, offering worship, reciting lauds of Arhats and gurus, meditation, study, physical and mental discipline, austerities and acts of charity. The rest of her time was mostly spent in the company of her father and learned scholars, among whom mention may well be made of Pandit Fateh Chand Lalan. Her general information on current topics was fairly accurate and up-to-date. Her father used to take her to public meetings, and encouraged her to speak there on suitable occasions. It was about a year after her widowhood that she and her life-long friend and constant companion Mahila Ratan Shrimati Lalita Bai delivered their first public speeches at Sholapur.
In December 1905 at the annual session of the Jain Young Men's Association she delivered a memorable speech, which laid the foundation of female education among Jains. In 1906, Brahmcharini Kanku Bai, the widowed daughter of Seth Hira-Chand Nem-Chand of Sholapur, joined Maganbai in her work and thence forward Kanku-Magan-Lalita, the three Jewels of Digambar Jain womanhood, diffused the rays of knowledge with ever-increasing lustre. In the same year in its Calcutta session in December the Digambar Jain Maha Sabha which was then a living and working organization, representing the Digambar Jain community of India, presented a gold medal to Magan Bai "for her excellent lecture on female education."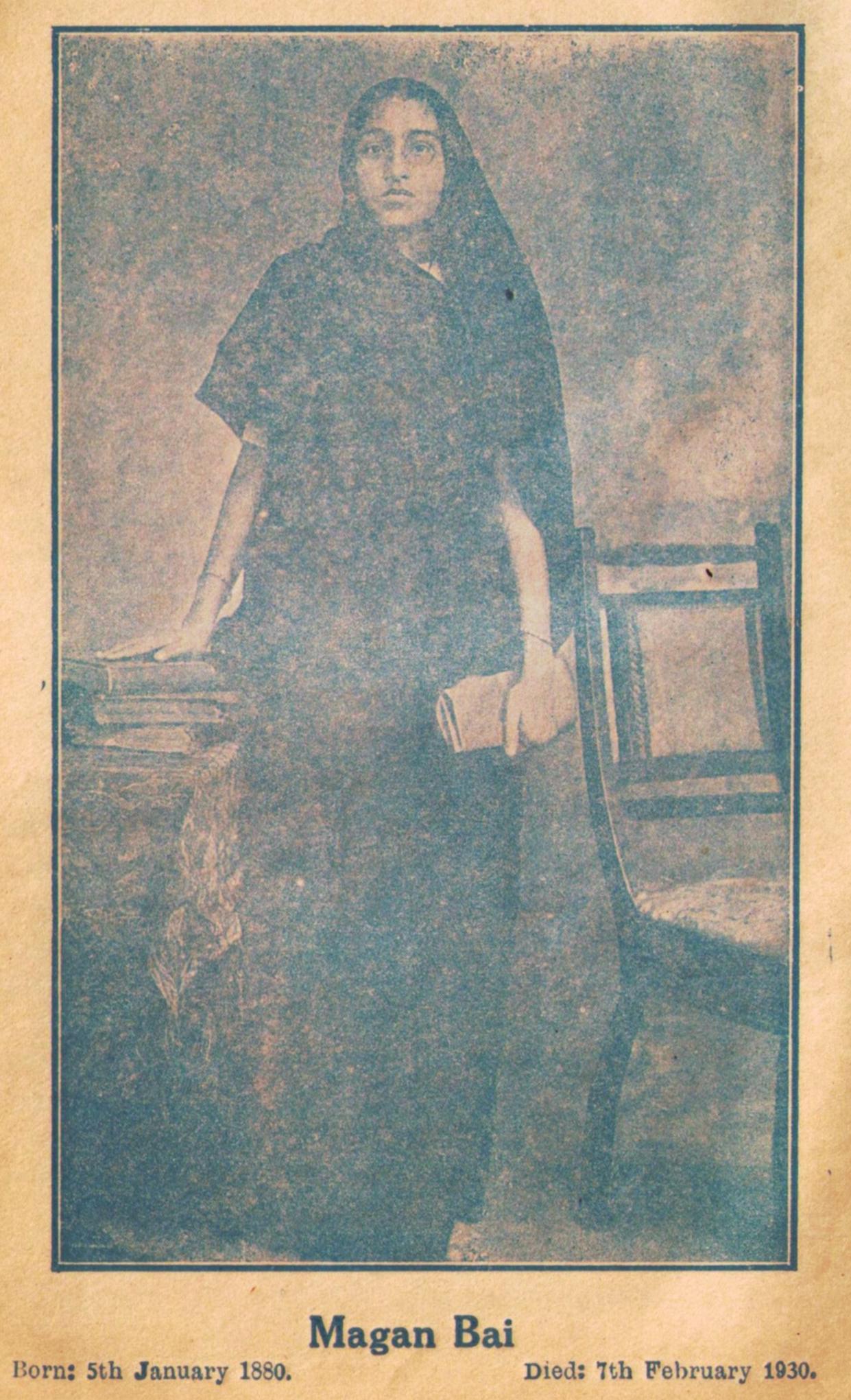 She constantly spoke in weekly meetings which she organised in Bombay; and it was seldom that she missed any important Jain gathering or public meeting throughout India, where her father escorted her. Although a public worker in a true sense of the word, her personal and travelling expenses never formed a charge on subscriptions which she secured for the Shravika-ashram and for securing which she, the daughter of a millionaire, never missed a single opportunity. Her father's donations which amount to millions were not limited to any locality or community, has, we regret to say, the charities of some of our millionaires and multi-millionaires are. The Shravika-ashram building at Tardeo was bringing in a monthly rent of Rs. 1,000 when Sethji placed it at the disposal of his daughter.
Maganbai's personal contributions to the public appeals of charity which she made were never small and it was not seldom that she topped the list of subscriptions. She, however, believed in creating in the public mind and among all her sisters an enthusiasm for the cause of female education and uplift, which was nearest her heart and which could never thrive if left to the limited efforts of a few devotees.
The spirit and devotion of Magan Ben has been inspiring the present workers in the cause, and is the guiding and moving force behind all present movements, engineered by Jain ladies. It would be difficult in the limited scope of this article to enumerate all that Magan Ben accomplished during an incessantly active life of hard work for 30 years, and we would content ourselves with noticing some important events.
She attended the memorable session of the Indian National Congress at Surat in 1907 and during the session of the social Conference she delivered, in the Congress Pandal, a spirited speech before a crowded house.
It was on the 25th October 1909 that she laid at Ahmedabad the foundation of the Shravika-ashram, which was in 1910 transferred to Jubilee Bagh, Tardeo, Bombay, and which has been rendering immense and invaluable service in the education of Jain womanhood.
In February 1910, the All-India Digambar Jain Mahila Parishad was founded on the occasion of Seth Puran Sah's pratishtha at Shikhar Sammed and Magan Ben was its first Secretary.
It was in December 1910 that Magan Ben attended the Exhibition and the Congress at Allahabad, and advised, pursuaded and inspired Mrs. Sumer Chand to set apart Rs. 25,000 for a Jain Hostel at Allahabad, which donation was announced in a general meeting on the 29th December 1910.
She and her friends Kanku Ben and Lalita Ben were present at Allahabad on the 26th June 1912 and assisted in the opening ceremony of the Jain Hostel there. In December 1913, the Jain Young Men's Association (now All-India Jain Association) in a meeting, presided over by Mrs. Annie Besant offered to Magan Bai the distinction of '"Jain Mahila Ratna". She sent a memorial to H. E. the Viceroy asking for the release of Pandit Arjun Lai Sethi, B.A. and prayed for permission to wait upon His Excellency with a deputation on behalf of Jain ladies for pressing the request made in the memorial.
She along with Pandita Chandabai and Lalitabai started the monthly Jain Mahiladarsh in 1921. In 1920 when asked to give evidence in court, at Hazaribagh she came there without hesitation, regardless of expense and hardships of the distance. She obtained written opinion of the All-India D. J. Mahila Parishad, and communicated to the Viceroy the resolution of the Parishad in support of the Sarda Bill, passed by an overwhelming majority of votes.
On the 28th April 1928, she was appointed by the Governor of Bombay as Justice of the Peace under Section 22 of the Code of Criminal Procedure, an honor and dignity which she was fully entitled to inherit, and which she wore lightly without being even conscious of it.
Her frail constitution could not long combat the unceasing physical and nervous strain of constant tours throughout India, and in October 1928 the doctors recommended that she should have "complete rest" on bed.
She then went to Lonavala for treatment, where her daughter and grand-daughter came from Paris to stay with her. Although in a very weak state of health, she went to the railway station to offer welcome to Mr. Champat Rai Jain who was passing Lonavala on his way to Kolhapur to preside at the annual session of the Dakshin Maharashtra Sabha.
On the 4th February 1930, Brahamachari Sital Prasadji stayed with her on his return from Kolhapur and discoursed on the essence of the soul as discussed in Samaysar. Magan Ben, then expected to recover and expressed her anxiety to collect Rs. 9,000 for the Bombay Sbravikashram to bring up the permanent fund to a lac. On the 7th February 1930, however, she passed away because of a sudden heart failure. Seth Tara Chand, Seth Thakur Das and Lalita Ben went by motorcar and brought her body to Bombay, where Mr. Champat Kai Jain, and Brahmachari Sital Prasadji had an opportunity of paying their last respects to the physical remains of Magan Ben. Her death bed charities amounted to Rs 6,424.
Mr. Ajit Prasad paid the following tribute to her memory, which was published on p. 36 of the Jaina Gazette of 1930:
"In Memorium: Magan Ben is no more. She has not taken long in journeying to the high Empyrean to join her father, the illustrious Justice of the Peace, and a true and large hearted benefactor of the Jain community.

A pioneer worker for the uplift of Mahila Mandala, she was truly a Jain Mahila Ratna, which title was conferred upon her by the All-India Jain Association at its brilliant session on the occasion of the Syadvad Mahotsava at Benares in 1913.

Her benevolent labours and self-sacrificing devotion to the cause of female education and emancipation were recognised by Government and the high distinction of Justice of the Peace was conferred upon her. She was the only Jain lady so honored by the British Government.

To Jain womanhood she was a comforter, a helper, a supporter and a protector. A widow in her teens, she never grieved for herself. The tender sentiment of love had its full scope in a mothers devotion to her baby daughter Kesar Ben (a long and prosperous life may she have), and she extended her affection further by affiliating all the Jain daughters of India to herself. The father Seth Manik-Chand Pana-Chand (J. P.) when creating a trust for benefit of the Jainas in respect of his property worth several lakhs of rupees, set apart Jubilee Bagh in Tardeo Bombay, for the establishment of a Jain Women's home, Shravika-ashram and to this institution Magan Ben dedicated her life as a pure and unblemished sacrifice to the cause of Jain womanhood. She was the founder of an All-India Jain Women's Association, and its monthly organ the Mahiladarsh.

The Evil Karmas of the Jainas have not worked themselves out as yet, but are rather in the ascendent. Our best men and women are leaving us, and there are none to take up the places vacated by them. Devendra, Jagmandar Lai, Magan Ben, have left us. The implicit faith and deep devotion of Devendra, the high soaring brillinat intellect of J. L. Jain and the purity of Maganbai, formed the Ratantraya - the Sacred Three Jewels of Jainism."